HomeGround Anthology (1982-2012), Volume 1 and 2, out now!
March 2014: We're delighted to say that the two-volume HomeGround Anthology book is available to order now! You can read all about it and find out how to order it here.

Final print issue of HomeGround sells out!
Issue 79 of HomeGround – The Kate Bush Magazine was the final printed magazine.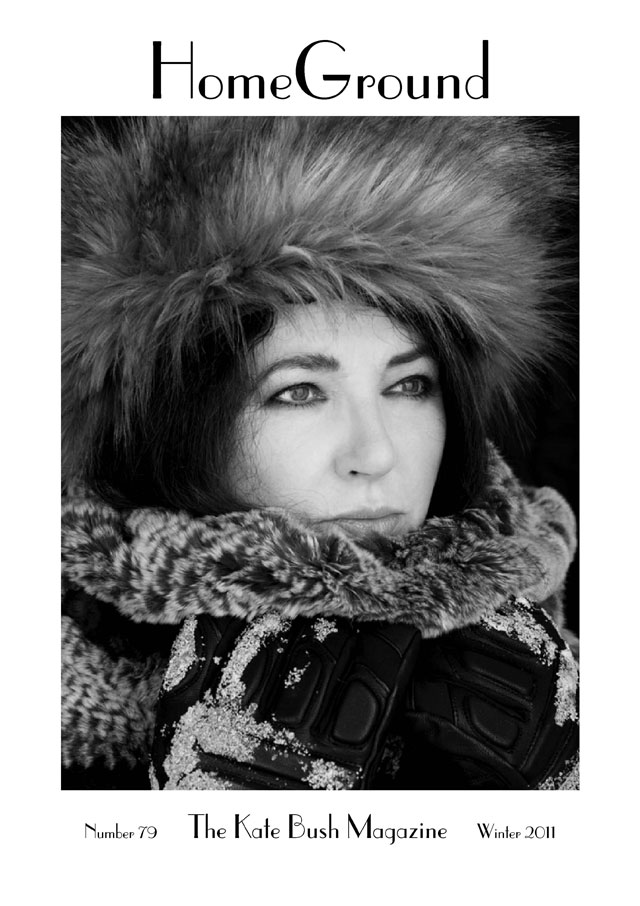 About HomeGround…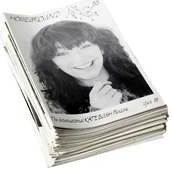 HomeGround was started in 1982 and nearly thirty years on,  is run now, as then, independently of any official fan organisation or record company. Our aim is to provide a service of news and information about Kate and her music, and to provide a platform for review and discussion of Kate's work on a world-wide basis. HomeGroundis edited by Krystyna Fitzgerald-Morris, Peter Fitzgerald-Morris and Dave Cross. Contact HomeGround: hgtowers@btinternet.com
The Future of HomeGround magazine
In the last Update we explained how production of HomeGround will cease with issue 79. HomeGround as an entity is not going to disappear, in fact we've been busier than ever working on the books and greatly increasing our presence and involvement here at katebushnews.com, our home on the web.
Back Issues
Please see the information about each available back issue below.
Our most plentiful back issues are 50, 52, 55-59, 60-63, 66-69, 70-75 and 78. 
We have limited numbers of issues 51, 53, 54, 64, 65, 76 and 77 .
We very few left of issues 44, 45, 47, 48, and 49.
If you wish to purchase backnumbers, please email us at hgtowers@btinternet.com to let us know which issues you require and we will quote cost and postage.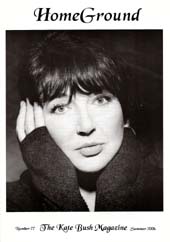 HomeGround 77 – Summer 2006. This 32 page issue includes a beautiful short story by John Carder Bush (illustrated by Debi), an article about Justin Vali & Madagascar by Paddy Bush, a feature by Raven Bush (John's son) about his band Syd Arthur, an interesting article by Dr Alex matching each of Kate's albums with a particular fine whiskey! PLUS more excellent reviews of Aerial , the Eurpean & worldwide round-up of the news (including Collin in London's write-up of the London party in May attended by Del Palmer), 3 pages of stunning artwork by Debi, an 11 page Aerial feature including artwork & photos, and beautiful – & sometimes entertaining – poetry from John Carder Bush and many others. Also some very exciting news about two forthcoming interviews in HG 78!!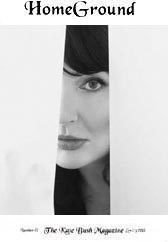 HomeGround 76 – December 2005. Dedicated to the new album Aerial. Summary of all the news and reviews. Readers reactions to King of the Mountain and the new Album. Full album reviews from John Carder Bush, the HomeGround Editors and readers. John Carder Bush also introduces his new novel, and HomeGround readers send their personal messages to Kate. With artwork from Neil Sheriff and Debi Bowes.

HomeGround 75 (Spring 2005). The 75th issue! Krys says "Thanks to everyone who has stayed with us in the quiet times and continued to support us and the magazine. Big hugs." As well as the usual comprehensive news round-up the issue features more poetry including pieces by Kate's brother John Carder Bush, a review of the recent highly successful Kate tribute night at Duckies, reviews of the Waiting For Kate Bush book, some ghostly and seductive fiction, a piece on the latest CD and DVD audio technology which might possibly be utilised for future KB releases and more.

HomeGround 74 (Summer 2004). The highlight of this issue is an exclusive 7-page interview with John Carder Bush,Kate's brother, that he & Krys did in June & July. It is absolutely wonderful & a must for all Kate fans. Krys asked John about the Cathy book, his photography, the KT Bush Band, his poetry, his influences, inspirations & heaps of other stuff. This issue has something of a Cathy theme, as you will see, and we think it is something quite special. We also have a wonderful article by Colin Lloyd Tucker about his new album Fear of Flying and the influences behind it. He takes us on a dreamy, atmospheric step into the past, to the places where his music came from. There's a great article by writer and poet Collin Kelley on the late artist Edward Gorey, and we have several poems by Collin too. Keeping with the Cathy theme, Thom Penman has written a beautiful Cathy-inspired story, especially illustrated by Debi. And there is an interesting look at Kate's early demos by Andrew Marvick. Mix all this together with a pinch of the Gothic and some amazing pieces of artwork by Debi and Neil.

HomeGround 73. (Spring 2004). The issue includes some great poetry courtesy of John Carder Bush (Kate's brother) as well as several readers. There's a wonderful story by Thom Penman, a review of the book Starter For Ten (its author David Nicholls writes about his Kate influences for this issue too). There's a report on the Glastonbury 2003 gathering and pictures of the now-famous mini cloudbuster! Birgitte contributes a comprehensive look at Kate's famous 1978 De Efteling TV special in the Netherlands, there's a look at links between Kate's work and classical painting, a fun tongue-in-cheek quiz and all the usual news, letters and artwork – do not miss!

HomeGround 72. (Summer 2003). The lead news item is the editor's belief that "the long wait for the new album may finally be coming to an end. This issue is dedicated to Kate fan and dear friend to Homeground Sarah-Jane Mackenzie, who passed away last December. This issue has part two of the Designers guide to Kate by Neil Sheriff, some really good photos, a very funny "Do's & Don'ts of Kate Fans" brought to us by the creators of cult classic "The Pink Mules" (!) and lots more articles, letters and poetry – and of course all the latest Kate news round ups.

HomeGround 71. (Winter 2002). The usual round up of latest news, part two of Peter's excellent article about The Dreaming album and also many other reader's thoughts on Kate's 1982 masterpiece (including HomeGrounds very own Dave Cross), an interview with David Haughton, director of many Lindsay Kemp shows, an interview with Kate regular Kevin McAlea, and a beautiful short story by Jeanette. Debi Bowes again excels herself with great artwork. Readers are asked to please help with articles and suggestions for features etc, as Krys says: "we need you!!"

HomeGround 70. (Summer 2002). It's 20 years since the release of The Dreaming album (hence the cover image), and the magazine marks the occasion with a look back at the effect the album has had over the years by several readers. The issue also includes an interview with Charlie Morgan, all the latest news including reviews of the Norwich tribute show, the second part of  the piece on Kate's literary influences and all the usual content that's helped the magazine keep going for 70 issues now!

HomeGround 69. (Spring 2002). The big story is of course Kate's live appearance with David Gilmour. Also featured is an interview with Simon Drake, Kate's magician from the 1979 Tour Of Life, an article on The Big Sky video shoot and a piece on Kate and the narrative tradition, among other interesting features, as well as the usual thorough news round up and reader's letters.

HomeGround 68. (Winter 2001).  The News pages are a-buzz with recent Kate happenings; both the Q Classic Songwriter award and the very high placing in the Q Women In Rock poll. Latest news round up including work on the digital remasters, plus the usual great artwork, articles, and readers letters. Articles include a study of Kate as a poet, "Just One Kate Song" – reader's select one song with special meaning to them, plus other nostalgia and discussion.

HomeGround 67. (Summer 2001). Though this remains a quiet time, the issue contains the latest news on new material and on the reissues. Louise Halliday, who performed Babooshka on "Stars in Their Eyes" has written an article about her experience. The issue includes some terrific new artwork – three new pieces from Debi Bowes, and one each from Pauline Stuckey and Steven Brown. Reader's Kate memories, an essay on Kate and the Romantics and the essential Five Years Ago are some of the features fans can look forward to.

HomeGround 66. (Winter 2000) reports on the latest album developments, the likely release dates for the remastered CDs and of course the news of Kate's announcement of her son, Bertie. Also the new edition includes another excellent article by Paddy Bush on his travels and impressions of Madagascar.

Homeground 65 (Summer 2000) contained news about the anticipated remastering of the remainder of Kate's albums, and the new Justin Vali album produced by Paddy Bush. We're very pleased to say that Paddy has written an article for this issue dealing with his work in the world music area, and particularly the new Justin Vali album.

Homeground 64 (Autumn 1999) News about the Dinosaur track, Work begins on Aerial, HomeGround looks back 20 years at Kate's 1979 Tour

Homeground 63 (Spring 1999) Five Years Ago 1992-1994 covers The Red Shoes, Krys reviews the rereleased Unknown Soldier Roy Harper 1980 album

Homeground 62 (Winter 1998) Over My Shoulder Eds look back 20 yrs, Reeling in the Music Readers look back 20 yrs, News of Paddy in Madagascar, I Wanna Be Kate

Homeground 61 (Spring 1998) It's been 20 Years the HG Scrapbook of Kate's career (Part 2).

Homeground 60 (Spring 1998) It's been 20 Years the HG Scrapbook of Kate's career (Part 1)

Homeground 59 (Summer 1997) Our first desk top publishing issue, Kate hasn't gone bonkers, 5 years 1992 Rocket Man, Making of the Pink Mules, All the Voices the response to Remember Yourself – Why we should not expect Kate to act the star

Homeground 58 (Autumn 1996) Kate has contributed backing vocals to My Computer on the latest album from  Prince and Mna na hEireann (as gaeilge) to Donal Lunny's Common Ground album, which is an event in Ireland. Krys responds to "disillusioned" fans.

Homeground 57 (Spring 1996) We notice how a few people lost interest in Kate. Them Heavy People (IV). Colin Lloyd Tucker considers the strangeness of time.

Homeground 56 (Autumn 1995) We say "At the moment Kate is escaping. Let her be, and let us see where her art takes her next." Them Heavy People (III). We report on Glastonbury 1995. Kate's imaginary folk album (II).

Homeground 55 (Spring 1995) More responses to The Red Shoes and someone is unhappy with with The Line The Cross and the Curve. Them Heavy People (II), and Krys imagines how Kate might make a folk album (Part 1)

Homeground 54 (Autumn 1994) Them Heavy People, a ramble by Peter around ideas in The Red Shoes begins. Great artwork from Paulina Stuckey, and Alex Law. Reviews of the Red Shoes continue, and some fans were unhappy with the Convention.

Homeground 53 (Summer 1994) Yet more reviews and analysis of The Red Shoes (and The Pink Mules). Colin Lloyd Tucker recalls his own musical career to date and his earliest memories of Kate. Feel It (VI). We report on Wuthering Hike V. Our usual printing machine got nicked, and we had to make do.

Homeground 52 (Summer 1994) Photos and reports from the 1994 Convention. We anticipate Kate's contribution (The Man I Love) to the Gershwin album. More reader reviews of The Red Shoes.

Homeground 51 (Winter 1994) Huge News round up of The Red Shoes. The 1994 Convention draws closer. Feel It (V)

Homeground 50 (Autumn 1993) More reviews and analysis of the Red Shoes. Krys tells the story of Feeps the Robin. Feel It (IV)

Homeground 49 (Summer 1993) At long last The Red Shoes is with us! We reviews of the album, Happy Rhodes interview (part 2), Feel It (part 3).

Homeground 48 (Spring 1993) Krys Feel it (II) and responses to (I), interview with Happy Rhodes (Part 1). Krys writes about Wuthering Hike IV. Editors respond to Revoloution Comic's response to criticism. Pami Gill writes about Carmilla.

Homeground 47 (Winter 1993) interviews with Melinda Miel and Roy Harper

Homeground 45 (Summer 1992). "Where does the time go?" A special issue to celebrate HomeGround's tenth anniversary with material from all previous issues and dedicated to Hannah Bush

Homeground 44 (Spring 1992). HomeGround is 10 years old and announces a party. We remember Kate's mum Hannah. Krys remembers the Experiment IV video. Dave hears Fred Vermoel give a lecture and considers the chart performance of Kate's singles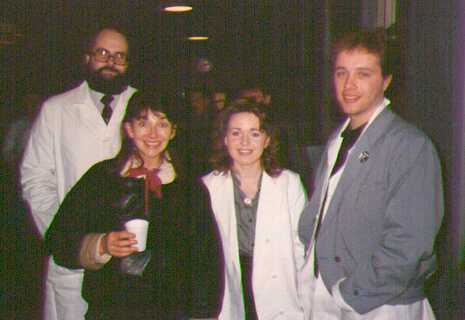 Filming the Experiment IV video in 1986 – Peter, Kate, Krys and Dave