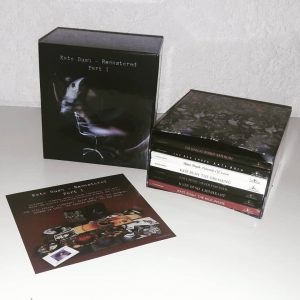 The January 2019 edition of Classic Pop magazine (out now) has ranked the Kate Bush Remastered Part 1 CD Box as the 3rd best reissue of 2018: "The end of the year saw a tremendous reissue of Kate Bush's back catalogue in its entirety and here was the pick, collecting her albums from 1978's The Kick Inside to 1993's The Red Shoes. Fifteen years of insatiable, mystical folk-pop from this most quixotic of artists – here was a dreaming indeed."
Meanwhile Billboard Magazine has included Kate's Remastered box sets in their Top Ten of the best reissues of 2018. Ron Hart writes: "By pop parameters, remastering the catalog of Kate Bush is like trying to do a restoration on the ceiling of the Sistine Chapel — how do you improve upon perfection? But across these two extraordinary box sets, the British visionary's recorded output has never looked or sounded better, while a four-disc collection of extras — though in many ways incomplete with the absence of such crucial fan favorites as the 12-inch mixes from her The Red Shoes era and the material comprising the 1979 On Stage EP — is nevertheless a treasure trove filled with such rare treats as the previously unreleased 1975 composition "Humming" and a version of Marvin Gaye's "Sexual Healing" that was originally recorded in 1994 with Irish musician Davy Spillane and wasn't officially released until 2005 when it served as the b-side for the Aerial single "King of the Mountain."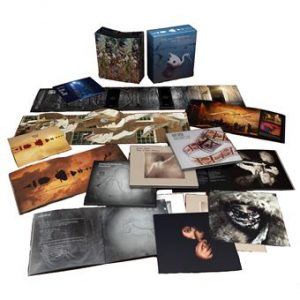 Australian site, Your Music Radar, has a great article on the remasters here by Brian Parker. Brian says: "Kate has continued to make brilliant, inspiring albums, and has recently remastered all her back catalogue on her own record label, Fish People. For a woman that has always seemed reluctant to look back, the remastering of all her albums was long overdue. How can you make perfection, sound more perfect? And the result? It's a sonic dream. Rather than making the tracks louder, Kate (with James Guthrie) has focussed on clarity, making the albums sound more crisp. Little subtleties like harder sounding drums, clearer backing vocals, crisper synth motifs. It feels as if a fresh breath of air has been injected into the albums, making them sound more vibrant, colourful, and breathing life into all her vignettes abundant from her imaginative mind.
Both the CDs and vinyls are lavishly packaged. They can either be purchased individually, or in four vinyl and two CD boxsets. She has pulled together b-sides, 12″ mixes and some other rarities as well (including a song called 'Humming' that has never been released in any format, which was recorded from the same early sessions as 'The Man With The Child In His Eyes'). For some reason she has emitted the Kate Bush on Stage EP (which contained tracks from her first 1979 tour), and the amazing b-side from 'The Big Sky' called 'Not This Time' – okay these are only tiny gripes. The thing is the remastered albums serve a reminder of what a singular and extraordinary talent she is – a testament to artists not to compromise, stay true to your muse, whilst at the same time valuing your privacy and giving the corporate-ness of the music industry a two fingered salute. She did it her way."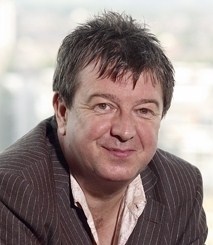 Well-known UK music journalist and BBC 6Music presenter, Stuart Maconie, has often reviewed Kate's work over the years, and in his recent column in the Waitrose Weekend UK free newspaper he doesn't hold back in his praise:
"As a creator, Kate Bush is as monumental as the Great Pyramid makers and the results are just as awe-inspiring and enduring. Because Kate doesn't like to rush things, her albums come around at intervals roughly between the Football World Cup and the appearance of Halley's Comet. This means that its possible to chart one's life alongside them. I certainly can. I was a music-drunk teenager when I first saw and heard her at the time of Wuthering Heights and The Kick Inside and was instantly besotted. By Hounds Of Love, I was floundering on the dole in Essex and Wigan. The Red Shoes found me actually with her in a studio in North London, chatting about it for a music magazine, my fortunes having changed somewhat. T S Eliot's Prufrock measured out his life in coffee spoons, I've done it with Kate Bush albums.
If you've had a similar life with Kate, and if your original vinyl and CDs are getting a little battered, you'll probably be drooling over a new and highly desirable boxset just released in time for Christmas; Kate Bush Remastered…..conventional critical wisdom has it that the early records, uniquely strange and delicious, like Wuthering Heights, were a kind of gauche apprenticeship for the mature works that came along at much longer intervals and framed in state-of-the-art studio production architecture, albums like Aerial and The Sensual World. For me, it's the early work here that delights; direct, pure, slightly odd. These are pop songs but filtered and fractured through her uncommon sensibilities. Moving, Delius, Oh England My Lionheart, these are songs utterly unlike what anyone else was doing at the time (although they spawned legions of imitators). Sometimes, as in the case of Them Heavy People or Hammer Horror they are geekily funny, sometimes eerie (The Kick Inside, Wow), elsewhere (In The Warm Room, Feel It) disarmingly, shockingly sexy. Whichever period Kate is your favourite, they're all here. It's not cheap. But it's a very special body of work, unlike anything else in British pop….Wow, as she once sang. unbelievable."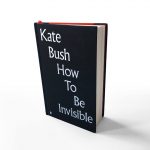 The Guardian has reviewed Kate's new book of lyrics, How To Be Invisible. Laura Snapes grapples with understanding Kate through her lyrics, without annotation from Kate herself:
"This understanding (of gender and power) is one thread of How to Be Invisible, which splits selections from her catalogue across 10 newly curated sections, offering no clear framing devices. (Only Aerial's A Sky of Honey suite and Hounds of Love's second side, The Ninth Wave, remain intact.) Here is how we might find her, wedding Snowflake and Hounds of Love into a consideration of the perils of succumbing to love; contemplating alchemy and evolution from Cloudbusting, about a child losing faith in a parent, to Bertie, a tribute to how her son transformed her life.
She addresses loss movingly: Aerial's A Coral Room finds the memory of her late mother in "her little brown jug"; The Fog, from The Sensual World, asks how to love when its objects are transient. Houdini and Get Out of My House bookend her strident interrogation in how to remain open to pleasure but protected from deception. Two sections dwell on gender. Joanni, her portrait of Joan of Arc, is juxtaposed with an indictment of masculine warmongering (Army Dreamers). Later, Bush explores masculine and feminine perspectives, contemplating desire (Reaching Out) and obligation (Night of the Swallow), never reaching trite conclusions.
If there is one to be drawn from How to Be Invisible, it isn't that Bush is unknowable, but that life is: how much can we ever know about love, ourselves, the things we lose? She is never cowed by the uncertainty. Her songwriting suggests the only way to weather it is with curiosity; applying silliness as courageously as literary seriousness, balancing spiritual insight alongside unabashed carnality, domestic truth alongside fantasy, never concerned by contradictions. Desire runs wild in the final section: Mrs Bartolozzi's sexual laundry fantasia; the wily, windy Wuthering Heights. This headstrong pursuit has guided Bush. The question is not what we can learn about her, but what we might learn from following her lead."
A review piece in the New Statesman, "When Song Lyrics Become Literature", explores four recent lyrics books by musical artists, including Neil Tennant (Pet Shop Boys), Florence Welch and the late Leonard Cohen. The writer, Jude Rogers, reserves particular high praise for Kate's How To Be Invisible: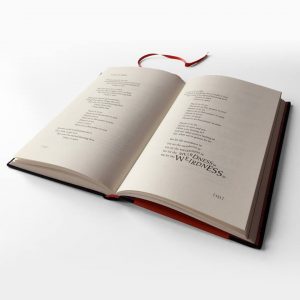 "Her book, unlike Tennant's, works magically, possibly because many of her lyrics are structured so strangely. She also adds, in her brief author's note: "all the lyrics have been reviewed as works of verse without their music and so in some places are more detailed than how they originally appeared on their albums". Some digging on my part reveals nothing more than her playing with poetical constructions such as "o'er". To do this job properly, however, weeks of album listening will be required, promoting a deeper understanding of these songs. Bush clearly knows what she's doing.
How To Be Invisible also sees Bush grouping her songs, without explaining her methods; it's your job to spot the golden threads connecting these pages. Here are songs about clouds ("Cloudbusting", "The Big Sky", "You Want Alchemy"), drifting in and out with wonder. Here are songs explicitly and obliquely about war ("Pull Out the Pin", "Breathing", "Experiment IV"). "Army Dreamers" is also in this set, one of many that reads astonishingly on paper. A number 16 hit in 1980, its lyric about a dead soldier reminds you of the brutal economy of Sylvia Plath: "Now he's sitting in his hole," runs the most devastating line. "He might as well have buttons and bows."
Themes recur at mystical intervals too. The rope that ties lovers together in "Sat In Your Lap" appears, like a ghost, in "Snowed In At Wheeler Street" (songs from 1981 and 2011 respectively; their dates are not listed in the book). The second-side song cycles from Hounds of Love (1985) and Aerial (2005) – "The Ninth Wave" and "A Sky of Honey" respectively – also incorporate pages that go beyond conventional text (the voices murmuring to the drowning woman in "The Ninth Wave" dance across a double-page spread in different typefaces; while in "A Sky of Honey" birdsong is depicted in skittish, angled handwriting). Here is an artist still expanding the possibilities of a form, as she always has."