Photographer Guido Harari and Wall of Sound Gallery are launching a pre-publication offer on the upcoming lavish photo book, "The Kate Inside" which will be shipped in early March 2016. The gallery website has all the details here.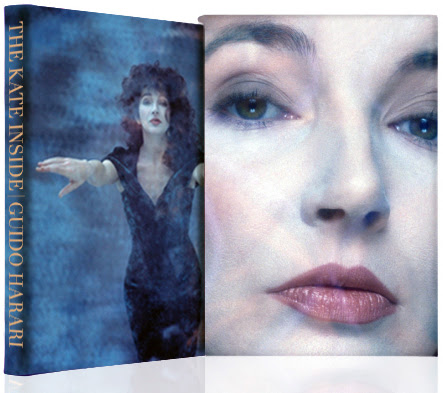 From the press release:
"The Kate Inside, Guido Harari's lavish tribute to one of the world's greatest music geniuses, is finally happening to ya! Guido's collaboration with Kate Bush spans from 1982 to 1993. During that period he was invited by Kate to shoot her official press photos for landmark albums like Hounds Of Love, The Sensual World and The Red Shoes, including a completely never-before-seen reportage on the set of Kate's film The Line, The Cross & The Curve.
Accompanied by Guido's own commentary, The Kate Inside is packed with more than 300 hundred photographs. They include all of Guido's classic images of Kate, a wealth of outtakes, contact sheets, unseen photographs and other materials (including test Polaroids and personal notes by Kate) taken from his personal archives that are showcased here for the first time.
Such an expensive project can only be possible with your support. This is why we're starting an early pre-order campaign on our website offering a 25% pre-publication discount. The campaign will take off on September 26th, 2015 and will be officially launched by Guido on the same day at the Kate Bush Convention in Birmingham. Since this project is very personal to Guido and to all of you, he will acknowledge your support featuring your name in a special Acknowledgments section of the book. THE PRE-PUBLICATION OFFER WILL ONLY BE VALID TILL JANUARY 2016!!! The book will be ready to ship in early March 2016."

L to r: A never before seen photo from the 1985 shoot for Hounds of Love; Kate with dancers Gary Hurst (l) and Douglas McNicol (r) in 1982 during the promotion of The Dreaming. This was Guido's first shoot with Kate; a classic double exposure from the "blue" sequence shot in 1989 for The Sensual World.
T H E  B O O K
DELUXE EDITION
(copies 1-350)
Pre-publication offer: 390€
REGULAR EDITION
(copies 351-3000)
Pre-publication offer: 90€
"The Kate Inside is a limited edition book of 3000 copies worldwide. It's available both as a Deluxe Edition (520€ -25% = 390€ for copies numbered 1-350) and a Regular one (120€ -25%= 90€ for copies numbered 351-3000, all personally signed by Guido).
The 240 pages hard-bound book measures an awesome 29x39cm (11"x23" ca) and is printed on heavy-weight paper by Grafiche Milani, the same master printers in Milano who also print the luxurious editions by Genesis Publications."
T H E  D E L U X E  E D I T I O N
"The Deluxe Edition will be limited to the first 350 copies, all personally signed by both Guido and Kate's legendary mentor Lindsay Kemp, who has also written a special foreword for the book.
Presented in a solander slip case, the Deluxe will have a full leather cover and will feature extra pages!
It will also include a 24x30cm (10"x11") signed/numbered fine art pigment print (unique to this edition and unavailable elsewhere) as well as a set of 8 replica Polaroids (10x15cm/3"x5", unsigned and non editioned). These are replicas of the actual Polaroids used by Guido with Kate on the 1985 and 1989 shoots and have never been seen before. They will only be available as part of the Deluxe Edition."

L to r: another classic image from the 1985 shoot for Hounds of Love; a never before seen photo of Lily from Kate's film The Line, The Cross And The Curve, 1993; a funny pose from the 1985 shoot.
S P E C I A L  E X T R A S  T O O !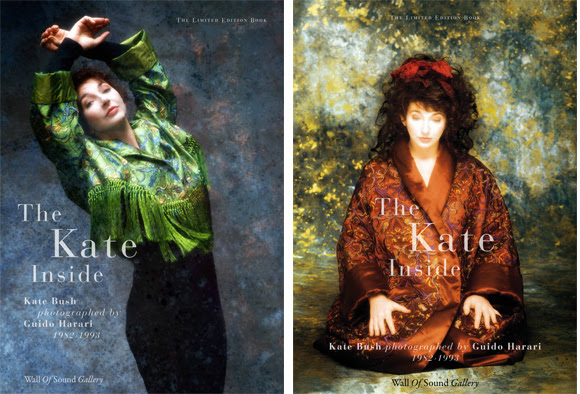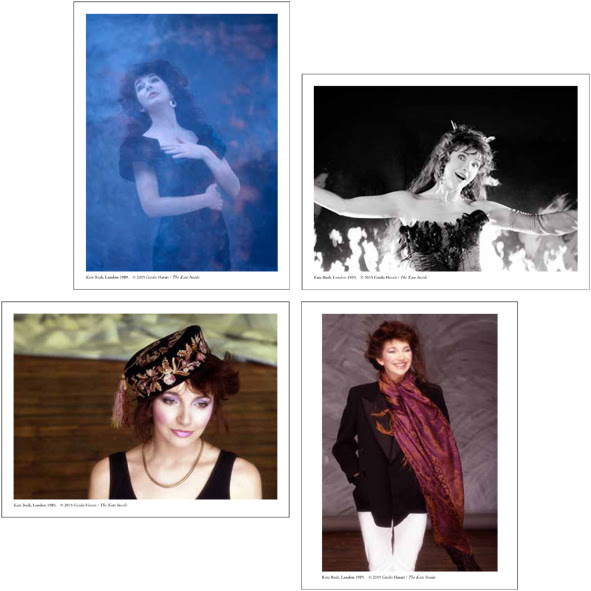 "To help cover the book production costs, we also have on offer for you TWO SPECIAL LIMITED EDITION POSTERS (40€ each, they measure 48x68cm – 19"x26" and are personally signed by Guido in an edition of 100) and A SPECIAL SET OF 4 LITHO PRINTS (55€ per set, 18x24cm – 8″x10″ in size, unsigned and non editioned)."
ALL GUIDO'S KATE BUSH FINE ART PRINTS DISCOUNTED!
"Please take note that, for the duration of the book pre-publication campaign, all of Guido's Kate Bush fine art prints on our website will be discounted 25%. The discount applies to all print sizes. Check them out here."

L to r: two never before seen images from The Line, The Cross & The Curve, 1993: Kate in red shoes and with Lindsay Kemp; Guido, Kate and Lindsay on the set of The Line, The Cross And The Curve.