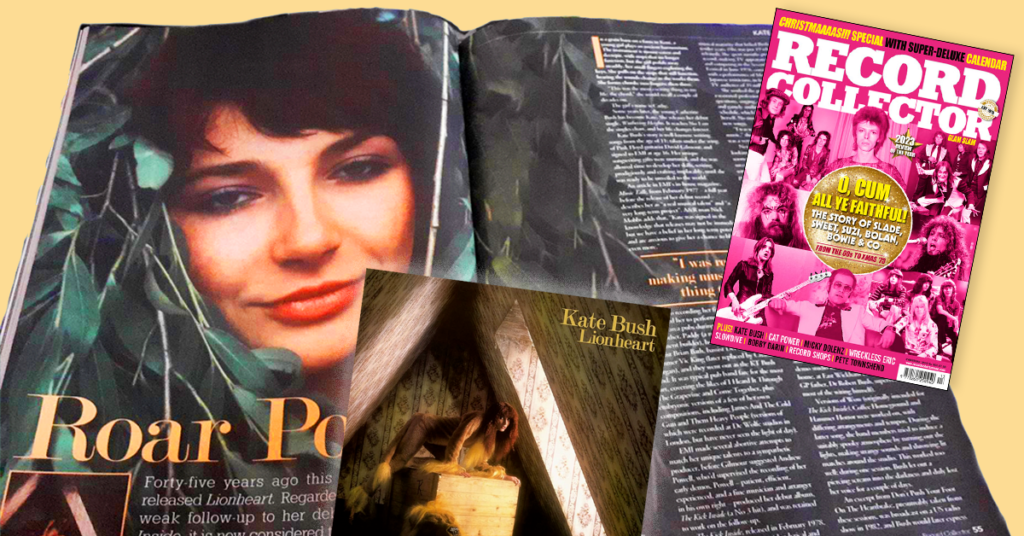 An excellent new article in the latest edition of Record Collector magazine by Neil Hussey reassesses Kate's wonderful second album, Lionheart, on its 45th anniversary and explores how it was recorded, nicely tying in with Darrell's recent Kate Bush Fan Podcast chat with the producer of that record, Andrew Powell.
For many – including some of Bush's own fans – Lionheart is a relatively minor work, a rather hastily-conceived follow-up to her striking, incandescent debut. Yet Lionheart is a finely-crafted, strikingly original record, too harshly judged. It's a record replete with moments of warm sensuality, quiet intimacy, bold lyrical ideas and grandiose musical statements – the kind of record you just couldn't imagine anyone else making.

Neil Hussey, Record Collector Magazine
This issue is in shops in the UK and Ireland or order online here. Also included in this issue is a free 2024 calendar which has a very delightful December page for Kate Bush fans! Thanks to Paul Thomas for the photos.