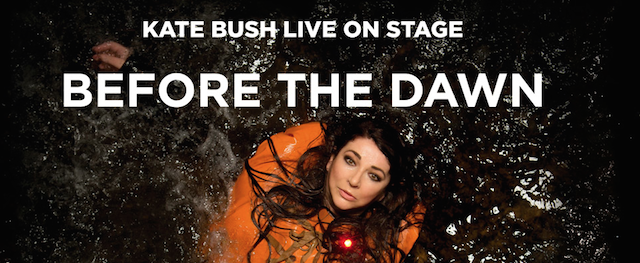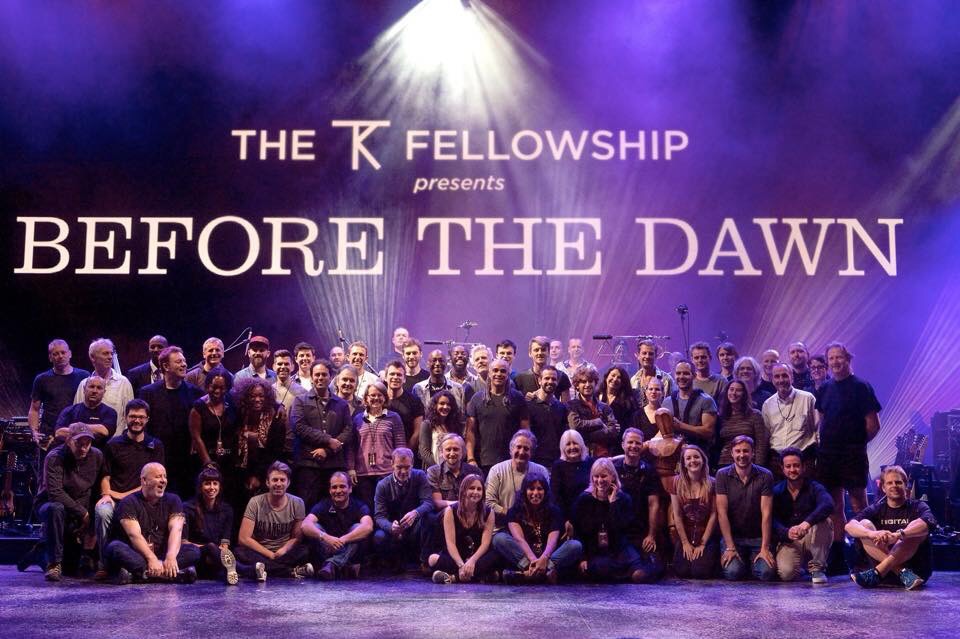 UPDATE: LIVE ALBUM SETS RELEASED NOVEMBER 25TH 2016 ON CD AND VINYL
| Pre-Order Vinyl Set on Amazon | Pre-Order CD Set on Amazon|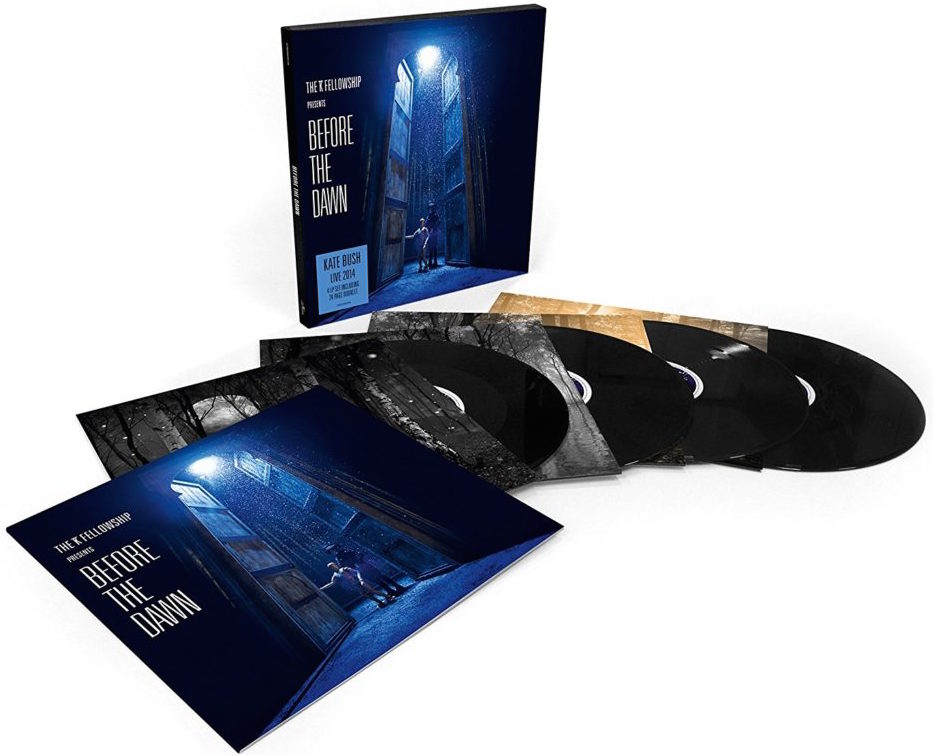 Kate released a live album set of her Before the Dawn shows on November 25th 2016 on her Fish People label (with a 5th December US release through Concord Records). This 4 disc vinyl LP OR 3 disc CD set is available order on the usual digital platforms also such as iTunes, Amazon etc. The album (now certified gold) entered the UK album chart at number 5!
| Order Vinyl Set on Amazon | Order CD Set on Amazon|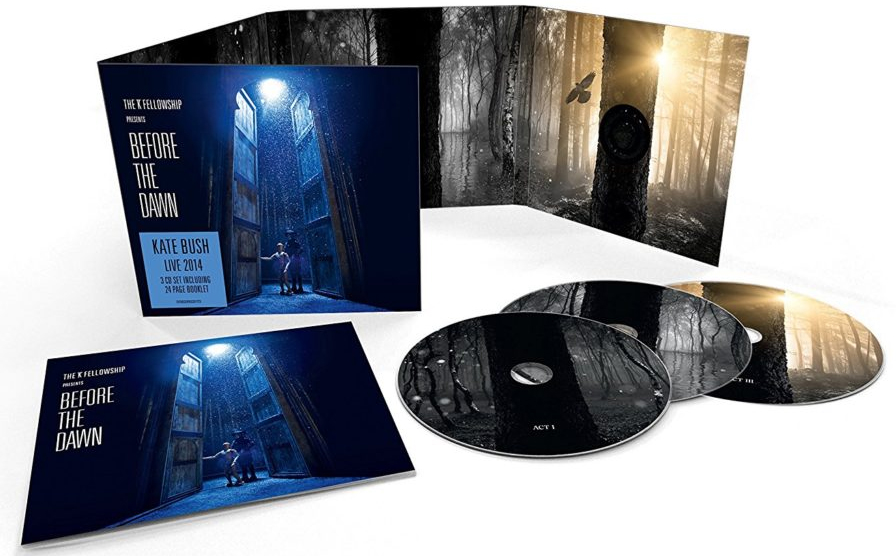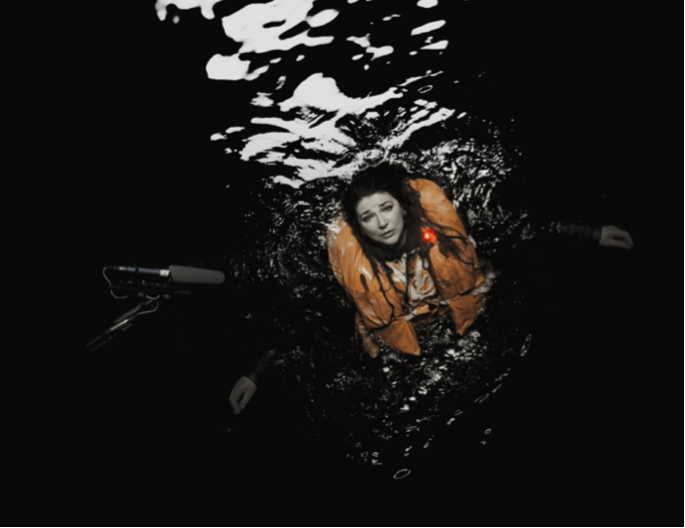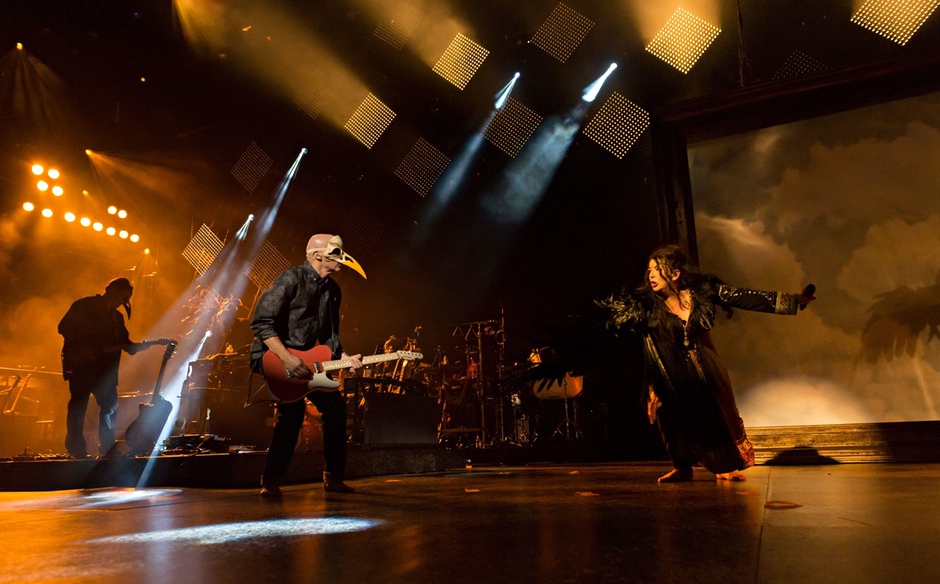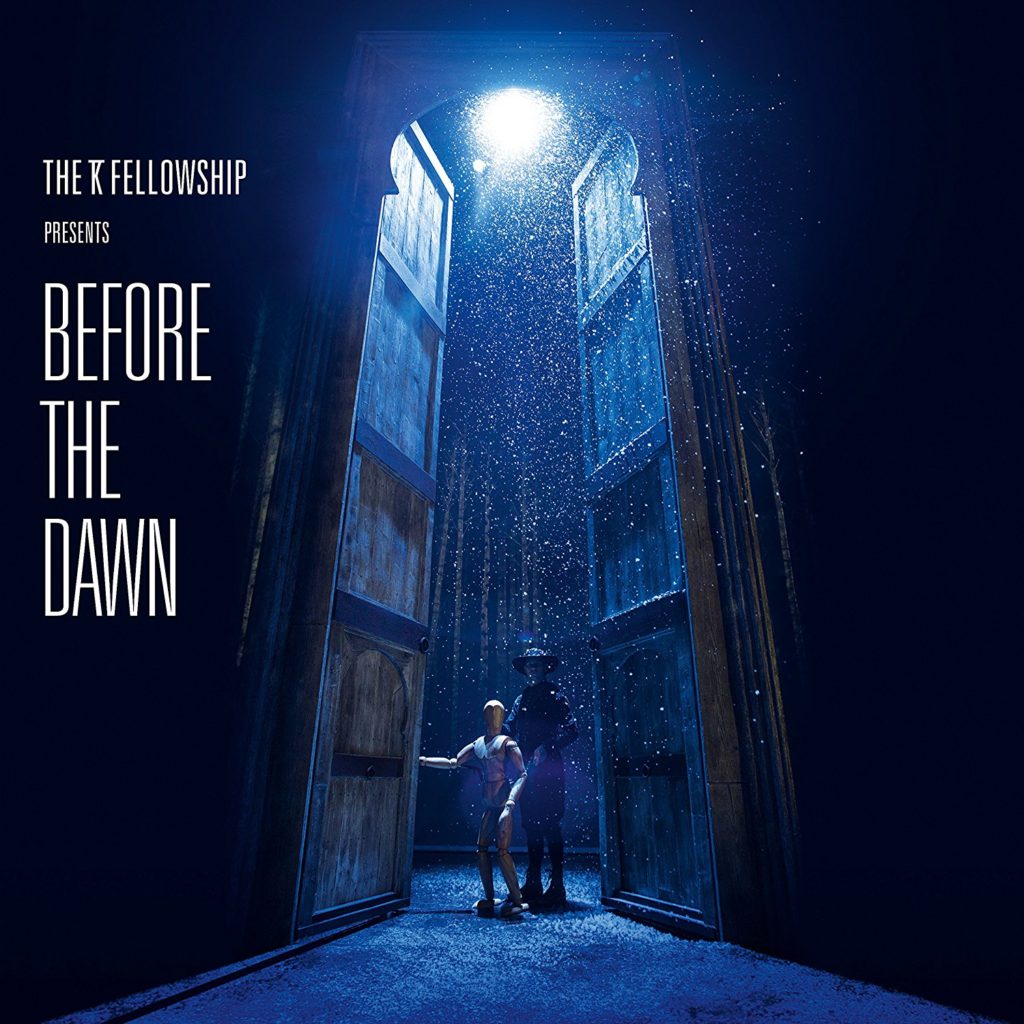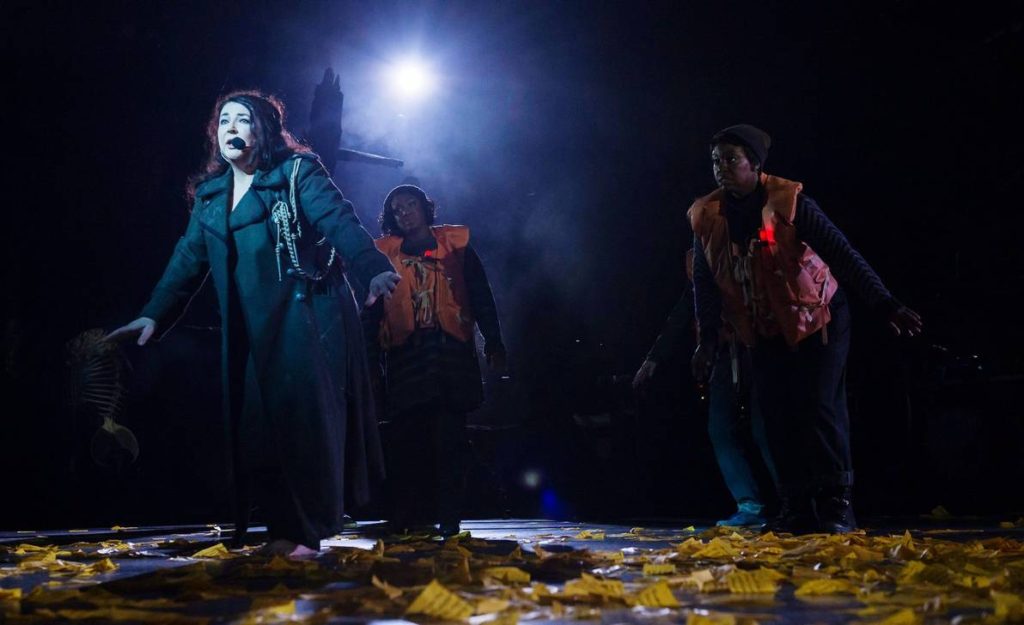 About Before the Dawn…..
Kate performed a series of 22 live dates in August/September/October 2014 at London's Eventim Apollo, Hammersmith. These were her first live shows in 35 years! The venue was the same (now renamed) Hammersmith Odeon where the Tour of Life ended in 1979. All dates sold out on the morning of March 28th in a matter of minutes. The performances were called "Before the Dawn" and in her announcement on March 21st 2014 Kate said on the official site:
"I am delighted to announce that we will be performing some live shows this coming August and September.
I hope you will be able to join us and I look forward to seeing you there.
We'll keep you updated with further news on the web site.
Meanwhile, all details of concert dates and tickets are in the note below.
Very best wishes,
Kate"
The 22 dates were: AUGUST: 26th, 27th, 29th, 30th. SEPTEMBER: 2nd, 3rd, 5th, 6th, 9th, 10th, 12th, 13th, 16th, 17th, 19th, 20th, 23rd, 24th, 26th, 27th, 29th, 30th OCTOBER: 1st
During the show's run, the concerts received hugely positive reviews (see below). All of Kate's 11 albums re-entered the UK charts in late August, with Kate becoming the only female artist in history to have 8 albums in the UK Top 40 in the same week, rivalling similar records by The Beatles and Elvis Presley. The concerts were filmed over two nights in September, for a possible DVD/Blu-ray release, but Kate has never said anything publicly about such a release. Kate wrote detailed production notes in the accompanying tour programme, describing the enormous efforts of the large team of talent that brought the shows together.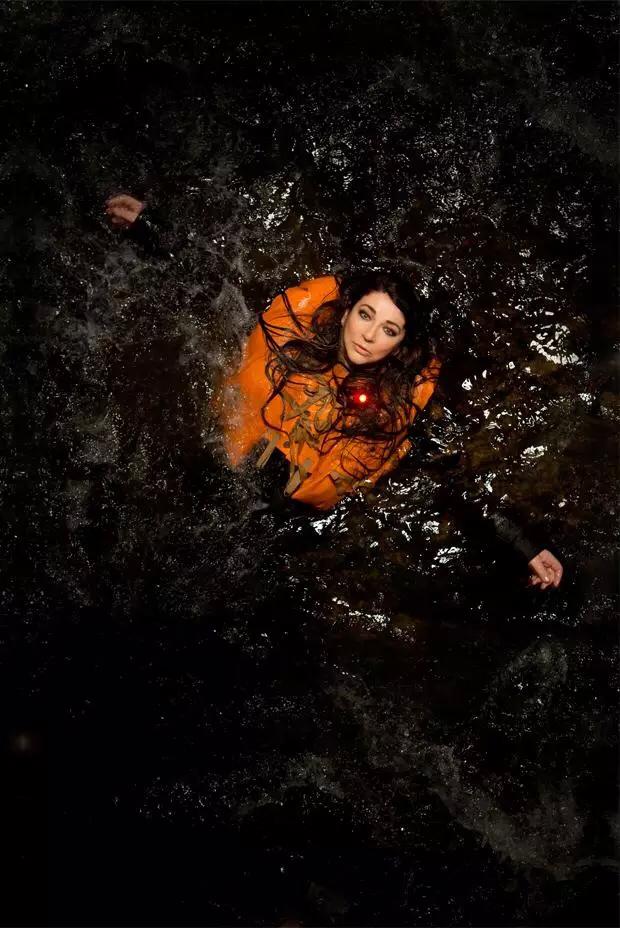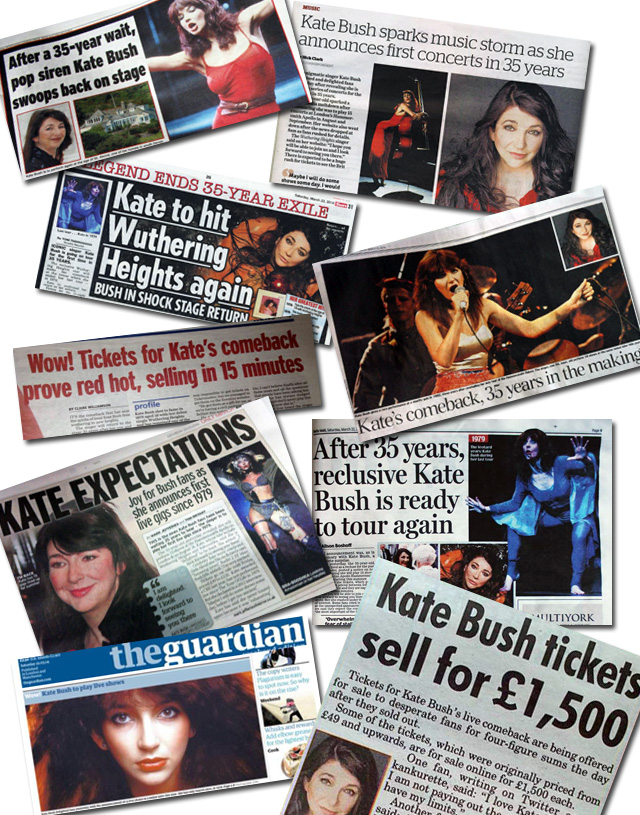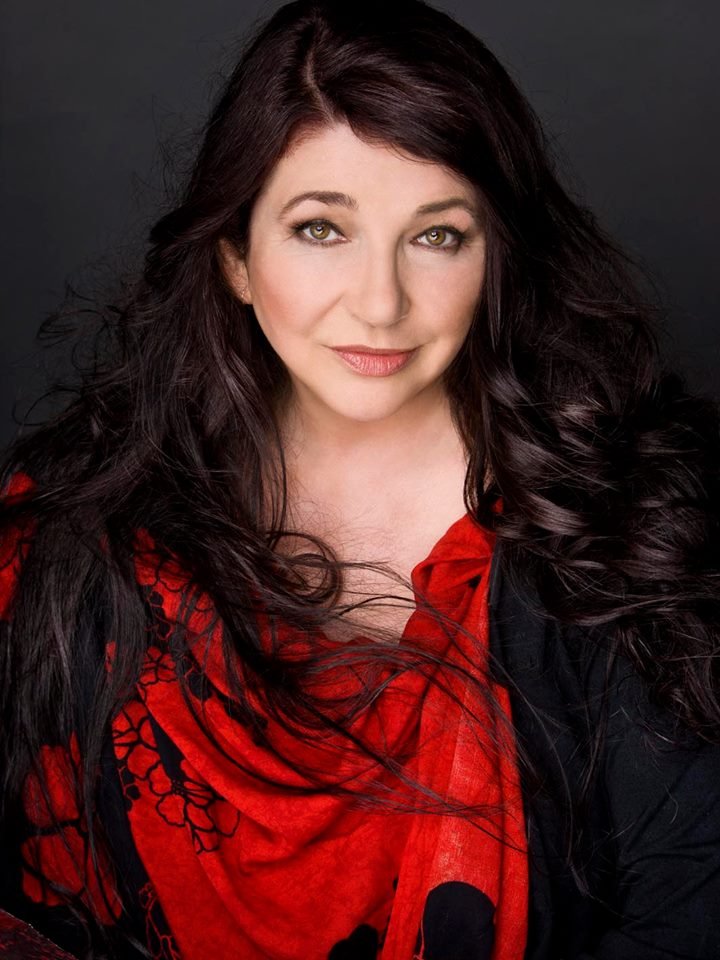 Media coverage of the announcement
Dave Cross of HomeGround appeared on Sky News on March 28th to discuss the excitement (and mayhem!) just before Kate's tickets went on general sale.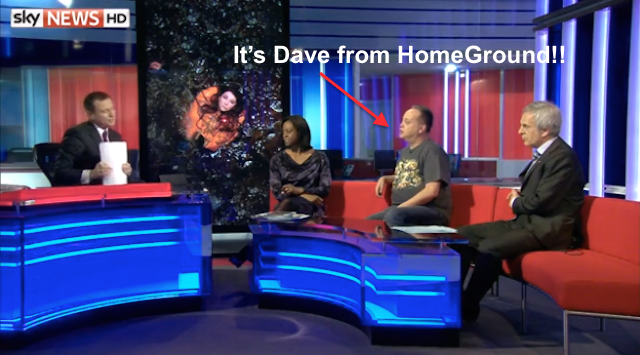 Watch Dave's interview on the Sky News Sunrise programme here
Here's Seán Twomey from this very site being interviewed on March 21st on the Mark Radcliffe show on BBC6 Music:
Seán also took part in a longer discussion on March 30th with Dave Fanning on RTE 2FM, Ireland's national broadcaster. You can hear it in the clip below:
Here's a discussion about the news on the "PM" show on BBC Radio 4, March 21st:
Here's how the 6pm Evening News on Radio 4 reported the news on March 21st:
Kate being discussed on BBC News Channel, March 21st: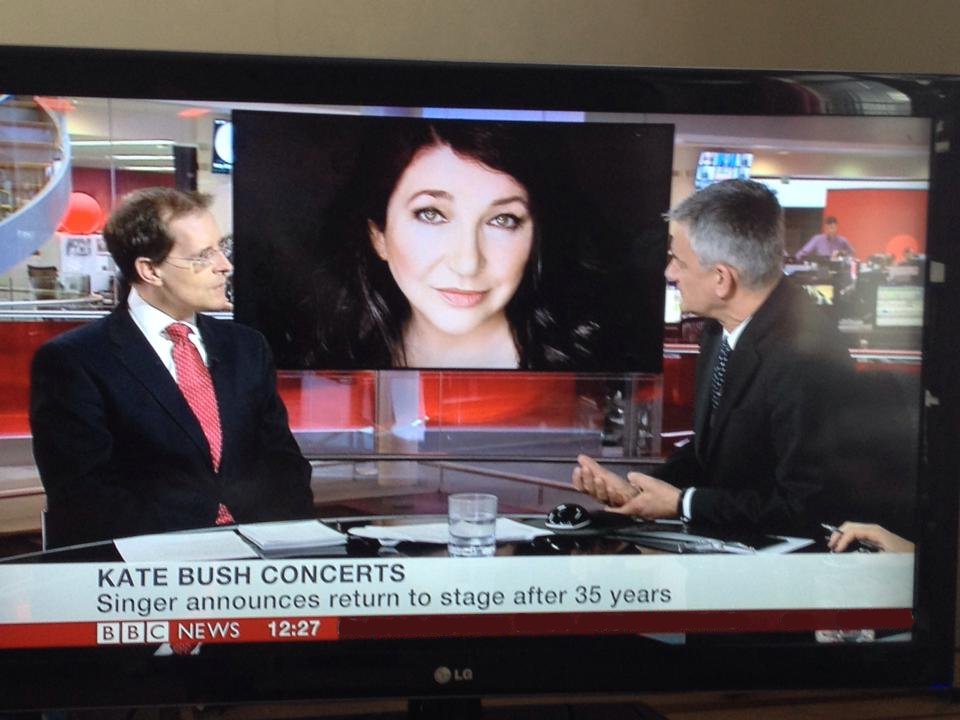 The BBC reported that the internet had gone into "meltdown" at the news, and that news was everywhere from the Bexley News Shopper to Thanhnien in Vietnam:
|Eventim||BBC|BBC – Backgrounder|BBC – Backgrounder 2|BBC America|ITV News|The Times|The Guardian|Guardian – Backgrounder|Guardian – Backgrounder 2|Guardian – Backgrounder 3|Daily Telegraph|Daily Telegraph – 2|Independent|Independent – Backgrounder|Irish Independent|Irish Times|Channel 4 News|Scotsman|Scotsman 2|The Daily Mirror|Glasgow Herald|Glasgow Evening Times|Sheffield Star|Sunderland Echo|Metro|The Week|Daily Express|Daily Express -Backgrounder|Daily Mail|London Evening Standard|Time|CBS News|Daily Star|The Huffington Post|Huffington Post – Backgrounder|MSN|Dallas Sun|The Nation|Tampa Star|Irish Examiner|Yorkshire Post|CNN|New York Times|Los Angeles Times|Irish Mirror|Irish Mirror 2|West Australian|Le Monde|De Telegraaf|Publico|La Repubblica|Die Welt|Aftonbladet|Le Parisien|Bild|RTL|Diario de Noticias|DamskaJazda|Actualne|Thanhnien|India Today|Times of India|PhillipineNewsCentral|Straits Times|RisingPakistan|Malaysia Star|Gulf News|Nagaland Post|Pretoria Times|NME|NME – 2|Uncut|Classic Rock|Mojo|Hot Press|The Skinny|Billboard|Rolling Stone|Mojo| Noise 11|Fortitude|Gigwise|Gigwise – Fans react|Gigwise – Bizarre 2014|Gigwise – Ticket Rush|The Quietus|Digitalspy|The Digital Fix|For Folk's Sake|ClashMusic|The Daily Edge|Magic FM|Super Deluxe Edition|Fact|Drowned in Sound|Drowned in Sound 2|Attitude|Crack|Contact Music|SupaJam|Gay Times|The Girls Are|The Line of BestFit|SoSoGay|PopSirens|Indiewire|DangerousMinds| MetroWeekly|NewsHopper|CelebrityCafe|HolyMoly|SoFeminine|Grazia|Pitchfork|Hello|BroadWayWorld|Under the Gun|TinyMixTapes|Noisey|Death and Taxes|Ultimate Classic Rock|DIY|GetWestLondon|AllVoices|An Spailpin Fanach|Positive/Negative|Venture Capital Post|The Farming Show|Imagine Independence|
Show setlist:
Introduction
"Lily"
"Hounds of Love"
"Joanni"
"Top of the City"
"Running Up That Hill (A Deal with God)"
"King of the Mountain"
The Ninth Wave
Video Interlude – And Dream of Sheep
"Under Ice"
"Waking the Witch"
"Watching You Without Me"
Little Light (Performed by backing vocalists)
Jig of Life
Hello Earth
The Morning Fog
A Sky of Honey
Prelude
Prologue
An Architect's Dream
The Painter's Link
Sunset
Aerial Tal
Somewhere in Between
Tawny Moon (performed by Albert McIntosh)
Nocturn
Aerial
Encore
Among Angels
Cloudbusting
Reviews of the shows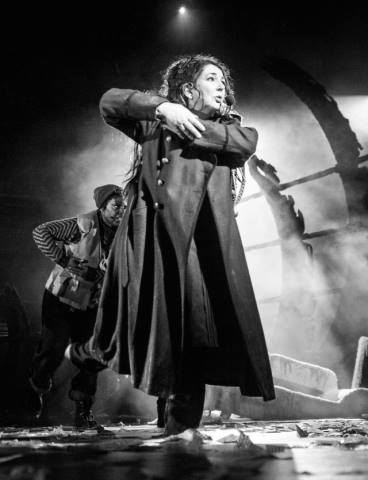 "Holy s***. The Kate Bush show is reinventing the pop concert…laughing, crying and wondering what the hell is gonna happen next." – BBC Radio 6 Presenter Rob da Bank.
We'll gather the reviews of Kate's live show here.
Daily Telegraph picture gallery.
Rod McKie's definitive review.
The Guardian (Alex Patridis and Nick Grimshaw) … Daily Telegraph (Bernadette McNulty) and also on audio and more and more … The Irish Times (Sinead Gleeson) … Mirror (Gavin Martin and Katy Forrester) … BBC (Gemma Arterton and Anna Calvi) … BBC (Tim Masters) … Daily Express (Simon Gage) … Daily Star (James Cabooter) … ITV (Neil Connery) … Daily Mail (Jan Moir) … The Independent (Andy Gill) … The Times (Will Hodgkinson) and Times Saturday Magazine (Caitlin Moran) … NME okay – we forgive you for 1979! (Lucy Jones) and also Emily McKay … New York Times (Ben Ratliff) … London Standard (John Aizlewood) … Spectator (James Walton) and comment from John-Paul Marney … Uncut (Anon and then John Mulvey) … Time Out (Andrzej Lukowski) … Mojo (staff) and second night (Jenny Bully) …. Gay Times (Mikey Walsh) … Channel 4 (Anon) … Billboard (Richard Smirke) … Rolling Stone (Mark Sutherland) … Drowned in Sound (Alan Pedder) … Pitchfork (Jude Rogers) … The Quietus (Simon Price) … Financial Times (Ludovic Hunter-Tilney) … Digital Spy (Kate Goodacre) … Louder than War (Dave Jennings and Martin Unsworth) … Hot Press (Hannah Hamilton) … Irish Independent (Bernadette McNulty) … Metro (Anon) … Magnet (Cory du Browa) … The Arts Desk (Russ Coffey) … Prog (Chris Roberts) … Back Seat Mafia (Nickety) … Sunday Express (Charlotte Heathcote) … The Observer (Kitty Empire) … Get to the Front (David Dunn) … PanCakePictures (Fiona Smith) … Huffington Post (Karen Ruimy) and then Victoria Sadler … Hidden Tracks (Pete Paphides) … The Trio of Oz (Rachel Z) … National Post (Mike Doherty) … GScene (Criag Hanlon-Smith) … Specs (Adrian) … Beige (Collin Kelley) … Clash (Anna Wilson) … Even the Stars (Deborah Walker) … Chris Rogers … So So Gay (Jon B) … Gloucestershire Echo (Giulia Crouch) … Plastic Bag (Owen and again) … Coffee-Table Notes (Neil Cooper) … The Woman's Room (Jane) … The Plashing Vole (Anon) … Candy Pop (Natasha) … The Age (Bernard Zuel) … Lilly in the Labyrinth (Lilly) … Chris n that (Chrisv) … Pedlar's World (Charlie) … The Monitors (Eamon Murtagh) … Toronto Star (John Sakomoto) … Disorder (Kate Allen) … Melodee Writes (Melanie Hayden-Williams) … Daily Star (Nicole Morley) … Echoes and Dust (Dave Cooper) … The 405 (Robert Whitfield) … Rick Wakeman's Cape (Wizard of Ooze) … PJ Media (Clay Waters) … John Guy Collick … Liverpool Sound and Vision (Donna Lesley Price) … Freq (David Solomons) … News.com.au (Nick Bond) … GigSlutz (Rosie James) … Mr. Haircare (ditto) … Martin Beam … ChoirBoyMotel (John Forde) … The Examiner (Gillian Gaar) … Gigwise (Andrew Trendell) … The Skinny (Dave Kerr) … Retrocosm (Charles Heady) … Rants of a Bitter Northerner (Helen Richards and again and again and again ) … Put the Kettle on (Mark) … Moving Brands (Phillip Browning) … Minibreak Mummy (Ruth Jenkins) … The Art of Jane Tomlinson (the same) … NotAllWomenAreTheSame (Sue Sherman) … The Morning after the Deluge (Sasha Loske) … Tunnels of Green (Maree) … The Music Chronicles (Stratos Bacalis) … Louder than War (Youth) … All That's Left (George East) … North Devon Journal (Anita Butler) … Lesley Anne Jones … EQView (Roy Ward) … Bloggertropolis (Steve) … Diary Von Davidly … Yahoo Music (Lyndsey Parker) … My Bloggywog (Lealoo) … Greenwich Catholic (Tamas) … Strange Times (Dave West) …
Through the Wire (Justin Holford) … Dyverse Music (Mike Butler) … The Figure Ground (Alex Dale) … You Tube (Hitler) …. Spiked (Alex Dale) … The Big Issue (original version by Rachel Johnson and reply by Suzanne Barbieri and incomplete "apology" by Johnson) … Brussels Bronte Blog (Marina Saegerman) … The Afterword (Poppy Suceeds) … A West End Whinger (Phil) … London Live (Alistair Foster) … Tiny Camels (Jonathan Gibbs) …
Collections of reviews: Guardian … BBC … Daily Express … Gigwise … Agenda … Washington Post … Hollywood Reporter … Huffington Post … ITV … Metro … Los Angeles Times … The Wild Reed …
Suddeutsche.de (Urs Arnold) … Volkskrant (Gijsbert Kamer) … Musik Express (staff) … FranceTV (staff) … Lust for Life (Peter Douma) …
"It's quite stunning, undoubtedly the most ambitious, and genuinely moving, piece of theatrical pop ever seen on a British stage. Which is just what everyone here tonight was hoping for." Andy Gill
"Everyone's calling it a triumph. Everyone's right. The unconscionably influential Kate Bush could have blown her mystique by returning to the spotlight in such a no-prisoners manner, but from the first minute she is in her element. The prog event of the year. The musical event of the year. The event of the year. Just don't expect three chords and the mundane truth. Or Wuthering Heights. I put this moment here" Chris Roberts
"In A Sea of Honey's long day, nothing particularly remarkable happens, just as nothing really remarkable happens in Ulysses. The sun comes up, and "the sky is filled with birds", and the Moon rises, and the protagonists swim in the sea, at night. But some people are just more alive than others, all eyes and mouth, and overloading senses – and that's what Joyce was, and that's what Kate Bush is. They appear in your life to remind you that to watch a sunrise is to watch a burning star, and that pollen is sperm, and summer is fleeting, and everything on Earth is so unlikely – so improbable – that we might as well live somewhere where Kate Bush can end a concert by turning into a one-winged bird and flying out into the auditorium …" Caitlin Moran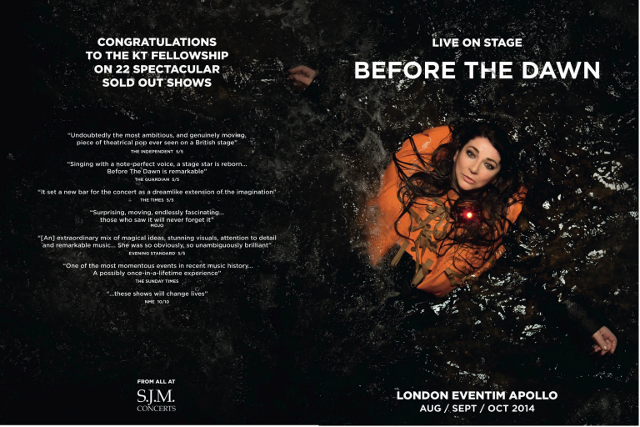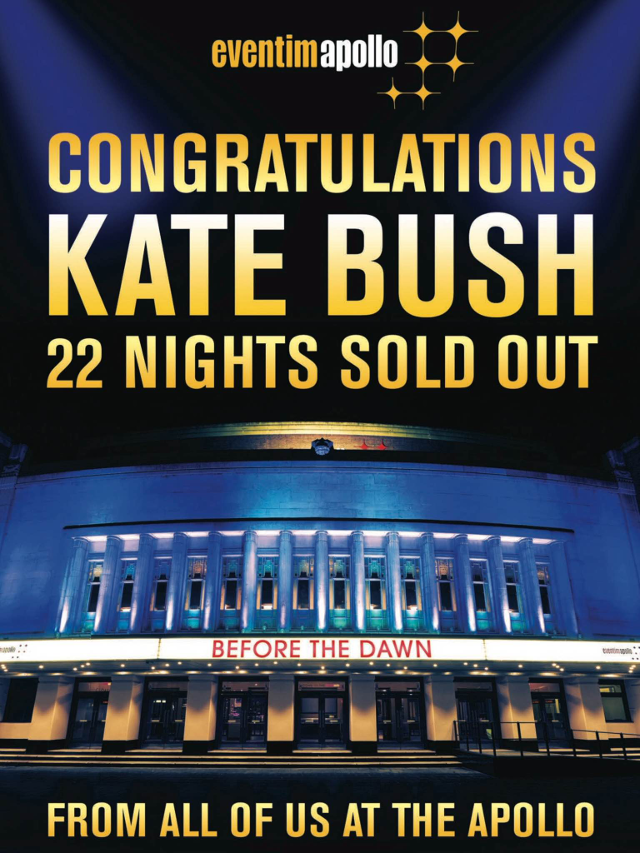 Kate reflects on "one of the most extraordinary experiences" of her life.
After the Dawn

Hi there,

Now all the shows are over, it's pretty difficult to explain how I feel about it all. It was quite a surreal journey that kept its level of intensity right from the early stages to the end of the very last show. It was also such great fun.

It was one of the most extraordinary experiences of my life. I loved the whole process. Particularly putting the band, the Chorus and the team together and watching it all evolve. It really was the ultimate combination of talent and artists, both from the music business and the theatre world. I never expected everyone in the team to be so lovely and we all grew very close. We became a family and I really miss them all terribly.

I was really delighted that the shows were received so positively and so warmly but the really unexpected part of it all was the audiences. Audiences that you could only ever dream of. One of the main reasons for wanting to perform live again was to have contact with that audience.They took my breath away. Every single night they were so behind us. You could feel their support from the minute we walked on stage. I just never imagined it would be possible to connect with an audience on such a powerful and intimate level; to feel such, well quite frankly, love. It was like this at every single show.

Thank you so very much to everyone who came to the shows and became part of that shared experience. It was a truly special and wonderful feeling for all of us.

Very best wishes,
Kate x