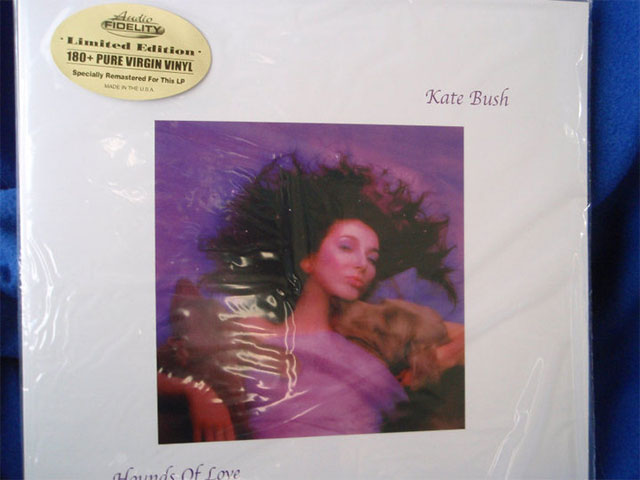 Note: Don't forget, if you wish to order the vinyl edition of Hounds of Love at the Audio Fidelity store

here

my site visitors can use the following code at check-out (enter it into the coupon code section of the check-out screen) to receive a tasty 20% discount: The coupon code to use at the Audio Fidelity checkout for this item is: hounds9th. Again, thanks to Audio Fidelity for doing this. This coupon code can be used till the end of September.
According to Wikipedia, an audiophile is "a hobbyist who seeks high-quality audio reproduction via the use of specialized high-end audio electronics." Clearly, I am a "vinyl-lover" and not an audiophile then, but either way I was very happy to receive my copy of the new Hounds of Love on vinyl yesterday. I've been trying to confirm whether this is the very first time it has been issued in a gatefold sleeve like this? Was it released in some territory in that format? South America? Answers to the usual address, please. In any case it looks very nice and sounds really superb. I found the discussions on Steve Hoffman's site about this release quite enlightening. Steve is the highly-respected guy who mastered the album, in fact Kate has just recently personally approved the test pressing he created of The Sensual World for Audio Fidelity. Kate insists on personally approving the test pressings each time (you may remember the Aerial vinyl release was initially delayed a little till the pressing was to Kate's satisfaction). A consensus seems to be emerging about the vinyl being "exceptionally quiet", which I take to mean no crackles and pops etc. One comment says: "Kate's vocals were clear, the background voices and effects were distinct, the instruments sounded perfect. For example, the double bass on Under Ice was so real and clear that you can easily hear the difference between each note that Danny Thompson played. Lots of air between the instruments here – no muddy sound." Read more discussion at Steve's forum here. This is all making me think that I need to invest in a better record player!