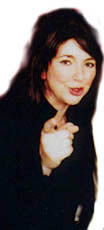 HAPPY NEW YEAR! Well, the lady to the left certainly intends to have a good one, do we feel it could be an album year? You just never know. In the meantime, don't you think there's been something missing from 2002 so far?…that's right, the latest crop of Newsbits! (with apologies to people for the delays in getting some of these online).
Hounds Of Love was at #90 in a poll of more than a quarter of a million music fans by the channel VH1 in November, see here (thanks to Michael Leitz)…Victor writes: "I just wanted to let you know ahead of time thatWFUV 90.7 – Public Radio from Fordham University has a segment on Saturday January 19th from 4-5pm called "The WFUV Long Player" where they'll play Kate Bush's album, The Sensual World, in its entirety. They sometimes provide a few details and tidbits regarding the albums they play, so who knows, it could turn out to be interesting even for those who've already heard/own the album. You can listen to it live via the net (www.wfuv.com) if you don't live within the broadcasting area….Sozo from Japan has unearthed a rare clip: "We now have a chance of seeing the 'Moving' clip from the Tokyo Music Festival (June '78) in much enhanced quality." His friend Hideaki Nishihara has been requesting a Japanese digital station to show Kate's performance of Moving, and it seems the clip is going to be broadcast soon according to one of the presenters…(thanks Sozo)
Herb Leonhard is showcasing his new Christmas Kate art among other new pieces at his gallery here…In the US VH-1 played the December Will Be Magic Again video to tie in with the release of the "Big '80s Christmas" CD from Rhino records. They also used the song as the intro/outro music in the 30 min special when going to commericals (thanks to Collin Kelley)….Nicole Kidman is now known to be a high-profle Kate fan. Growing up in Sydney, Kidman sang with a band called Divine Madness when she was 17. John Roger from Australia found this quote in a feature in "In Style" magazine from June of last year: "Three girls and four guys. We did a lot of seventies stuff. I did Kate Bush, I did Blondie, I did Chaka Khan," she says. "I don't have the really raunchy voice for Tina Turner. I wish I had a Janis Joplin voice. We played at parties and one pub gig. We never got paid."…Jon Bishop has let me know of a new CD "West End Girls" featuring loads of female artists singing songs from the shows, Kate's on disc 2 with "The Man I Love''.
Finally, some old news I'd meant to tell you about. Kate Bush sites have started winning awards! In Sept '01 Q Magazine made Kate Bush In MP3 its "MP3 Site Of The Month." It says of the site: "Breathtaking collection of rareties including the earliest demos from 1973. The site acknowledges that Bush may disown some of these early works, but provides them as an antidote to commercial bootleggers. Manna for fans". Find the site here.