Happy new year to all this site's visitors! The news that Kate will be releasing an album this year has continued to spread. You can keep up-to-date on all the latest media reports daily in our site forum's new Medialog section which Peter has kindly created for us.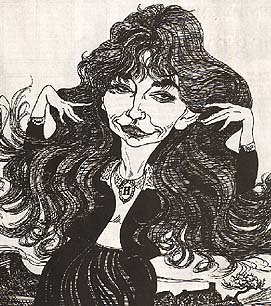 The BBC website seems to think that this is the official Kate Bush website (it isn't), but it is great that Mark Radcliffecontinues in his campaign to get Kate live on air, he now links directly to this website from his BBC Radio 2 page here. The Daily Mirror has had a large article entitled "Kate's Big Comeback", the article finishes with: "Her loyal fan base means next year's album will be a big seller. What is less clear is how Kate will cope with the blizzard of publicity that will inevitably accompany it." The Sunday Times has featured a glowing profile of Kate here, which was accompanied by a cartoon (right). "Her success was all the more notable because she was one of the few women to be taken seriously in the male-dominated world of pop, governed at the time by the aggressive sounds of punk…now she is ready to face the spotlight again. This, remember, is a female star whose versatility has perhaps never been surpassed, who pioneered the fusion of dance and circus entertainment in pop and conjured a new persona with each song. For fans, the anticipation is palpable." The 7th January edition of The Sun has a piece on the big albums planned for 2005: "This could be the biggest comeback since Lazarus. 12 years on from her last album, The Red Shoes, and 27 years since Wuthering Heights, the warbling songstress is back. Her individual style is never less than fascinating but will it survive in 2005's guitar-band world? Probably." Further afield, in the USA the major entertainment news provider Entertainment Weekly has carried the story here. Other stories have popped up in the Australian, Japanese and Norwegian press. The new edition of Q Magazine lists Kate's new album as number 8 in their Top Ten most anticipated new releases for 2005, their verdict being: "Album of the year? Our fingers are crossed." Q Magazine and a number of other sites have repeated the rumour that Marc Almond has duetted with Kate on the new record. On his official site two days ago it is stated: "Unfortunately, rumours about a duet between Marc and Kate Bush are not true. The rumour has been flying around for some time on the web and was mentioned in the current edition of Q magazine. Marc says he has not been approached nor does he know of any of his songs ('Youth' has been mentioned) being covered. He wishes he could confirm the rumour as Kate is one of his all time favourite artists and he looks forward to her long awaited new album, one of the big music events of 2005." Similar rumours about Dave Stewart collaborating remain unfounded.

Wuthering Heights is one of 25 songs nominated in the new category of Best British Song at this year's Brits. To celebrate 25 years of the Brits, they are having a one-off award for Best British Song of, for some reason, the last 27 years. Wuthering Heights is one of the 25 songs in the initial nominations, but these are going to be whittled down to five, based on the general public's votes up to and including 9 January. If you register, for free, at http://brits.co.uk/vote/ you can vote immediately and get our Kate on the rostrum. (Thanks to Rob Jones) This vote will be featured on Davina McCall's radio show (she's a big Kate fan) and this news has also been widely circulated such as in the Independent here.
Erasure's Andy Bell is asked in the current Attitude Magazine which songs make him weep: "Song to the Siren by the Cocteau Twins because it just gives me the goose bumps and Moments of Pleasure by Kate Bush [starts singing it]. Oh god! When we were doing the 'Wild!' album we went round her house and she was so lovely and made us tea and cakes. They should re release her stuff. I think she's finished her next album, but shes a perfectionist so who knows when it will come out."

The NME has published a full page article here called "Why I Love Kate Bush" by The Futureheads. "The idea of us covering 'Hounds Of Love' came from a couple of summers ago…Jaff our bassplayer had made a compilation tape and 'Hounds Of Love' was on it. Christine, the bass player in the other band, was saying how great it would be to play that live because obviously Kate Bush is pretty much reclusive and never really does shows. There's all this talk about her making a new record, but it's been going on for the last five years and no-one knows if it will ever see the light of day. We were thinking that it's a brilliant song and we thought we'd try and work it out – a little challenge. We got home and it was a really quick thing. And when we played it… it just stuck. People were going barmy for it. I think that something we try to take from Kate Bush are the arrangements of the music. She made quite melodious pop music, but it's really clever. It's not traditional verse/chorus/verse song structure. There are interesting parts coming in and out of the songs all the time. By the time she made 'Hounds Of Love', she was doing everything herself. She produced the record, she arranged it all, she wrote all the songs. And you've got to have respect for someone with that level of control. Aside from making great music, she was a fox back in the day. All the sleeve artwork on 'Hounds Of Love' – wow – she has it all, really. She could really sing, she could really play, she called all the shots and she was a beautiful woman as well. It put her in a very powerful position. She also carries a great mystique because she's a complete recluse. I know that she was some kind of child prodigy – she signed a development deal with EMI when she was 14 – and was always geared towards making that first album, 'The Kick Inside'. I don't know how she dealt with it, but that's really intense pressure. And she delivered the goods. She has written some classic albums and all have a little identity of their own."
Newsbits: On ABC TV (Australia) the "Rage" program (8th Jan 2005) will feature a "Countdown" episode (26 Oct 1980) featuring an interview with Kate and they also play the "Babooshka" video. After the episode they play four more videos by Kate. See the Rage site here. (Thanks Shaun)…On January 29th US radio show Rockwired will be showcasing Kate's debut album The Kick Inside at 5pm (PST). From the press release for the show: "I could call her beautiful. I could call her mysterious and enigmatic. She's a prodigy, a musical genius and one of the most stunning singer-songwriters and performers in music. I could say all of that and it wouldn't do Kate Bush any justice. The Kick Inside was her debut album back in 1977. At the age of seventeen she made her mark and didn't have to bare her mid drift to do so." Listen to the show here. (thanks to Brian Lush at KTSTFM)…London guitar band Bloc Party, dubbed the "new Franz Ferdinand", have come second in the BBC News website's Sound of 2005 poll to find the most promising new acts. Asked for his cultural heroes, lead singer Okereke says he respects Kate Bush, Bjork and Davids Bowie and Byrne – "artists that haven't ever compromised". Read more here…Best Radio, one of the most popular radio station in Athens had it's listeners vote for the "Best song of their lives". Over 1.000 songs were voted in total, and Kate was at number 48 with Wuthering Heights. (Thanks to Neil Gibbs, Tim Rees, David Sheasby, Yiannis and all the posters on our forum, particular thanks to PDFM for sorting through all the news posts and putting them all in one place on EZboard!)