Update 27th February: The Futureheads scored a new entry in the official UK Singles Chart today at number 8!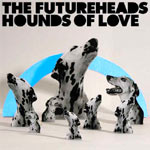 The Futureheads have released their critically acclaimed version of Kate's Hounds Of Love in the UK on Monday and according to Homeground Magazine's Dave Cross "the single is showing in the top ten of the midweek sales flashes…the position may drop a bit by the time the final chart is revealed on Sunday, but it's looking good to stay in the ten." (Trivia note: this would be the first Kate-penned top ten hit in the UK singles chart since Running Up That Hill in 1985, if you discount the sampling of Kate's voice singing a line from Cloudbusting on the 1992 Utah Saints number 4 dance hit Something Good. It's also the first time that music downloads will be a factor in the singles chart success of a Kate composition.)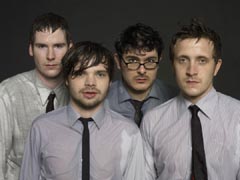 The track has received excellent reviews. From the Top of The Pops website: "If Hayley Westenra is reading this, THIS is how you do a cover of a Kate Bush song, opera girl! The 'Heads take a '70s new wave power pop approach to songwriting, and then play as if they have too many good ideas and really, really short attention spans. Which can make listening to them feel like someone yelling interesting words from a dictionary, using a variety of comedy voices. Taking this 'swots on caffeine' approach to a genius pop song from another wayward talent ranks up there with jumbo Kit Kats as one of the great ideas of our time. Where Kate's voice swooped and cajoled, the 'Heads jibber and burp. Where her backing track was all drummy clatter, theirs is jagged guitars and urgent harmonies. Making this a rare example of a cover version that actually adds to your enjoyment of the original."
The Gigwise website also reviews the single: "…both artists versions of Hounds Of Love excel in flair and panache, but the Futureheads bring something else to it – they stamp, with authority, their own stop-start guitar jabs and vocal ebullient flavour to the song. Voices and melodies materialise from every crevice and coagulate to form what has now become the spell-binding Futureheads trademark." Drowned In Sound said "Sunderland's finest haven't just left their own indelible footprints on here, but merely stamped the remnants of Ms. Bush's quirky ballad into the carpet with last night's dinner's morsels, and if it weren't for some long time dead bloke from Tupelo, would surely be gracing the top of the charts by this time next week." BBC Teletext: "Cover versions aren't always a good idea, especially when the song was a classic to start with – but the Futureheads have done a grand job with their version of this Kate Bush hit, chucking in guitars and harmonies, upping the tempo and giving it their own sense of identity. A winner." Metro newspaper has named it single of the year and given it 5 stars. You can read even more articles and reviews of The Futureheads in this site's forum's Medialog section.