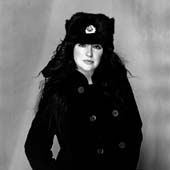 Columbia Records in the US have issued a press release giving more details of the people who have worked on Kate's new album, as well as some quotes from Kate about Aerial. Here are some excerpts from it:
"I have been genuinely touched by the sense of anticipation I've felt from people," says Bush. "I feel really privileged that people have been waiting." A characteristically bold and expansive work brimming with atmosphere, mystery, passion and complex aural detail, the twin-disc 'Aerial' has already been declared a masterpiece by all who have heard it. Realising that the amount of material she had accumulated in her time away was unlikely to fit onto a single CD, Bush made the decision to split the results in two, resulting in her first double album. Disc One, entitled 'A Sea Of Honey', comprises seven songs, ranging from the evocative lead-off single 'King Of The Mountain' through to the emotive reading of a lengthy section of the infinite series of numbers in 'p', to the playful, spell-like 'How To Be Invisible' and the moving, impressionistic conclusion 'A Coral Room'. Disc Two, 'A Sky Of Honey', is a conceptual piece in nine parts, built around recurring motifs of light and birdsong, following a day from afternoon through dusk and night and on to sunrise. "What is quite nice for me doing the two discs," 'Aerial's creator explains, "is it allows me to play with the semi-classical style which I like – space and acoustic music – but also the band-based stuff with lots of drums." Bush has spent her twelve years out of the public gaze dividing her time between preparing the songs for 'Aerial' and looking after her son, Bertie, born in 1998. "I was having to work in really short little bursts," she says of her prolonged absence, "and I'd never done that before. The way I'd always worked was to just stay in the studio for fourteen hours a day. I didn't have that luxury to use the time in the same way. So there were lots of periods where really nothing much was happening. But in some ways I'd say it was very good for me to have had those kinds of restrictions. It was continually forcing me into a situation where I had to stand back from it."
The musicians credit list for Bush's eighth album reveals new collaborations with drummers Steve Sanger and Peter Erskine and percussionist Bosco D'Oliveira, along with more familiar names such as Gary Brooker (founder of Procol Harum, providing Hammond organ), guitarist Dan McIntosh, drummer Stuart Elliott (who has appeared on every one of her albums), bassistsEberhard Weber and John Giblin and recording engineer/bassist Del Palmer. As such, over the years, Bush has gathered around her something resembling a close-knit musical family. "There was a sense of being at play as well as at work," Bush notes of the sessions for 'Aerial'. "I think that's very important because it is so hard and so frustrating sometimes trying to get an idea to materialise. It's not an easy process. I really like working with people who are old friends, it's lovely." Poignantly, 'Aerial' also features some of the last work of orchestral arranger Michael Kamen, who had scored for every Bush album since 'Hounds Of Love' and who passed away only weeks after his contributions to the album were completed at Abbey Road studios in October 2003. "What was great about Michael was his stuff was very visual," says Bush. "He did such a fantastic job. It's very hard to believe he's not around any more." Now, in November 2005, with the release of 'Aerial', Kate Bush is following in the grand tradition of groundbreaking double albums. "I used to really like the double albums I bought of artists that I loved," she states. "It wasn't in a way so directly connected with you spending money on an object. It was somehow more of an artistic statement. It said, 'Here's my music'." Read the full press release as posted on this site here.