Hi all, I'm still trying to find the time to get the site re-launched, getting to grips with a number of options right now, please bear with me, I've been posting bits of news in the Twitter feed which you'll find above, I'd urge you to check out the Paddy Bush radio programme from BBC Radio in particular, stirring stuff. In the meantime I've realised it's a busy time for your Kate Bush bookshelf so here's some upcoming releases you may want to get your mitts on!
HomeGround, The Book – An anthology of the Best of the Kate Bush Magazine Update: Work continues apace on this huge project by Peter & Krys. Up to 800 pages, yes, you read that right, have been completed and a first draft should be ready in a month or so. The plan will be to have the book available on Amazon, and the HomeGround editors are aiming for a publication date in the second half of 2010. Judging by the anticipation I've been reading so far, many, many bookshelves out there are looking forward to this book. As I've said before, whether you've subscribed to HomeGround in the past or were always curious what all the fuss was about, now you can look forward to the ULTIMATE anthology of this iconic publication, and an incredible resource for anyone interested in Kate's career. All updates will be on this site and on the HomeGround pages here.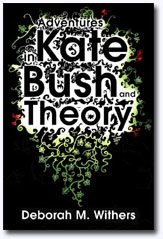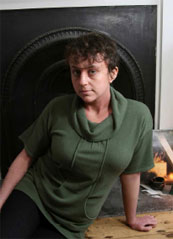 Adventures in Kate Bush and Theory by Deborah M. Withers (HammerOn Press).Published March 15th 2010. From the Press Release: "A new book providing the first ever indepth engagement with the philosophy of Kate Bush's music. It will be published on March 15th 2010. Adventures in Kate Bush and Theory will present Kate Bush as you have never seen her before. Here is the polymorphously perverse Kate, the witchy Kate, the queer Kate; the Kate who moves beyond the mime. Since Bush burst into the public eye in 1978, her fans and admirers have been fascinated by the endless mysteries of her music. She is a pop star whose brain and imagination have inspired, delighted and comforted millions. Former Sex Pistol John Lydon recently said that Bush 'supplies me with all the clues and it's up to me put the answers together.' Adventures in Kate Bush and Theory is one personal response to these clues. Written by a queer woman in her late 20s, its answers are delivered in a unique way. Drawing on cutting edge feminist philosophy, critical theory and queer studies, Adventures in Kate Bush and Theory makes theory accessible to new audiences. Through analysis of the music, film, video and dance of Kate Bush, it breaks down boundaries between the academic and popular, showing that theory can be sordid, funny and relevant – despite what most people think.
The book has been described by Radio DJ Mark Radcliffe as "an in-depth labour of love from a genuine Bush fanatic" and acclaimed international artist and scholar Allyson Mitchell as "a weaving of theory, historical data, imagination and activism tied with astute observation and wry wit… Cultural Studies has met its match in a readable stretch of the boundaries of theory and genres". Deborah M. Withers has been interpreting and telling stories about Kate Bush's music for most of the noughties. She even has a PhD on the subject. Adventures in Kate Bush and Theory is her first book. As Deborah says: "Undoubtedly including "theory" in the title will immediately suggests to people that the book is a weighty tome, but I can assure you that this is not the case. It is important to remember that "adventures" is also in the title. I want readers to roam with me through Kate Bush's music, unlocking the codes that are within them. Theory is one of the instruments I use to crack these codes. It is a tool that should be available for everyone to use."
I haven't had a chance to read the book yet, so I asked longtime fan Ian McLauchlan to give me his impressions after reading it. Ian writes: "My own suspicion is that the universe is not only queerer than we suppose, but queerer than we can suppose – J Haldane 1928." It could be said that there is nothing more to write about with regard to Kate Bush and her music to the present date. There have been thousands of articles written, countless interviews, reviews and numerous books. And yet here is a forum where we still write about Kate, her art (in between discussion about the weather, cake and each other.) and hopefully we take a little time to listen to each other's views, opinions with good humour. So here is yet another book about Kate. But it's not about Kate. And it's not another male journalist behind the pen. It's an alternative viewpoint, opinion, and is full of humour. This is a book about the BFS. The subject of the book changes shape, gender, sound; taking on an ever shifting guise on its journey through each album and zeitgeist of each release. The cyclical nature of The Ninth Wave and A Sky of Honey are expanded throughout the story of the BFS. The birth, life, continuity, change, breakdown, death and rebirth are explored with reference to folklore and fairy tales, colonialism, nationalism, gender, oh and a little bit of Orientalism thrown in for good measure. Brave, funny, silly, informative, and probably the best book written about Kate and yet not about Kate. Utterly QUEER." Thanks Ian. Read more about this book at the publishers website here and the book is available to order here. Perhaps most fun of all, we have a Youtube trailer for the book for you to enjoy!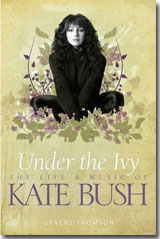 Under The Ivy – The Life & Music of Kate Bush by Graeme Thomson. (Omnibus Press). Published May 4th 2010. 350 pages with 3×8 plate sections. Graeme Thomson is the author of biographies of Willie Nelson and Elvis Costello and a regular contributor to The Guardian, Observer, the New Statesman, The Word and The Herald. I spoke to Graeme in 2008 as he was setting out to write this book. A fan himself, he clearly had a good grasp of the previous biographies of Kate and what their strengths and failings were. He was not interested in exploring Kate's personal life but rather to take a fresh look at her body of work, without following the chronological framework used so often before. He told me he wanted to write something insightful and elegant, a book which is genuinely revealing in terms of her working process. He wanted to redress his own disappointment that nothing so far had been published which did her justice (although we both agreed that the 1988 Kate Bush: A Visual Documentary book by Kevin Cann and the late Sean Mayes was the best so far published). So, I have a lot of reasons to look forward with interest to this book. Graeme tells me that the book has lots and lots of new information, a wealth of new first-hand accounts, and in-depth critical analysis of all aspects of her work.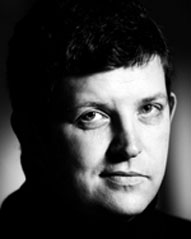 From the Press Release: "This is the first ever in-depth study of Kate Bush's life and career. "Under the Ivy" features over 70 unique and revealing new interviews with those who have viewed from up close both the public artist and the private woman: old school friends, early band mates, long-term studio collaborators, former managers, producers, musicians, video directors, dance instructors and record company executives. "Under the Ivy" undertakes a full analysis of Bush's art. From her pre-teen forays into poetry, through scores of unreleased songs. Every crucial aspect of her music is discussed from her ground-breaking series of albums to her solo live tour. Her pioneering forays into dance, video, film and performance. Combining a wealth of new research with rigorous critical scrutiny, "Under the Ivy" offers a string of fresh insights and perspectives on her unusual upbringing in South London, the blossoming of her talent, her enduring influences and unique working methods, her rejection of live performance, her pioneering use of the studio, her key relationships and her gradual retreat into a semi-mythical privacy." The book is available to pre-order from Amazon here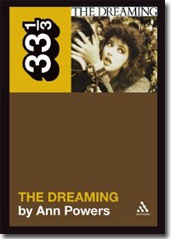 Kate Bush's The Dreaming by Ann Powers. (Continuum Books). Published December 2011. Ann Powers is a veteran and highly acclaimed rock critic who has also written extensively on feminism, spirituality, and contemporary culture. From 1997-2001 she was a pop critic at the New York Times. She is currently senior critic at Blender magazine. 33⅓ (Thirty-Three and a Third) is a series of books written about music albums, featuring one author per album. The series is published by Continuum Books. They stagger the releases of this popular series and have published 70 volumes of the series with another 24 titles forthcoming. Thus, this is early word on this one, it's released in December 2011! The books are very well done and the publisher's blog makes for interesting reading. From the Press Release: "This book is imagistically rich and prismatically structured, interweaving the old tales of she-bears and werewolves, Donkeyskin and Coyote, with historical accounts of Houdini's wife, bank robbers like Machine Gun Molly and warriors like the revolutionary war hero Deborah Sampson. Some of these tales directly inspired Bush's lyrics, others illuminate them; all are part of the tapestry of truth and exaggeration that Bush took up with The Dreaming." The book is available to pre-order from Amazon here