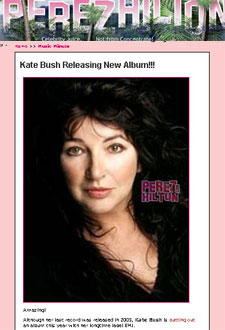 Quite a lot of people have been coming across an online rumour that Kate will be releasing a new album this year. As far as I can make out, the rumour stems from the Wotyougot blog website here, who claim to have heard the news from "a reliable source". Their story was then picked up by Digital Spy here and others soon latched on including celebrity blogger Perez Hilton here.
Meanwhile Graeme Thomson, author of Under the Ivy: The Life & Music of Kate Bush, has posted a quote on his blog that is apparently from someone at EMI commenting on the rumour: "Right to be cautious. These rumours always surface this time of year and there's no reason to think this is any different. We're hopeful that a new record may emerge this year, but I was saying the same to people in Jan of 2010 so who knows… only Kate herself. Let's keep fingers crossed!! I'm feeling optimistic."
So there you go, who knows indeed? Rumours of Kate releasing an album are nothing new, and this one has legs, so it's worth pointing out that until something is mentioned through official channels we wouldn't go planning an album launch party just yet. Here at katebushnews we'll only report something along these lines when we absolutely feel there's substance to it, or it comes from Kate herself. If there is something coming in 2011, we'll be all over it!