Regular visitors to this site give us much feedback on our promotion of the creative work of not just Kate but also those closest to Kate; Paddy, John and Del. One of the of the most interesting connections that we've picked up on in the last few years has been the journey of Syd Arthur – a band based in Canterbury, England, that features Kate's nephew Raven (John Carder's son) on fiddle. With a very distinctive sound the band have built on earlier successes and are justifiably proud of their impressive new Moving World EP. Pre-order it here. We recommend you get it.
Here's a taster of the EP:
Moving World EP Teaser by Syd Arthur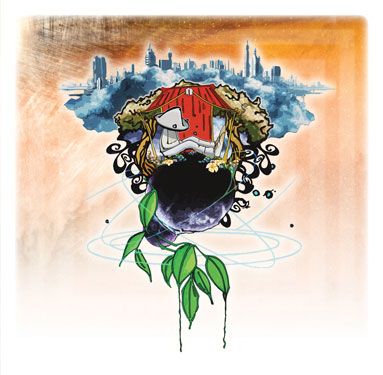 The band is four Canterbury-based devotees of sound immersed in the simple pleasures of songwriting, performance and their abilities for exploratory improvisational musical interplay.  Live, the band has been together since 2006.  On record, it all starts from here.
Syd Arthur's intricate, high-energy live sets have been what the band are founded on, and over the past 5 years they have created a large following on the underground scene across the South of England, Europe and beyond.  Festival veterans, the band have played from Glastonbury to the Secret Garden and back.  Summer solstices and green gatherings number against self-funded UK tours and trips to pretty much every country in Europe.  With the level of live recognition so far to simply pigeonhole Syd Arthur as an underground act is something of a mistake.  This is an accomplished live band looking to make a further stamp on a music industry there for the taking.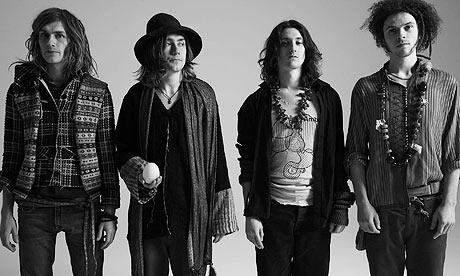 As with all great live bands, capturing a definitive take on record is always a challenge, one that up until recently the band have neglected to take on.  But in 2009 the band began the task of setting up Wicker Studios, their own self-funded studio space on the outskirts of southeast London. Greatly inspired by the sonic pioneers of the late 60s and early 70s, they patiently learned how to engineer, produce and mix themselves, using an innovative hybrid of analogue and digital techniques.
Not alone in their plight, the band have found themselves at the heart of an exciting new music scene bubbling away in the Canterbury area.  United by an encouraging spirit of cooperation and mutual support, together with a shared love of (among others) Soft Machine, electric Miles, Eno, Can, Zappa, Beefheart, Fela Kuti, King Crimson and Sun Ra, several bands have developed strong ties.  The `Furthur Productions' collective, of which Syd Arthur have been an integral part, has provided the ideal platform for this scene, forging a uniquely `organic' aesthetic and experimenting with immersive audio-visual environments and hybrid analogue lightshows.  Several of these new Canterbury bands were also brought in to record at Wicker Studios.  And so a record label was born.  On 28th March 2011, the Dawn Chorus Recording Co. will release its first creation, Syd Arthur's Moving World EP.
Recorded in an intensively creative week at the end of 2010, the tracks on Moving World represent the most powerful possible expression of the band's potential up to this point. To liken Moving World to the original `Canterbury scene' artists like Soft Machine, Caravan, and Hatfield and the North is an easy starter, but this is what the Canterbury Sound artists might have come up with had they grown up with an extra 30-40 years of music history culture, WOMAD festivals and the entire world's musical output at their fingertips rather than just blues, jazz and R&B records.  Here, Syd Arthur exhibit a genuine merging of worlds, rather than a forced or contrived `world fusion' music.
And this is just the beginning! Syd Arthur's debut album is currently being recorded.  Dawn Chorus Recording Co. plans to release an album a month from artists including Zoo For You, Rae and The Boot Lagoon from April onwards.  And each of the bands have their own busy live schedules to promote.  The time for Syd Arthur to rise up and be taken notice of is now!
Facebook / Twitter and Myspace links at: http://www.sydarthur.co.uk/