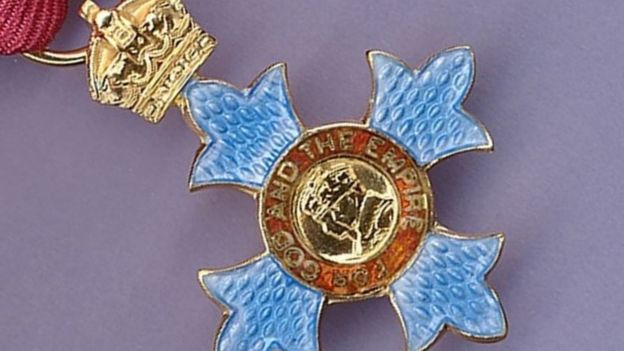 In the 2013 New Year Honours list HM Queen Elizabeth II has created Kate CBE – that is Commander of the Order of the British Empire.
First founded to recognise the service of all ranks of British society in 1917, in its modern form the Order recognises distinguished service to the arts and sciences, public services outside the Civil Service and work with charitable and welfare organisations of all kinds. Today the Order is the order of chivalry of British democracy. Valuable service is the only criterion for the award. There are five ranks of the Order. CBE is the third, ranked above OBE and MBE. It does not carry the title of Dame which is bestowed by the two senior ranks KBE and GBE. CBE is awarded amongst other things for for a distinguished, innovative contribution to any area of national life.
The official citation for Kate says: Ms Catherine Bush. (Kate Bush) Singer and Songwriter. For services to Music.

Also created CBE this year are Tracy Emin, and also Arlene Phillips, with whom Kate took dance classes at the begining of her career. David Munns, long serving EMI executive, and now an advisor of Kate's also gets an OBE for his work with the Nordoff Robbins music therapy charity and The Music Industry Trusts Award.
The Daily Telegraph reports: Bush, one of the most distinctive singers and songwriters of her generation, said it was a "great surprise" to be awarded a CBE for her services to music.The 54-year-old, whose first hit Wuthering Heights topped the charts and instantly made her a star, said: "I feel deeply honoured to be included in this list."
|Sky News | Metro | Belfast Telegraph | Independent | Huffington Post | NME | BBC | Gigwise | Prog | CBS | PopDecay | Music like Dirt | LyricStatus | Daily Mail | Digital Spy | Noise11 | Access Hollywood | Classic Pop Icons | Indie London | Hmusix | Tea and Sympathy | Music News | Complete Music Update | The Arts Desk | CBC | AltSounds | Liverpool Post | Musicnfilm |
| Rockol.it |
Previous awards of the CBE include Billy Conolly, Arthur C Clarke, Michael Caine, Helena Bonham-Carter, Eric Clapton, Brian May, Richard Curtis, Darcy Bussell, John Boorman, Peter Blake, Richard Burton and Peggy Ashcroft, Catherine Zeta Jones, and Daley Thompson the pentathlete born on the same day as Kate.
Kate will be invested with the insignia of the honour by Queen Elizabeth or another senior member of the Royal Family at an investiture ceremony at Buckingham Palace sometime in 2013.
All of us at KateBushNews.com send Kate our heartiest congratulations
Sean Krys Dave Peter