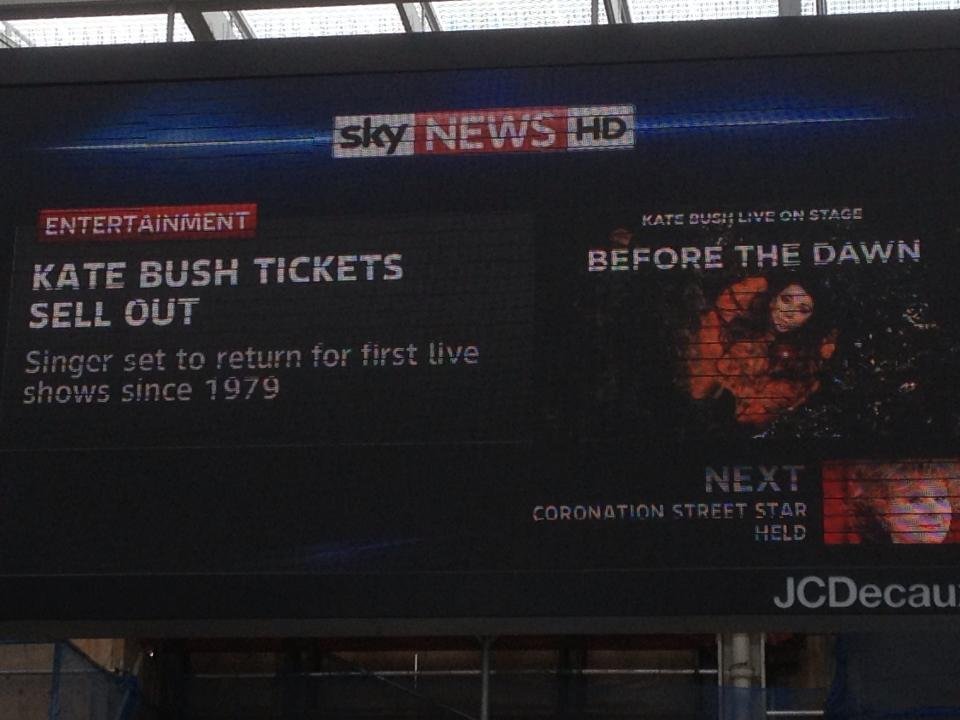 London Bridge Station this afternoon (Credit Colin Seimer)
"And now here we are. The first Kate Bush concerts since 1979. We can't imagine what they'll be like. All we can know is that they'll be unlike anything anyone has seen before. And at the heart of them will be some of the most extraordinary, brilliant, moving, astonishing and incomparable pop songs of all time. And they'll be sung and played and danced by a genius. That's why everyone wants a Kate Bush ticket."
(Tim Chipping on Holy Moly)
Kate's PR has tweeted that the tickets for Kate's live shows in August to October 2014 basically sold out this morning in 15 minutes. However a few hours later persistent fans were still surfing the Eventim site picking up the last few tickets dropping back for sale after their original purchasers could not complete the transaction for one reason or another.
Kate said this morning: "I'm completely overwhelmed by the response to the shows. Thank you so much to everyone. Looking forward to seeing you all later this year".
Not all fans were able to purchase a ticket in the morning rush, though it is now quite clear that many reselling agencies were quite succesful. Unfortunately, despite stringent reselling safeguards, some ticket resellers are already seeking up to £2,500 for a single resold ticket. Plus extortionate "booking fees".
|BBC|The Times|Guardian||Guardian 2|Guardian 3|NME|NME 2|ITV News|ITV News 2|Independent|Irish Independent|Hot Press|Afghanistan On Line|Kildare Nationalist|Belfast Telegraph|Newstalk|Daily Mirror|Metro|Metro 2|Metro 3|Metro 4|Metro 5|Gigwise|Daily Star|Irish Times|Irish Times 2|IndieLondon|MSN|Guernsey Press|New York Times|Daily Telegraph|Daily Telegraph 2|Daily Telegraph 3|Hello|Channel 4 News|Billboard|Music Times|Time Out|Daily Express|Daily Mail|Edinburgh Evening News|Holy Moly|Marie Claire|Yorkshire Post|NoKateBushTicket|Digital Spy|The Dwarf|Tales from the Riverbank|Music Times|The Yorker|Falling in Green|This is Money|Slate|Russian News|