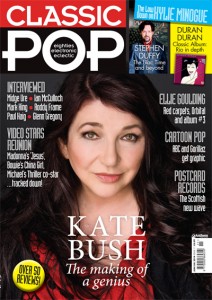 The current edition of the bi-monthly magazine, Classic Pop, features Trevor Leighton's beautiful new portrait of Kate on the cover along with the tagline: "Kate Bush – The making of a genius." As well as exploring Kate's early career and the 1979 tour in detail, the feature also recommends 10 "Essential Works" and offers a "Where are they now?" summary for all of the 1979 tour personnel.
Classic Pop say: "For this issue of Classic Pop we chat with the cast of musicians and producers that helped to steer our cover star Kate Bush on the way from teenage prodigy to global success!"
It features new interviews with people who have worked with Kate. Glenys Groves, (one of Kate's Tour of Life backing singers) says "It was a very happy tour…the fun mood was down in no little part to Kate – she was great to be around." Kevin Burke, (childhood friend of Paddy's who played violin on the track Violin from Never For Ever), producer Andrew Powell, guitarists David Paton and Ian Bairnson, video director (The Dreaming/There Goes a Tenner) Paul Henry, drummer Stuart Elliott, and Fairlight programmer JJ Jeczalik are all interviewed about Kate's early career years. All in all a very nice article!
Read more at the magazine's site here.