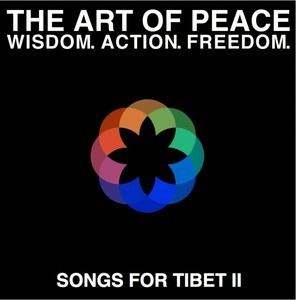 Kate and Peter Gabriel are among artists contributing tracks to an album that marks the 80th birthday of the Dalai Lama with the collection to be released on Monday July 24th. Kate's track on the album is her 2011 single, "Wild Man (with remastered shimmer)". Kate's track was confirmed by way of some previews being made available.
Stephen W. Tayler, who mixed the original track for the 50 Words For Snow album, tells katebushnews.com that: "…it's the original mix with an added layer that makes it subtly different and beautiful. I advise to check the iTunes previews when they appear before making a judgement. That's all I can say!" Kate's remastered track has a 7 minute run time.
Update in a 2020 interview with Anil Prasad, Stephen says:
"It was something I worked on with Rupert. I added layers of sound to it, but they're almost inaudible, which was done with Kate's approval. In fact, fans were pissed off because they felt it wasn't any different to the original version. In fact, it's completely different. It has a very different sonic approach. We asked Kate to name it and she said it should be "With Remastered Shimmer" so that's what it was called. I should mention I also did the 2012 remix of "Running Up That Hill" which was featured during the 2012 Summer Olympics Closing Ceremony."
The Grammy-nominated first volume of this collection in 2008 contained several rare versions of songs and live tracks from the contributing musicians.
The album will be called The Art Of Peace: Songs For Tibet II, and also features Elbow, Sting, Imagine Dragons, The Family Crest, Lorde, Tina Turner and Bob Geldof plus others (see track list below). The Art Of Peace Foundation have set up a PledgeMusic campaign to support the release. It's being produced and musically directed by Rupert Hine, who oversaw the original release. About Kate's track, Rupert says: "Kate had really wanted to come up with something unique for The Dalai Lama 80th, but time was slipping away. Set so appropriately in the Himalayas – Stephen Tayler's treatment of the full-length mix from the Snow album relies more on psychoacoustics and sonic-processing releasing fresh harmonic information in an ear-tingly and subtle way. An absolute delight."
The foundation says: "The Dalai Lama is a unique beacon of wisdom and insight for millions throughout the world. He turns 80 on July 6. To recognise this milestone, the foundation is producing an album to honour his vision of compassion, non-violence and peace." Proceeds from sales will go towards the preservation and promotion of Tibetan culture.
Full Tracklisting: 
1 – Sting The Book of My Life (Ostinato Mix) 2 – Of Monsters & Men King & Lionheart 3 – Elbow Lippy Kids (Live from Manchester Apollo) 4 – The Family Crest Sparks (Glistermix) 5 – Kate Bush Wild Man (with remastered shimmer) 6 – Lorde A World Alone 7 – Beyond Mother Within (Ostinato Mix) (feat. Regula Curti, Dechen Shak-Dagsay, Sawani Shende-Sathaye & Tina Turner) 8 – Duncan Sheik Sometimes 9 – Howard Jones Things Can only Get Better (acoustic version) 10 – Bob Geldof Baby's Going Down 11 – Rival Sons Sacred Tongue 12 – The Crystal Method Falling Hard (feat. Meiko) 13 – Ed Prosek Home (Chamber Mix) 14 – Rupert Hine You Can't Be Chased (Ostinato Mix) 15 – Eleanor McEvoy Deliver Me (From What You Do) 16 – Peter Gabriel Signal to Noise (Cut in Edit)