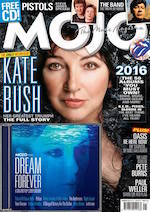 While many thousands of people got the chance to see Kate's Before the Dawn concerts in the Eventim Apollo Hammersmith in 2014, many, many more around the globe simply could not attend. Since it was revealed that the show had been professionally filmed over two nights that September, fans have of course been asking almost daily whether there are plans to make a visual document of the show commercially available on DVD or Blu-ray. Kate herself never officially mentioned or announced plans for a film release at any point. As subscriber copies of Mojo Magazine (which contains a new interview) arrive early this week, we now know what Kate has to say on that subject. In a nutshell: no current plans for a DVD, but she does leave the door open a little for something further down the road.
Mojo: Is there going to be a DVD as well? It was filmed after all…
Kate: It was filmed. And it has been archived. But there are no current plans to bring out a DVD. I think that the CD is, in a way, much more representative of being at the shows than a DVD. When you're at a live show it's the whole experience of sitting in an audience, you can scan the stage, choose where to look, it's completely different from film.
Mojo: Obviously it was such a visual experience, a visual delight, it would be a shame to lose that.
Kate: Well, I dunno, there might be something at some point, but there's certainly no plans at the moment. I want to very much move on and do something new. I'd like to do something (pregnant pause)… new! (Laughs.)
Mojo: Do you know what yet?
Kate: (Emphatically) No.
The full 11-page interview cover feature in Mojo is out on November 22nd and all details, including how to order the magazine, can be found on the Mojo website here.
Before the Dawn Live 2014  is out as a 3 CD set and a 4 LP box set on November 25th. | Pre-Order Vinyl Box Set on Amazon | Pre-Order CD Set on Amazon|