Kate's brother (and lifetime musical collaborator!) Paddy Bush, has let me know that he will be giving a talk in Aarau, Switzerland on the 21st September. The talk is entitled: "The Beauty and Complexity of Malagasy Music". The venue, Forumschlossplatz, is about 20 minutes from Zürich and the talk kicks off at 7.15pm that evening. Paddy says he may touch on how the music of Madagascar influenced Kate's Red Shoes album. The talk will be given in English and Paddy will be playing some of his favourite recordings and playing a couple of tunes himself! The exhibition is called Listening to Madagascar – let your Swiss friends know! The Facebook Event page for Paddy's talk is here.
From the event site: "The musician Paddy Bush, expert in Madagascan music, discusses his fascination for the complex rhythms and uniqueness of traditional music. He talks about the peculiarities of Madagascan pop and how Madagascar's music has entered the sounds of Kate Bush. His presentation, in English, is accompanied with numerous musical tastings."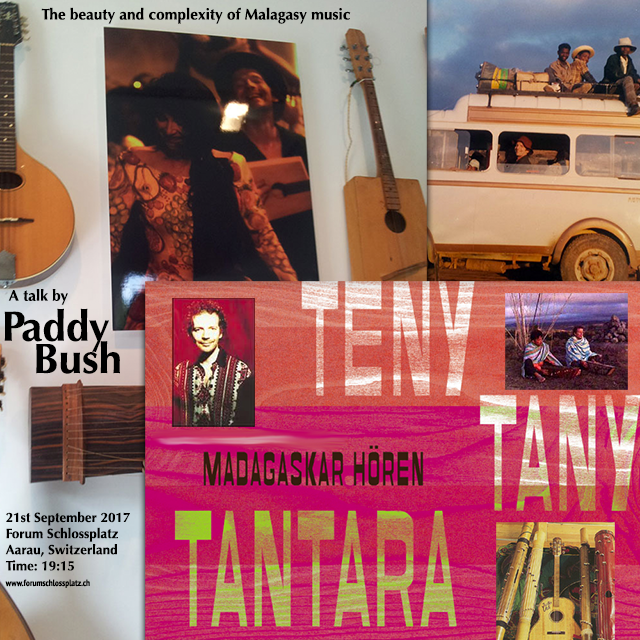 About the exhibition (August 19th – Oct 1st):
"Madagascar! The sonorous name offers itself as a place of longing for free-flying fantasies. But how does "Madagascar" sound far away from fantastic performances and images? "Listen to Madagascar" invites you to an auditive journey to this huge island in the Indian Ocean. Teny, Tany, Tantara, are three important aspects for Madagascans. The exhibition leads to the differentiated Malagasy language culture (Teny), we hear what the people (Tany) means, and how they relate to their ancestors (Tantara)." –  download the exhibition catalogue (PDF) here.