Some photos from this morning's opening at 10am of the Kate Bush Remastered Pop Up in Coal Drops Yard, London! An actual Kate Bush shop exists on the planet! Well, for 5 days anyway. Try to get down there, pick up your Kate Bush swag and help raise funds for the homelessness charity, Crisis!
From what we hear there's a whole NEW range of Kate Bush Remastered merchandise, with imagery from different albums, including (deep breath): T-Shirts at £25 each – including How To Be Invisible (book logo), The Kate Bush Remastered logo (with an Aerial-esque soundwave made up of all of Kate's song titles – it's gorgeous!), The Red Shoes t-shirt, The Sensual World t-shirt, Never For Ever t-shirt. There's a set of 4 coasters with Fish People vinyl labels on them for £12, a set of 4 badges for £10,  gorgeous mugs are £10 each, including a stunning Never For Ever mug, a Fish People mug and a Red Shoes mug. Also on sale are 50 Words For Snow Christmas Cards, 50 Words For Snow AND December Will Be Magic Again Christmas Tree Baubles which are £20 each, PLUS posters, hoodies, remastered vinyl, remastered CDs, Kate's How To Be Invisible book (with limited edition bookmark), and various limited prints on display to tie in with Kate Bush Remastered! Phew. Get down there!!
Daily raffle prizes include: 10 x How to Be Invisible regular edition books, signed by Kate, 10 x Calligraphic 50 Words For Snow art prints, signed by Kate, 4 x King of the Mountain picture discs (unsigned) and 16 x Running Up That Hill RSD picture discs (unsigned). This presentation print below is available to buy, for €7,000!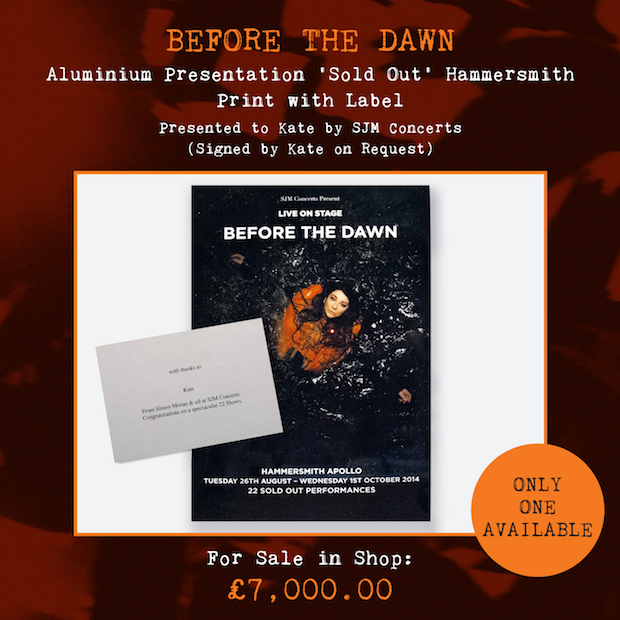 More details on the pop up, including location and opening times, here.