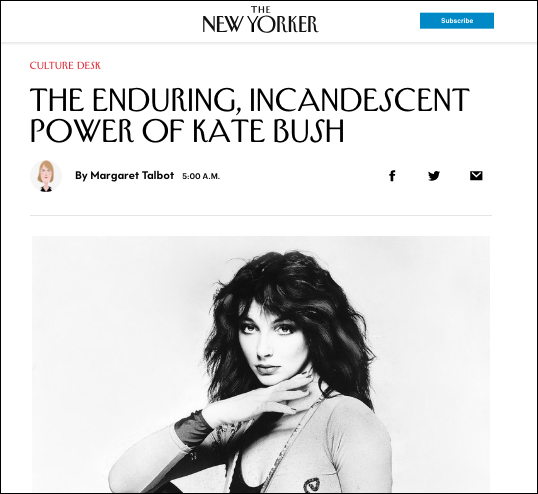 In a high profile review in The New Yorker, Margaret Talbot luxuriates in re-discovering Kate's work through listening to the Remastered box sets. Wonderfully titled "The Enduring, Incandescent Power of Kate Bush", the article finds the writer spending "most of a week last month in a Kate Bush-induced reverie—or was it a swoon? I know there were tears: you try remaining dry-eyed listening to "This Woman's Work" on a cold November night after a glass or two of wine; if you do, I don't want to know you. There may have been some ecstatic dancing that alarmed the dog; there was definitely some animated texting of lyrics to my children, who, at twenty-two and nineteen are both, bless them, Kate Bush fans…..listening to all the tracks on a complete boxed set is like going to a party and talking to all the strangers you'd normally avoid instead of the friends you already have."
Talbot concludes this excellent, lengthy piece by summarising Kate through a Virginia Woolf quote (written about Emily Brontë): "Hers then is the rarest of all powers, she could free life from its dependence on facts, with a few touches indicate the spirit of a face so that it needs no body; by speaking of the moor make the wind blow and the thunder roar." Read the full article at The New Yorker site here.
You can buy Kate's Remastered box sets, her How To Be Invisible book of lyrics and also t-shirts and lots of other new items at the online version of Kate's Remastered Pop-Up Shop, all profits to the Crisis homelessness charity right up till January 1st. Click here for the online Pop-Up Shop.