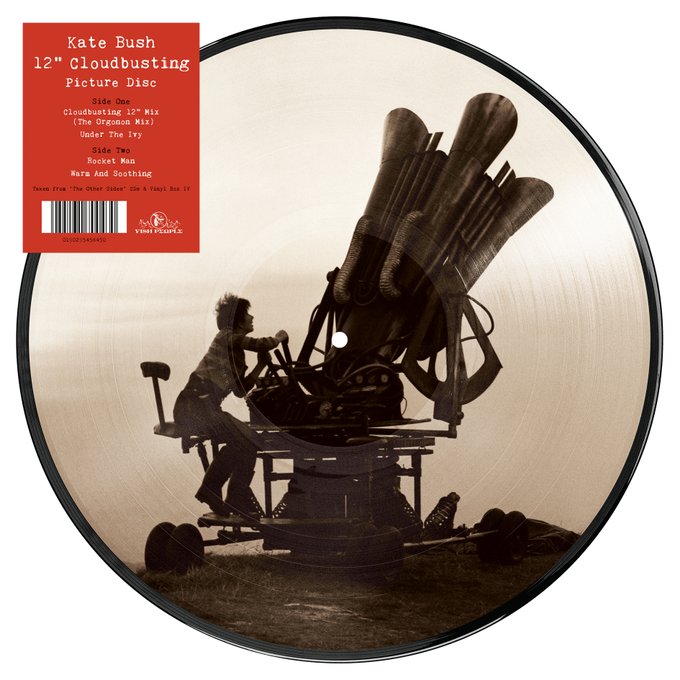 Update: An almost complete list of participating retailers is now up on Kate's official site.
More updates: Kate's new picture disc release is popping up for pre-order in more international outlets, Tower Records in Dublin had it online but their allocation seems to have sold out. HMV and Fopp in the UK have some (pre-order in-store only), FNAC in France online, and JPC online in Germany and at IBS in Italy where you can also order it online and also at La Feltrinelli online store here. Check locally!
A new release to coincide with the recent 4CD collection of rarities, The Other Sides, is being issued through independent record stores, including the Rough Trade online store, on May 24th. Described as a 4-track 12" Cloudbusting picture disc, it features imagery from the Cloudbusting and Rocket Man singles artwork. £21.99 + shipping. Check with your local indie record store. Full track-listing:

Side A
1 Cloudbusting (The Orgonon Mix, 2018 Remaster)
2 Under The Ivy (2018 Remaster)
Side B
3 Rocket Man (2018 Remaster)
4 Warm And Soothing (2018 Remaster)
The Rough Trade preorder links listed previously seem to have been a bit premature, keep an eye on Kate's official site, it looks like this won't be horribly limited, so you should all be able to order one!
Also available in the US here: https://www.bullmoose.com/p/30067510/kate-bush-cloudbusting-picture-disc-indie-exclusvie It was available to pre-order, 1 per customer, here: https://www.roughtrade.com/gb/music/kate-bush-cloudbusting