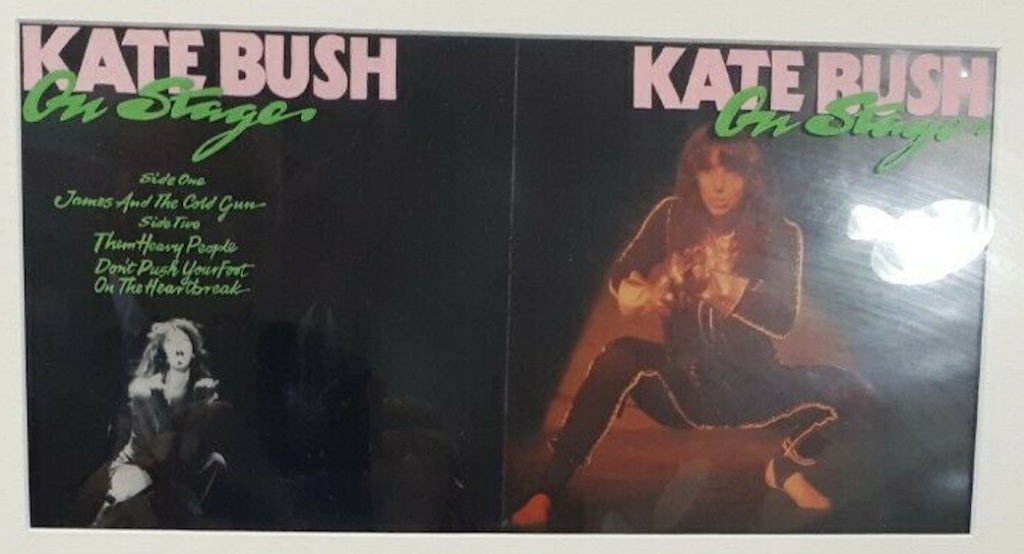 An auction on Ebay at the moment features quite an interesting curio. It shows the original artwork for the first, scrapped, version of Kate's On Stage vinyl EP, eventually released on 31st August 1979. The EP would be a success, reaching number 10 in the UK charts and featuring 4 tracks recorded live at Kate's show on May 13th earlier that year.
What's interesting about this artwork is the revelation that at one point the record was to have had just three tracks, with James and the Cold Gun as the lead on Side One of the vinyl. This might explain the cover image of Kate on stage (with gun) from that performance. The back cover additionally originally featured an image, unseen till now, from her performance of Wow. The song title Don't Push Your Foot on the Heartbrake is misspelled as "Heartbreak" on the scrapped artwork. This version of the EP was revised in favour of a four track version which also included L'Amour Looks Something Like You. The lead track for the EP ultimately became Them Heavy People – Kate even made a new promo video to go with it, but interestingly, the image from that song (Kate in fedora and trench coat) was relegated to the back cover…the striking image of a crouched and dangerously armed Kate still won out!
Here's what the seller has to say about the artwork's origins in their auction listing:
"From 1977 – 1980 I was the assistant record sleeve production manager of Robert Stace & Co one of the largest record sleeve printers in the UK at the time. I handled all Kate Bush 7″ sleeves from Hammer Horror to Babooshka. One day the artwork for Live on Stage arrived for origination but was put on hold the next day due to design changes.

The artwork remained on a shelf in the production office until a spring clean when it was going to be thrown away but instead i asked to have it and later had it framed with a running sheet for posterity".