UK viewers can watch the classic 1979 Kate Bush Christmas TV special just after midnight on Dec 23rd on BBC4 – lovely way to welcome Christmas Eve. Programme information is here.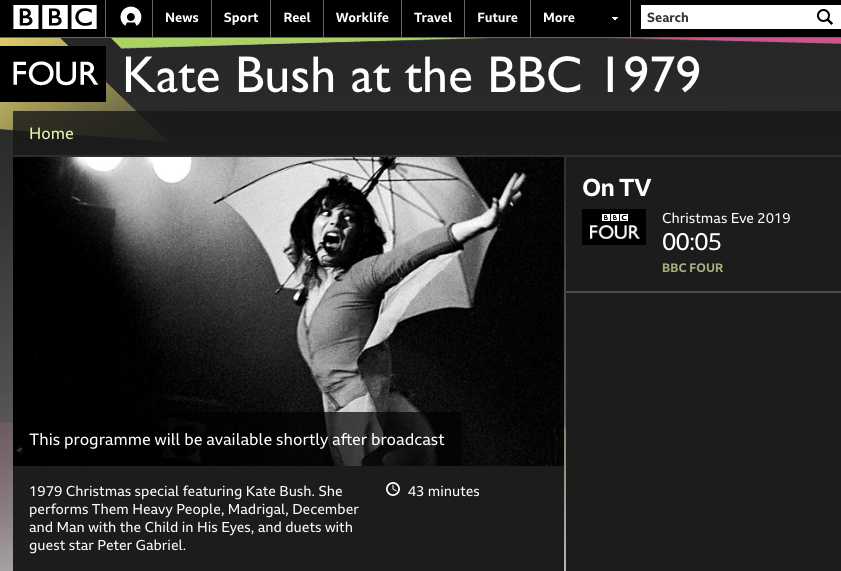 From the Kate Bush Encyclopedia site:
'Kate' is the official name of a Christmas special that was broadcast on BBC television (UK) on 28 December 1979. It was recorded in October 1979 at the BBC's Pebble Mill Studios in Birmingham, England with choreography by Anthony Van Laast. Part of the show – the sequence for The Wedding List – had been recorded at South London's Nunhead cemetery, a 19th-century Gothic cemetery with lots of imposing monuments to eminent citizens of that time. The special was a mixture of pre-filmed sequences, dramatic in-studio set-pieces and a handful of straight performances behind the piano.
The special consists of the following songs:
Violin
Gymnopédie No. 1
Symphony In Blue
Them Heavy People
The Angel Gabriel (with Paddy Bush and Glenys Groves)
Here Comes The Flood (Peter Gabriel)
Ran Tan Waltz
December Will Be Magic Again
The Wedding List
Another Day (with Peter Gabriel)
Egypt
The Man With The Child In His Eyes
Don't Push Your Foot On The Heartbrake