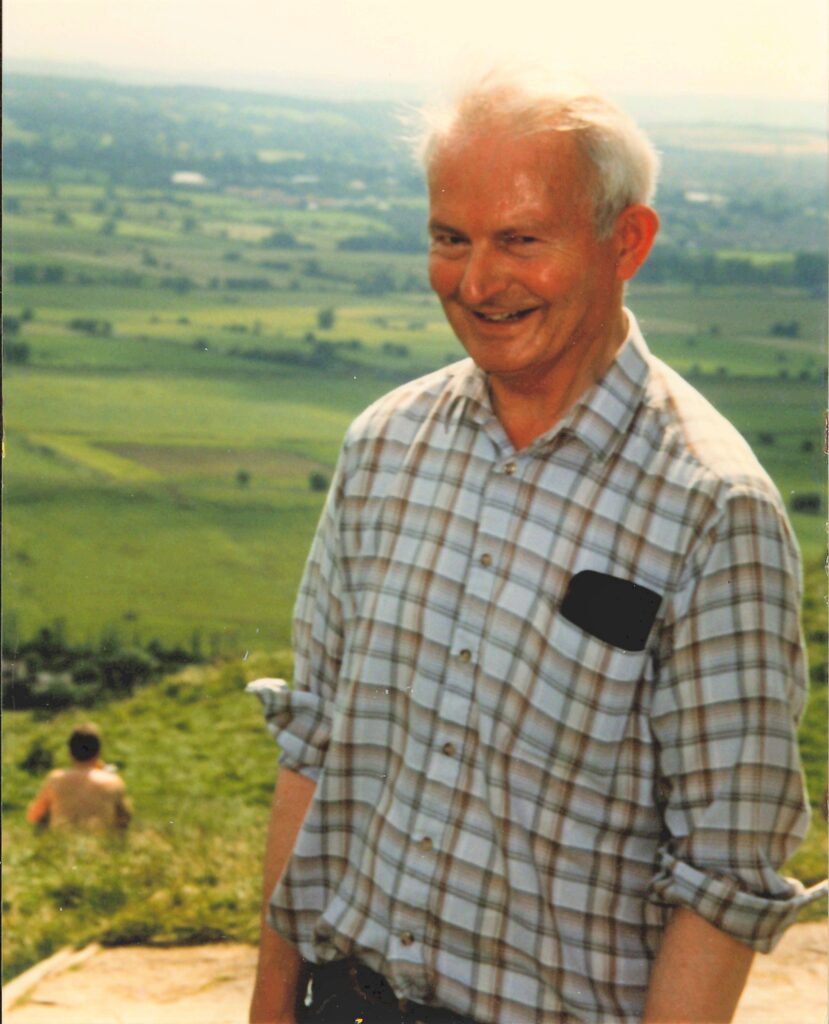 It was sad to hear about the passing of Kate Bush fan and very familiar name, John Beaumont, just recently. Our friend Sky Boswell has written a lovely piece remembering her friend – thanks, Sky. Keeping John's family and loved ones in our thoughts.
"It was with great sadness that I received news about the passing of my dear friend and fellow Kate Bush fan, John Beaumont, on Saturday 13 March. He was 84 years young. John had been poorly following a fall last November that resulted in a broken leg. Fed up with the COVID restrictions, he'd popped out for a breath of fresh air and a short stroll. He ended up at Leeds Infirmary. It was while John was in hospital recovering from the break that other issues were discovered.
John was a regular contributor to HomeGround magazine, and attended many fan events throughout the 1980s and 1990s, including the Wuthering Hikes at Haworth and the Glastonbury gatherings to celebrate Kate's birthday. He was born in 1937 so was one of the contingent of older Kate fans. He fell off the radar somewhat at the start of the computer age; he wasn't interested in embracing IT so had no internet presence. However, he was an enthusiastic and regular correspondent and kept in touch with many of his friends that way. Each letter was beautifully hand-written, full of news, facts and recollections and, of course, John's unique brand of humour! Sometimes I received as many as two letters in a week. He also liked to call friends for a good long natter.
John was a very witty and observant man and he loved music, being a great fan of the radio and embracing many genres of music. He was knowledgeable about films, too, especially Hammer Horror movies. Actress Ingrid Pitt was a favourite of his, he wrote to her regularly and attended several of her birthday parties. He was a fun loving man: energetic, enthusiastic about life, and always interested in meeting new people. His greatest love and hobby was steam engines – there is absolutely nothing you could teach John about this subject because he had studied it for much of his life, had his own model railway, regularly visited collectors' fairs, and was a great source of information to other enthusiasts. Although he gave up driving a car a few years ago he still enjoyed railway journeys. Before retiring he'd been a bus driver for many years and could recount many an amusing tale about his days on the buses! Transport was important to John – it got him to so many of the places he wanted to explore, but he also loved the way vehicles worked.
In 2015 John came twice to the Black Bull public house in Haworth to see me perform my Kate Bush tribute, once in the spring and again at Halloween. He didn't say much afterwards – that was John's way – but one lady thought he was my Dad because, she said, he looked so proud of me while I was performing. In 2016 and 2017 there were big changes happening in my life so my proposed travel to Yorkshire was postponed. I was booked for the Haworth Festival in summer 2018, and planned to spend time with John then, but Fate stepped in once more and a particularly nasty bout of laryngitis followed by post-viral fatigue meant I was too unwell to travel. I'd made firm plans to visit John and other friends in the North of England last summer – but then the pandemic happened. I won't now see my friend again.
John lived his life to the full. He was proud of his family, and carried on courageously when he lost his beloved wife, Pat, a few years ago. He had truly encyclopaedic knowledge of so much, and he never lost his spirit of adventure or his enthusiasm for life. When he smiled after telling a joke, he twinkled like a little boy. He was the man with the child in his eyes."
Sky Boswell – 21 March 2021