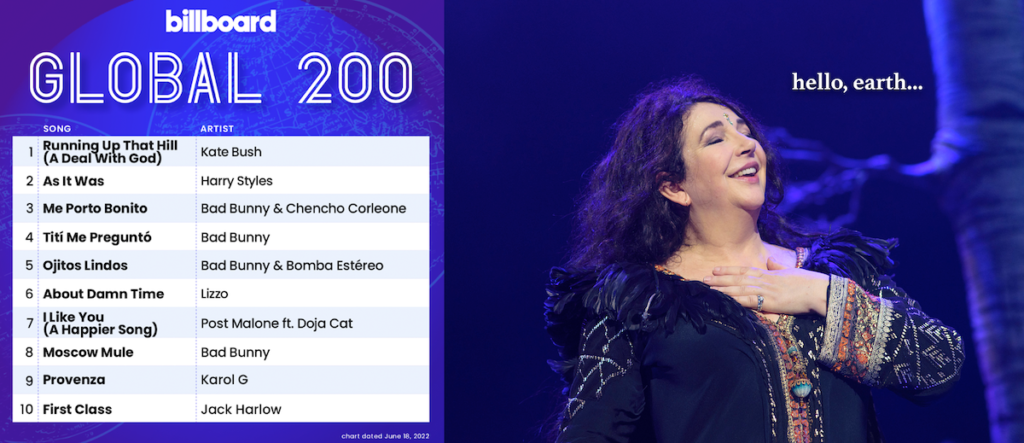 On the Billboard Global 200, Kate is on top of the world, climbing from 3 last week to Number 1 GLOBALLY! This astounding result has Kate's hit song ranked based on streaming and sales activity culled from more than 200 territories around the world.
Kate has climbed 4 places on the Billboard Hot 100 with Running Up That Hill (A Deal With God) to secure her first ever Top 5 single in the USA, at #4! The song is the top-selling and most-streamed title in the U.S., as it tops the Digital Song Sales chart for a second week and rises to No. 1 on Streaming Songs, only more US radio play and Youtube plays would have pushed her higher in the Top 5. Billboard writes: "Running Up That Hill also completes the longest run to the Hot 100's top five in terms of years from a debut to the top five – 36 years, nine months and two weeks – for a non-holiday hit in the chart's 63-year history."
Canada: Kate has climbed to number TWO on the Canadian Hot 100, her highest ever placing on the singles chart there.

UK: Kate (currently at number 2 on the UK Top 40) is looking like she may have her second UK number 1 on her hands according to those industry midweeks charts! Word is that she is far outselling Harry Styles who is at #2. France: Kate has today climbed to number 3 in the French charts – her highest ever singles chart position there. Merveilleux!
Iceland: Kate is now no.1 in Iceland!
Belgium: Kate is now No.1 in Belgium!
And, finally, Kate has added a short 1 minute video, "Running Up That Hill 2022 Edit", to her social media channels and also to the front page of her official site, www.katebush.com. It has the tagline "Created in honour of Stranger Things Season 4"