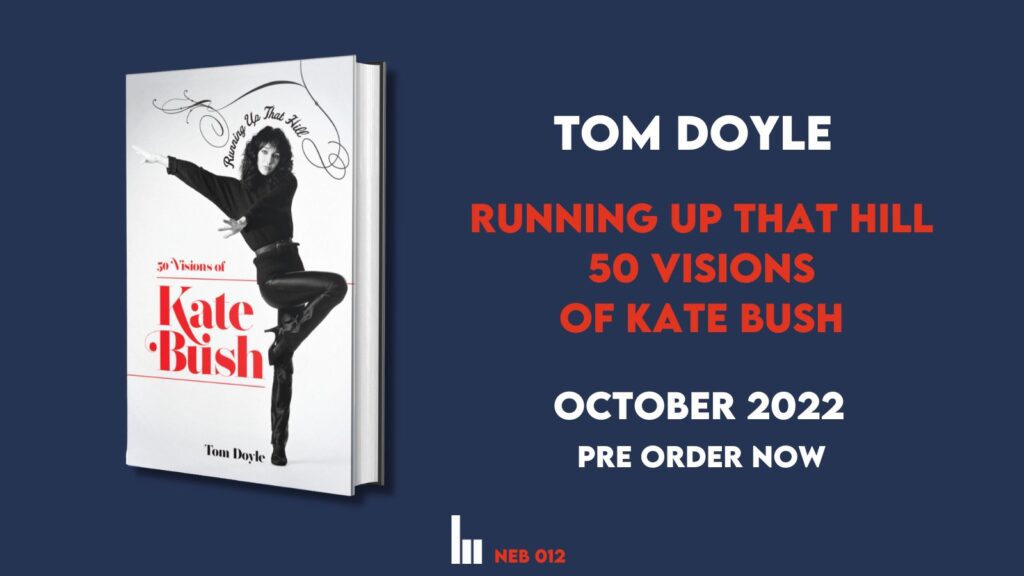 Yes, we all adore our immense HomeGround Anthology books and swoon at John Carder Bush's essential Kate: Inside the Rainbow but the prospect of another more traditional biography of Kate might not exactly excite longtime fans – a quick glance at my own bookshelf here confirms that there have indeed been many, many attempts over the years to tell the story of Kate's career in book-form with varying degrees of success; Graeme Thomson's twice-revised Under The Ivy being far and away the best of the bunch. So, when we heard this Summer that a new book by respected British music journalist Tom Doyle would be surfacing with the title "Running Up that Hill – 50 Visions of Kate Bush" and that it would take the form of a "mosaic biography", it did at first sound like it might be a tired, cobbled together clippings rehash to cash-in on Kate's phenomenal global hit single this year – thankfully, this is not the case.
[Pre-order "Running Up That Hill – 50 Visions of Kate Bush" on Amazon UK]
Instead, this excellent book, published on October 27th, is easily one of the best yet written about Kate's career – surprisingly refreshing, full of new details and insights, and earnestly crafted with obvious respect and serious admiration for the subject matter without ever leaning into all-out hagiography. As with Graeme Thomson's lauded biography, you come away with the feeling that Doyle "gets it" and clearly enjoyed shining a light on many carefully chosen aspects of Kate's output over the years. As a writer for Mojo Magazine, Doyle was granted a very significant exclusive in 2005, spending a day with Kate at her home to conduct what would be the first and most in-depth interview she would do to promote her return with the Aerial album. Little wonder that he uses much unpublished detail from this charming encounter to form the spine of his book structure.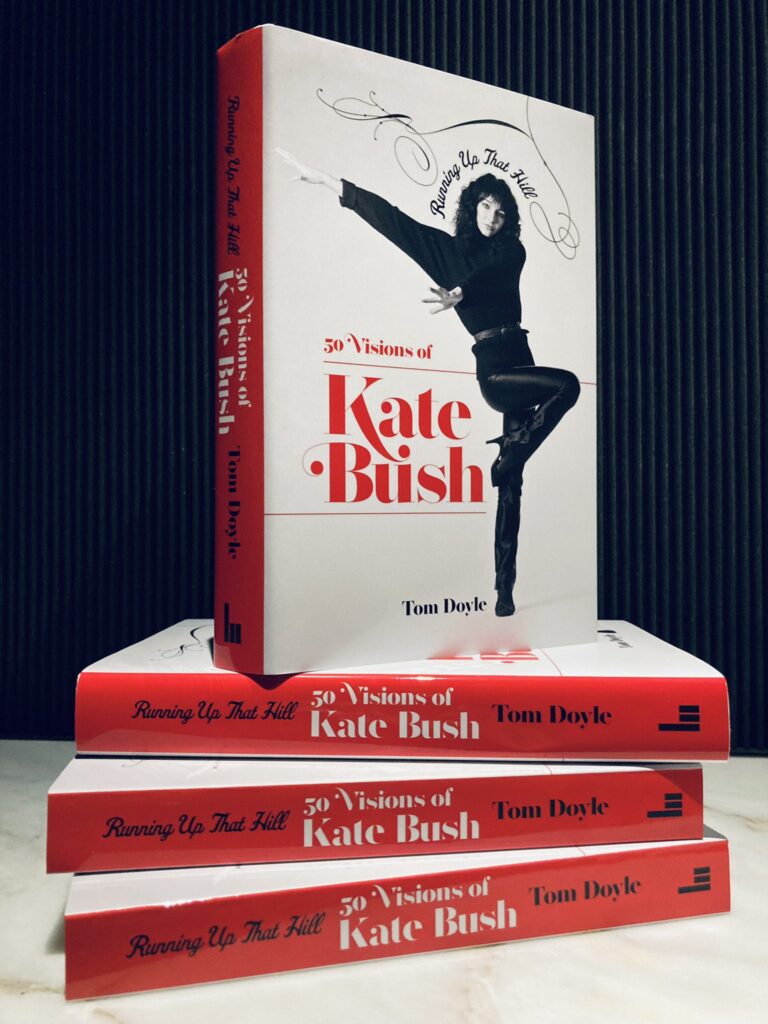 Presented as 50 chapters or "visions", the traditional chronological biography approach is (sensibly) still present, but the "multi-faceted" aspect highlighted in the book publicity has freed up the author to include "Guest Testimony" chapters (with new contributions from the likes of David Gilmour, writer Ian Rankin and photographer Guido Harari) as well as dipping into interviews and transcribed TV appearances and much fascinating fresh interview material; Kate's brother John Carder Bush describes his unforgettable Rackham-inspired photography of a young Kate that would be included in his Cathy book. Gilmour's fresh account of the recording of the demos in the 1970s is riveting stuff. Video directors Paul Henry and Julian Doyle discuss the making of the videos for The Dreaming (shot in a day), There Goes a Tenner and the iconic Cloudbusting film. There's even an unexpectedly welcome exploration with Utah Saints about their dance smash Something Good in 1992. I was very pleased to see Doyle allowing his "visions" structure to devote entire chapters to some of Kate's artistic peaks; Pull Out The Pin, Under The Ivy, Moments of Pleasure, A Coral Room and the filmed And Dream of Sheep are among those duly given this special spotlight treatment.
Throughout, Doyle writes wonderfully about his subject matter, describing the Kate Bush he met as "steely, gently controlling, painfully self-critical, and also the first person to happily puncture the reverential bubble that surrounds her." In his introductory chapter he states that his book is: "…designed to be a multifaceted portrait of Kate Bush: illuminating from fifty different angles the girl who lived in her imagination, reluctantly became famous because of it, then had to deal with unwanted outside forces, before battling on and emerging triumphant, to become one of the most groundbreaking, idiosyncratic and singular artists of our time." Highly recommended.
[Pre-order "Running Up That Hill – 50 Visions of Kate Bush" on Amazon UK]
COMPETITON TIME! The lovely people at Bonnier / Nine Eight Books have given us a copy of Running Up That Hill – 50 Visions of Kate Bush to give away! To be in with a chance, just answer the following question:
Who introduced Kate's only ever TV performance of Under The Ivy in April 1986?
Please send your answer to 50visions@katebushnews.com – if you are successful we will then be in touch by email to get your details for getting the book to you. The competition runs till the end of Wednesday October 26th at which point the random draw will be made. Good luck!
COMPETITION RULES: COMPETITION STARTS OCTOBER 20TH 2022 AND ENDS OCTOBER 26TH, 2022 AT 23:59 (GMT). ONE ENTRY PER PERSON. MULTIPLE ENTRIES, THE REGISTRATION OF MULTIPLE EMAIL ADDRESSES FOR ONE PERSON AND INCOMPLETE ENTRIES WILL RESULT IN DISQUALIFICATION. KATEBUSHNEWS.COM IS NOT RESPONSIBLE FOR THE TIMELINESS OF DELIVERY OR ELECTRONIC OR COMPUTER MALFUNCTIONS THAT MAY AFFECT THE DELIVERY OR CONTENT OF ENTRY. WINNER WILL BE SELECTED IN A RANDOM DRAW FROM ALL ELIGIBLE ENTRIES ON OR ABOUT OCTOBER 27TH, 2022. WINNER WILL BE NOTIFIED BY EMAIL. IF WINNER CANNOT BE REACHED WITHIN 3 DAYS OF NOTIFICATION, AN ALTERNATE WINNER WILL BE SELECTED. ODDS OF WINNING DEPEND ON NUMBER OF ELIGIBLE ENTRIES RECEIVED. PRIZE IS NON-TRANSFERABLE AND NON-EXCHANGEABLE. NO SUBSTITUTION OR CASH EQUIVALENT WILL BE MADE. ALL DECISIONS OF KATEBUSHNEWS.COM IS FINAL. WINNER SHOULD ALLOW 6 WEEKS FOR DELIVERY OF PRIZE.
[Pre-order "Running Up That Hill – 50 Visions of Kate Bush" on Amazon UK]