Update Thursday 12th Jan: Kate has written a tribute to Jeff Beck on her official site.
I'm heartbroken to hear the news. Jeff was a real one-off, He was so adorable and funny – incredibly lovable.
He was one of the greatest guitarists the world has ever known. We've lost one of our brightest stars and the heavens now have one of our heroes.
Kate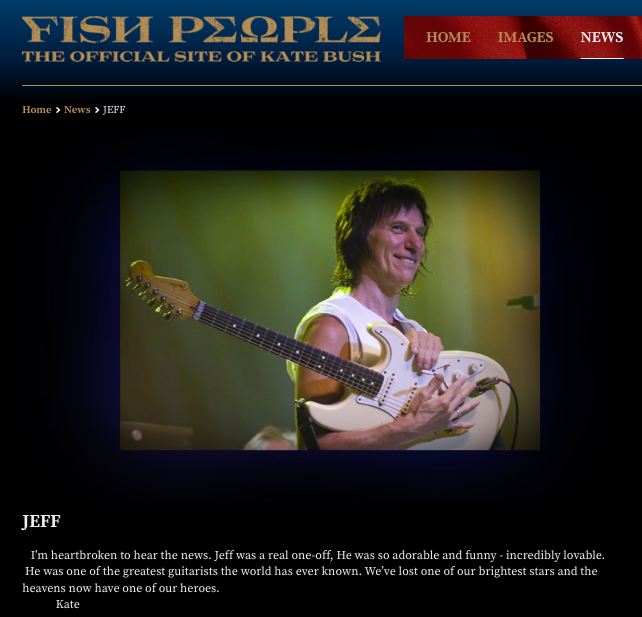 Jeff Beck, the celebrated guitarist who played with the Yardbirds and led the Jeff Beck Group, has died aged 78. Jeff played guitar on Kate's song You're The One from The Red Shoes album in 1993. Kate wrote in the fan club magazine at the time: "I love Jeff Beck's guitar on this song – he is a big fan of The Trio (Bulgarka) and was very keen to work with their melodies in the song. The idea was for him to gradually "step into" the track and slowly make his presence felt, to end with an outspoken solo. I was really honoured to work with all the people on this album…"
In an interview with Del Palmer in Sound on Sound magazine in 1993, Del remembers the tech set up for the session: Jeff playing his signature Stratocaster for You're The One in the control room with a tiny amp positioned underneath the front of the console and miked with a U87 positioned three inches away to the side and pointing in. "I was sitting at the console, Kate was to my right and Jeff was seated about four feet behind," explains Palmer, "so she could talk to him and was able to both operate the deck and stand up to adjust the rack." Kate had also previously worked with Max Middleton, a former member of Jeff Beck's band on her album Never For Ever.
According to a Jeff Beck biography titled Hot Wired Guitar, Kate was somewhat surprised by Beck's choice of guitar for the session, recoiling in horror at the sight of his Surf Green Strat! "She said it was the ugliest guitar she'd ever seen", Jeff laughed. "She nearly vomited at the sight of it." Mark Savage of the BBC summed up Jeff's towering influence: "His tone, presence and, above all, volume redefined guitar music in the 1960s, and influenced movements like heavy metal, jazz-rock and even punk." Our thoughts are with Jeff Beck's family, friends and fans this evening.