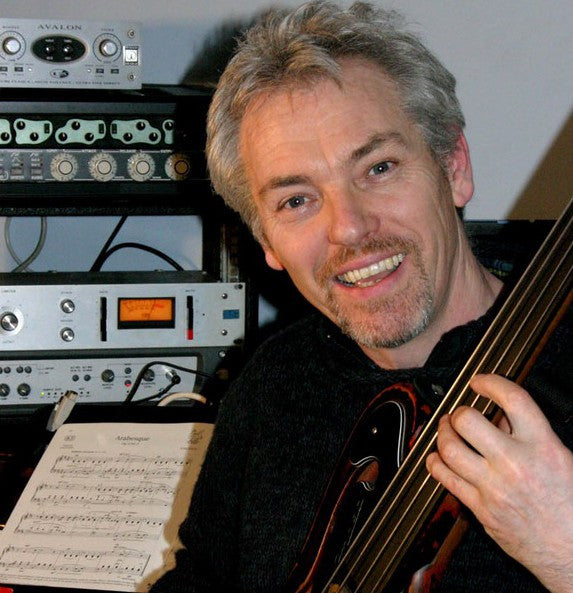 Many were shocked and saddened to hear that the great bass player, John Giblin, a longstanding member of Kate's musical "family" and ultimately her KT Fellowship, has sadly died on Sunday in Cheltenham, aged 71. John's extensive work with Kate started as far back as playing on Babooshka and Breathing from the Never For Ever album, and continued with his contributions on the albums The Sensual World, The Red Shoes, Aerial, Director's Cut and 50 Words For Snow. John first worked with Kate when he played on Peter Gabriel's song No Self Control with her in 1979. John was also Kate's chosen bass guitarist on her Before The Dawn shows in 2014. His contribution to her work has been immense.
UPDATE: Kate has added some beautiful words about her dear friend John Giblin to her official site:

Everyone loved John. He was a really beautiful man in every sense of the word. Everybody wanted to work with him because he was such a great talent and everyone wanted to be his friend because he was such a wonderful person.
I loved John so very much. He was one of my very dearest and closest friends for over forty years. We were always there for each other. He was very special. I loved working with him, not just because he was such an extraordinary musician but because he was always huge amounts of fun. We would often laugh so much that we had to just give in to it and sit and roar with laughter for a while. He loved to be pushed in a musical context, and it was really exciting to feel him cross that line and find incredibly gorgeous musical phrases that were only there for him. He would really sing. It was such a joy and an inspiration to see where he could take it.
We've all lost a great man, an unmatchable musician and I've lost my very special friend. My world will never be the same again without him.
Kate
Described by producer Robert M Corich as a "bass guitarist, double bass player, arranger and all round session musician extraordinaire", John was born to a musical family in Bellshill, Scotland where he started his interest in music from a young age, playing with various rock and pop bands in his teens and progressing from there. From the Facebook page of the band Osibisa who John recently worked with:
"His immense performing ability was noticed early on and he was soon touring and recording with Peter Gabriel as well as Kate Bush, Phil Collins, Eric Clapton and Annie Lennox to name a few. He became the bassist, often using fretless bass, for the band Simple Minds where he replaced Derek Forbes and performed with the band on three albums before returning to his former passion as a studio musician.
During his career he worked with countless artists and groups, covering a wide range of musical genres. Including Peter Gabriel, Elton John, Eric Clapton, Paul McCartney, Donovan, Judie Tzuke, Fish, Manfred Mann's Earthband, Jon Anderson, Roberta Flack, Mark Knopfler, George Martin, David Sylvian, Sting, Wendell Richardson, Joan Armatrading, David Arnold, Richard Ashcroft, Asia, Big Dish, Colin Blunstone, Brand X, Elkie Brooks, Duncan Browne, Sarah Brightman, Chris De Burgh, Brian Eno, Exile, Roberta Flack, Al Green, Steve Harley, Natalie Imbruglia, David Knopfler, KD Lang, The Psychedelic Furs, Ralph McTell, Gerry Rafferty, Tanita Tikaram and Scott Walker among many others."
Interviewed in 2016 John described his delight at being asked to play on Kate's live comeback. "I had a call from Kate Bush "I want to do a lot of live shows!"…and they were amazing! Dear Kate, we have been working together since 1978! Kate's band was a perfect combination of David Rhodes, Omar Hakim and Minu Cinelu. I really was a happy bass player!"
We are thinking today of John's family and friends and everyone in the music world who will deeply mourn his passing.
RIP John Giblin – 26th February 1952 to 14th May 2023