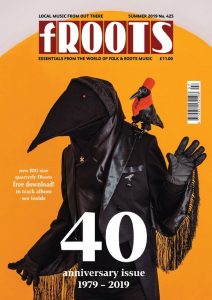 Many of you will know that fRoots is a specialist music magazine published quarterly in the UK since 1979. It specialises in folk and world music, and features a compilation downloadable album with every issue, with occasional specials. Sadly, it seems the Summer 2019 issue may possibly be its last after 40 years of publication. A special feature by Tim Chipping in this issue explores "the untold story of how folk singer A.L. Lloyd influenced one of the greatest pop stars of the modern age" …Kate Bush, of course.
The excellent article features interviews with Kate's brother John Carder Bush, our own Krys and Peter Fitzgerald Morris from HomeGround Magazine (!), Dave Arthur, Colin Irwin and Alistair Anderson (who performed concertina on Rocket Man). It also includes two beautiful photos from John's 2014 updated edition of Cathy – the earliest photo we've seen of Kate singing!
Krys Fitzgerald Morris writes: "A lovely feature in the new edition of Froots folk magazine. Tim Chipping contacted me about a piece he wanted to write about Kate's folk roots & he came over to interview Peter & myself in January. After meeting Tim I forwarded an email from him to John Carder Bush. John was interested & got involved. It's a wonderful feature with a new unseen photo of Kate & John singing together when she was a child. Tim, you've done a fantastic job. X"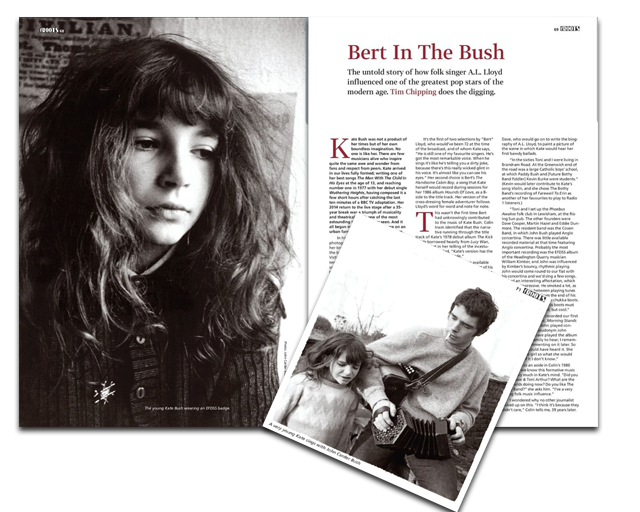 You can order the issue from the fRoots site here.