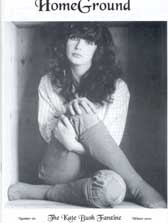 Press articles that mention Kate are often quoted on this site, but it's only with the much-anticipated publication of each issue of HomeGround magazine that we get a comprehensive dose of the latest inside news, comment and reportage on the world of Kate Bush music all in one go. Issue 66 (Winter 2000) reports that, as she has affirmed herself, Kate continues to work on her eighth studio album. "As ever Del is engineering and already guest musicians are arriving to add their work…EMI are now hoping and planning for a release in Autumn 2001".
They also update fans on the reissue situation, the schedule for release is said to have "slipped" a little. It now looks like The Sensual World and The Red Shoes will probably be released together in early Spring 2001. These will be followed by The Dreaming and Never For Ever probably in late Spring or early Summer and finally The Kick Inside and Lionheart in late summer or early Autumn. EMI hope these reissues will pave the way for Kate's new album towards the end of 2001. The list of additional tracks, which it is hoped will include stuff not previously released, is still being settled.
There is much discussion and reader comment on the wonderful news of Kate's son Bertie, and an analysis of what they describe as the "trashy" and "silly" tabloid reports Kate had to endure at the time. Elsewhere in yet another excellent edition the magazine publishes a second fascinating article by Kate's brother Paddy Bush. This time Paddy tells the HG reader's of his impressions of the country of Madagascar, writing from his most recent visit a couple of months back to the place which drew him "into the centre of a whirlpool of the most fantastic music I had ever heard". The special offer on the album of Malagasy music he produced continues to run. As always, if you haven't investigated HG it's well worth taking a look at their information pages.