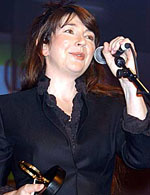 I'm delighted to tell you all that Kate has won the Best Classic Songwriter award at the 12th Annual Q Magazine awards. Kate was there to receive her award! The ceremony took place at the Park Lane hotel in London today. The BBC website reports: "The awards, which are well respected within the music industry, also singled out veteran singer Kate Bush for a special classic songwriter award. After receiving a standing ovation she said:
"This is just great, I am making an album but it is just taking a little longer than I thought and I have been having a great time with my son."
Congratulations Kate!
The sponsors of the event, Orange, held a live webcast of the ceremony, but highlights are promised at their site here. Other winners at the star-studded event included Radiohead, Starsailor, Ash, Travis and Elvis Costello. Visit the Q magazine website, which promises more updates on the awards over the next week. (Special thanks to Jane, who rang me from Scotland to tell me that "Kate looked so beautiful!!" after she saw the news.)