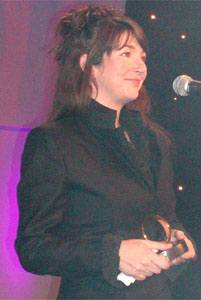 Seán Writes: I've had a tonne of very complimentary emails and guestbook messages since Monday's event, it's been great to hear how useful you've all been finding the site, even when there was no news of Kate much to speak of. Thanks for that, the site is a pleasure to continue doing, in fact sometimes I log onto it myself to see what's happening, before remembering I have to get the next lot of updates up first! I'm just writing this note to mention the fact that Peter & Krys at HomeGround are hard at work putting together the next edition of the magazine. HomeGround is the number one source of inspiration for this site, and no doubt the best coverage of all Kate Bush happenings will always be contained within its pages. So do make sure your subscription is up-to-date, HomeGround will always be a most essential part of any fans collection. Remember, they've been doing this since before The Dreaming came out in 1982! Amazing. Very proud to call them my friends, warm wishes to you both guys! Okay, back to the newsy stuff…Seán 🙂
Update: The sponsors of the event, Orange, now has the clip of Kate receiving the award at their site here. Q Magazine's website also have a Quicktime clip here. Kate thanks her family, Del, Lisa and EMI among others. Before reading her speech she said "I know it's a bit naff but here it goes..!"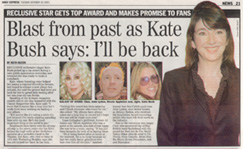 Everyone's talking about Kate today it seems. Midge Ure presented Kate with her award yesterday afternoon, and he made an appearance today on ITVs 'This Morning' TV show. Questioned about yesterday's ceremony he replied, "I gave Kate Bush the Q Award – the Classic Songwriter. It was lovely – the place just stood up for her and just hailed her as a genius that she is. It was fabulous."
Kate's appearance at the show certainly caught fans by surprise, and there has also been quite a splash made across the media as a result of the award. In today's UK newspaper The Daily Express, there is a half page feature (above) under the headline: "Blast From Past As Kate Bush Says: I'll Be Back" It goes on to write: "Reclusive Star Gets Top Award And Makes Promise To Fans". The paper quotes Kate as saying: "I know that it seems like a long time but I really have been working on making a new album. If it seems like it's taking a while it's because I'm really enjoying spending time with my son. He's the most important thing in the world to me. Getting this award has been amazing and I thank everyone who voted for me. My albums have always taken me a long time to record but I hope this one will be ready next year".
Q Magazine's own website has ran a story: "Kate Bush To Return – New LP on the way". It says that she also thanked Dave Gilmour and Elton John for their help and guidance through her career, adding a special thanks to her father for "putting up with me banging on all those years ago".
In the US, Billboard Onlinealso lead with news of Kate's award: "The uniquely British Kate Bush received a rapturous welcome today (Oct. 29) at the 12th annual Q awards in London, honored in the category of classic songwriter by readers of the U.K. music magazine. Clearly wowed by the warmth of the reception from musicians and industry professionals alike at the event, the notoriously slow-working Bush admitted, "I am actually making an album, [but] it's just taking longer than I thought."
Reuters news agency reports: "Kate Bush won the Q Classic songwriter award to mark nearly 25 years in the charts with singles such as "Wuthering Heights" and "Running up that Hill". Channel 4's Teletext service "PS News" quotes John Lydon (aka Johnny Rotten) at the ceremony: "I want to say hello to Kate Bush, who is brilliant!". The service also mentioned Kate's award under the headline "Kate Plans New Album". A "well-behaved" Liam Gallagher was apparently among the first to rise to his feet to applaud Kate, according to DotMusic.
The Sun newspaper also run a picture of Kate today and mention the "huge cheers" she received from the audience. Also, from The Independent newspaper: "[…] But while the attendant stars, including New Order, Super Furry Animals, Coldplay, Feeder and Liam Howlett from The Prodigy, refused to be roused by Lydon's lone antics, the room rose united to give a standing ovation to Kate Bush, who won this year's Classic Songwriter award – and whom even Lydon graced with complimentary words." (thanks to Michael Leitz). Highlights of the awards will be shown at 10.15pm Saturday November 3rd on UK Channel 5.