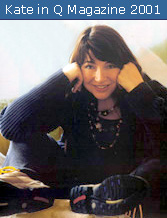 "If I'm really honest what I find so exciting is that people want to listen to my music when I'm not thrust in their faces. In this fast-moving world, people do forget, but they're incredibly patient with me" (Kate Bush, London, Nov '01)
Kate fans in the London area have been the first to get their hands on the new Q Magazine and Kate interview. Kate is pictured looking very happy and relaxed and speaks of how life's been treating her since The Red Shoes album, her break from making music and her obvious happiness now with Bertie and his dad, guitarist Danny McIntosh. Kate admits that she found the immediate aftermath of The Red Shoes difficult.
"I needed to stop working because there were a lot of things I wanted to look at in my life. I was exhausted on every level. There was part of me that didn't want to work. I'd got to a point where it was something I didn't feel good about. It was as if I was testing myself to see if I could write, but I didn't like what I was writing. I thought, No, if you don't want to do it, it will be rubbish. Basically, the batteries were completely run out and I needed to restimulate again."
The writer of the article sums up Kate's story of the last few years: 'Eventually, Bush tentatively set about writing her eighth album.  Then she found herself pregnant.  The father was Danny McIntosh, responsible for most of the guitars on The Red Shoes, although in the late 70s he was a member of hard rockers Bandit …three years ago,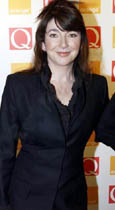 Bush gave birth to Albert, destined to go through life as Bertie…little Bertie has his father's hair (auburn), his mother's eyes and the broadest grin you ever did see. Bush's guard comes tumbling down.
"Although I hadn't always wanted children, I had for a long time. People say that magic doesn't exist but I look at him, think I gave birth to him and I know that magic does exist."'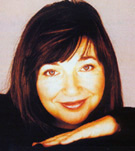 "I am really happy. I feel I've got the balance right where Bertie comes first and then the album. Some people say the best work comes from suffering: I don't agree with this. Hounds Of Love is one of my best albums and I was very happy then. I'm very happy with Danny. I feel very lucky and that I've achieved a lot of the things I was looking for after the last album."

And what's it like (the new album)?
"I'm not sure, because I don't get to listen to it. You see, with my other albums I used to listen to stuff such a lot. It's very different now because with Bertie I don't have the time. I'm quite pleased with it, though. There's quite a lot of it done, but I can't really talk about something that's not finished, it's like talking about an event that hasn't happened."
Worth pointing out, and perhaps it's not illustrated fully by the quotes selected in the news piece below (Dec 5th), but Kate makes it very clear that she perceived a distinct sense ofdisappointment from people with the way The Red Shoes album, and particularly the accompanying film, The Line, The Cross & The Curve, were received. Kate says in relation to the 1993 film:
"I shouldn't have done it, I was so tired. I'm very pleased with four minutes of it, but I'm very disappointed with the rest. I let down people like Miranda Richardson who worked so hard on it. I had the opportunity to do something really interesting and blew it. Also I was viewed in quite a negative light at that point, more so than after The Dreaming where I was viewed as some kind of nutter. It dissipated my energy severely and threw me into a state of severe exhaustion. You just get worn down…I slept, I spent a lot of time sleeping, enjoying bad televison."
The article is entitled "The Big Sleep", and the writer John Aizlewood found Kate in "robust" health, and tells Kate "all people care about is whether you're happy". Kate has obviously been through a rough time, and has come out of it the other side re-energised. As for when the new album may be released, Kate has to admit that she can't give a definite date: "It's hard to say when because it's a matter of how much time I get to work on what's left to do, so I couldn't actually measure it in time."
[This edition of Q also features an excellent cover CD, featuring "the best music of 2001", with REM, Ed Harcourt, Starsailor, Air, Daft Punk, The Strokes etc…as if you needed any more reason to buy it…Q magazine – music fans, and especially Kate fans salute you! (Huge thanks to Dam Bryce, additional thanks to Reza Sayeed)]