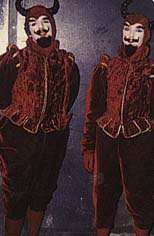 Krys from HomeGround tells us that Colin-Lloyd Tucker (The Red Shoes) has sent her his new CD Fear of Flying & that it is brilliant. Have a look at his website for ordering info, plus some great photos of him & Paddy Bush when they werein the studio recording their Skyscraping album. There's a great photo of Colin & Paddy as Kate's Red Shoes devils from her film! (see pic left). There's also a great interview on the site where Colin mentions Kate, & Paddy. See Colin's site here. By the way on May 18th HomeGround was 22 years old – you're amazing people! HomeGround 74 will be out in July…
Kate was shortlisted along with Morrissey, David Bowie, Prince & Marvin Gaye for the first Mojo Magazine Icon Award: "The inaugural Mojo Honours List is intended to be a music awards ceremony like no other…the list was voted for by listeners to Mojo radio and is restricted to artists that have enjoyed a spectacular career on a global scale and become a genuine household name." The awards ceremony was held on 22nd June, but the Icon award was given to Morrissey in the end. (thanks to Rob)…In a very interesting article Sound On Sound has interviewed producer Jon Kelly about the recording The Kick Inside, parts of the article are reproduced at the Sensual World site here. (thanks to Adey, Steven and also to Andrew Kyte)…The rising UK group Keane mentioned Wuthering Heights in the 16th April NME in a feature about their musical inspirations. According to the band's pianist Tim Rice-Oxley: "I just don't know how she wrote this tune, the way it leaps around and works so beautifully with the weird, gothic story is incredible. It seems to be from a completely different planet to your average pop single."
The Kick Inside MSN group has some screen grabs from a rare German tour documentary on Kate from 1979 – you may not have seen some of the early shots of Kate featured here…Emma Murphy, who is peforming recorder on Kate's new album, has asked me to let you know that her website has a link to the new CD by Da Camera (which features Susanna Pell, also playing on Kate's new album). The new CD, 'A Celtic Celebration' is: "a stunning and unique combination of Irish and Scottish Baroque music by Carolan, Oswald & others, as well as Traditional Scottish and Irish music arranged by the group. You will never have heard the recorder and viol played quite like it before!" (thanks to Emma, sending you best wishes and luck with this new release). Read more here…a photo of Kate takes up the entire front cover of the May supplement to the magazine Word. The supplement is entitled Pictures 1978-2004, and showcases photos from the last 25 years of rock. The photo of Kate used is the famous 1978 Gered Mankowitz Wuthering Heights promotional pic of Kate in her leotard…a character in a new Moroccan film is a Kate Bush fan. From the Guardian review: "A surprise success at Cannes in 2003, A Thousand Months by Moroccan director Faouzi Bensaidi picked up a prize in the Un Certain Regard section. The tale, or the series of tales, is set in the Atlas mountains during the month of Ramadan in 1981. It's a tough time. There's been a drought. Jobs are scarce. Local women dream of marrying rich men who will whisk them away from the village. Bands of local lads go out stealing. At school Mehdi is entrusted with guarding the teacher's chair, a symbol of authority and continuity. But one day that too is stolen. He himself breaks the fasting rules and hangs around with a lively rebel girl who likes to smoke and to listen to Kate Bush records." (thanks to Rezwan on the guestbook)…The Ultimate Acoustic Album features Kate, a review on Boyz magazine singles out Kate's track on this compilation; "…and best of all, from the goddess-like Kate Bush, The Man With the Child in His Eyes."…The Sensual World album is freshly reviewed on the Funky Mofo site here. "Funky Mofo is about music. Just good music. It's for people who do give a damn about the quality of music produced today, people who are willing to make new discoveries and who know that there is more to a record shop than just the 'rock and pop' section. We aim to work with labels and musicians who want to help people decide for themselves what they want to listen to." (thanks to Jo Whitby)…Manchester Online reviewed Hayley Westenra's concert at Bridgewater Hall on 25th March 2004: "Hayley stormed to the finale with her single-release cover of Kate Bush's Wuthering Heights, capturing all the off-kilter and kooky appeal of the original." (thanks to Michael Leitz).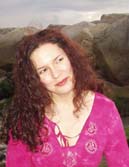 Joanna McMeikan is a singer-songwriter who has created quite a positive buzz with her solo debut release Breaking The Habit. Her sound has generated a lot of Kate Bush and Tori Amos comparisons, she certainly seems to be a Kate fan. Her official website is here and you can listen to her songs here. (thanks for getting in touch Joanna, best of luck!)…Irish singer Cathy Davey has also been getting the Kate comparisons recently. She's the daughter of Shaun Davey who compased the "Granuaile" suite and has sang with Autamata alongside site-favourite Carol Keogh of the Tycho Brahe. Here's this from the Oxegen festival website: "Dublin girl Cathy Davey has got the counterpoint between nasty and nice just right. The 25-year old singer and writer, who appeared on Elbow's "Grace Under Pressure" mines a seam of hardcore love and hate, then turns them into stylistically broad songs which reference PJ Harvey and Bjork as well as a young Kate Bush. Whilst Davey admits a love of the latter "I love Wuthering Heights and Running Up That Hill. They're so abstract and cold Moor-ish, which is always good."…Susan Egan, who apparently sang in Broadway's Thoroughly Modern Millie is releasing an album in September called "Coffee House" and it will have a Kate cover on it. (thanks to Dibble on the guestbook)…Re-fashioned 2 British Airwaves is the 2nd volume in Groovescooter's " critically acclaimed" cover series. It features Majella O'Shea singing The Man With The Child In His Eyes…Portugese goth rock band Icon & the Black Roses have recorded a version of "Running Up That Hill." Read more here. (Thanks to Dae, who tells me it is "a phenomenal rendition")…you can listen to a new Italian dance version of Wuthering Heights by Mr Conte featuring Laura Valente here (thanks to Stefano).
Singer Sarah McLachlan has chosen Kate's Reaching Out as one of the choices on her Artist's Choice CD compilation (she also picks REM, Cat Stevens, Nusrat Ali Khan). Read more here. (thanks to Kevin Tachman)…Marco Hietala – bassist and male vocalist with Finnish band Nightwish professes a soft spot for Kate's music in his bio on their official site. (Thanks to Despina)…singer Kiki Dee performed Running Up That Hill with Carmelo Luggeri, her musical partner of the past few years, ina  recent concert in May. Described as "a great acoustic version" Kiki says that it will be on her new album which is due in September. (thanks to Alan)…April 2004's edition of Maxim Blender magazine includes another Big Boi Kate mention. In the article on Outkast, it is noted that BigBoi's iPod is cycling through songs by "Kate Bush, Oran 'Juice" Jones and (of course) Outkast." (Thanks to Tim Bertram)…also theDaily Record says "…but chunky Big Boi and partner Andre 3000 have another record on the go, which they are keeping schtum about. Far from making a break for film stardom, they want to work with veteran divas. Big Boi said: 'The future is the next album, the soundtrack to the movie. Then we have another top-secret record. We need Sade, Kate Bush and Anita Baker to get some stuff done.' (thanks to Michael Leitz)…Rolling Stone (April 29th) reviews Carina Round's CD The Disconnection: "England's Carina Roundbelongs to the rock lineage of female sirens and oracles of interior life – spanning Patti Smith, Kate Bush, Bjork and Tori Amos – who do diaries in blood, dream journals in neon." (thanks to Tim Bertram)…Irish writer Noirin Gannon has published her second book of poetry, Verses By Twilight. One poem is "a tribute to Kate Bush which she wrote while speaking on the phone to a friend and twiddling a biro in the other hand. "The words just started to come into my head and I wrote them down. I grew up with themusic of Kate Bush and felt the need to pay her some kind of tribute." Read more here at the Mayo News site here…the Apple Itunes on-line music store, which features "play-lists" from various artists to help sell the music, featured Dar Williams, American folk-indie darling who included a Kate song on her play-list. See a scan here courtesy of Bill Ritchotte (thanks Bill)…

Here's a round up of recent lists Kate's appeared in: The special edition of Q magazine entitled "The '70s, From Zeppelin To The Pistols" has 20 singles that "changed the world" in that decade. Kate's at number 11 with Wuthering Heights: "Otherworldly femme fatale falls to earth – Released bang in the middle of the new wave's chart invasion, Wuthering Heights was so thrillingly peculiar that even 19-year old Bush's hippy-chick look was excused. A David Gilmour protégé who'd not bothered to read the Emily Bronte novel that inspired her bewitching madwoman epic. Bush and her falsetto-voiced debut had one-hit wonder written all over it. Instead, she survived for a series of Bowie-like musical reinventions. With her maverick tendencies proving the rule, rather than the exception, Kate Bush became a key alternative role model inspiring everyone from Björk to Tori Amos." In the category "Images Of Rock'n'Roll 1978", there's a double-sided reprint of the pink leotard photo of Kate. (thanks to Malcolm)…Mojo Magazine had Wuthering Heights at number 6 in their 'Top 100 Epic Rock Tracks of All Time' in April, describing the track as "audacious". (Thanks Johnny & Malcolm)…The Obsever newspaper had Kate at no. 22 in their "Best British albums" listing. Emma Warren wrote: "The first woman in this list is the hugely talented, wildly strange first lady of romantic experimental pop. Hounds Of Love, recorded at her own studio in Kent, was Bush's fifth and most successful studio album, selling more than a million copies. It remains a trenchantly individual piece of work, resonant with ghosts and connections to witch-dunking mythology – although you could never describe the crafted pop and dramatic sound sweeps on the record as fey. Not only did Bush write the songs, and sing them in her four-octave voice, but she played Fairlight bass and piano too. And anyone who says they've never sung along to the pretend barking on the title track is simply a liar." On Sunday June 20th Miranda Sawyer additionally wrote: "What? No Girls Aloud? Well, no, because no girls are allowed in a list of Top British Albums, banned by ancient boy law which states that women only make two types of credible contemporary music – either whimsical, solo love ditties or guitar-fuzz, eff-you rock attack. So we're left with 'that nice Katie Bush', as my grandpa used to call her, and the Slits. Down in the 80s and 90s we get Dusty et al, tucked in at the end to show that, yes, there is still a point in having a Best Female Singer award at the Brits. Well, there's a point if you're Annie Lennox." (thanks to PDFM)…Hounds Of Love was listed at number 23 on Q's Best British album ever chart, the only female artist on the list…The July issue of 'Classic Rock' Magazine has Kate at number 38 in their '100 Greatest Frontmen' article: "The etheral dove who shot to prominence as a teenager with the enigmatic 'Wuthering Heights' single. Her beauty, brains and prodigious musical insights got the attention of Pink Floyd's David Gilmour, who helped guide her early career. Kate hasn't released a new album in more than a decade, and is now a recluse. But nobody ever combined gothic music (not goth), dance and theatre better." (thanks to Liza)…
The Gideon Coe show on 6 Music (via DAB/Sky or the web) is on 'till 1pm. He does a feature called "The great lost album" which recently featured The Red Shows. Listeners could vote to hear Rubberband Girl, Moments Of Pleasure or The Red Shoes…at the recent Miss Virginia beauty pageant, last year's winner took her last walk across the stage with the voice-over talking about her reign…the background music was Kate singing "This Woman's Work"(!)…the novel The Sandblasting Hall Of Fame by Lawrence Mathews mentions Kate: "At home in his basement apartment his upstairs neighbour regularly treats him to the music of Kate Bush, "a torrent of ice water, freezing Niagaras of it, indecipherable lyrics blending into each other in some Esperanto of female pain and longing."…Tommy in the US was watching "History Detectives" on PBS and heard Kate's "Under Ice" playing in the background on a story about possibly the first submarine built by the South during the Civil War in 1861. (thanks Tommy)…the Yahoo group Rolling The Ball have been playing a Kate Survivor game: "Beginning with The Kick Inside each week or so the song receiving the most votes was eliminated and a new song took it's place. This way the list of 109 songs was reduced to 15. The winner was Wuthering Heights. The final list in the order of elimination were: Be Kind To My Mistakes, Mná na hÉireann, December Will Be Magic Again, Un Baiser d'enfant, This Woman's Work, Love And Anger, Under The Ivy, Sat in Your Lap, Cloudbusting,Running Up That Hill, The Sensual World, Suspended in Gaffa, Moving, Night Of The Swallow, Wuthering Heights." (thanks to John Roger in Australia)…a very short clip of Kate's appearance at the Vela d'oro show in Venice (1980), was broadcast On RAI2 in Italy during a documentary programme called Eventi Pop. Kate mimed Babooshka on that night, dancing with Gary Hurst. Interestingly Kate should have won the award for best single of the year on this show (she came second in 1981, with Spargo coming first with their single "You & Me". Later on that year, in a Milli-Vanilli type twist, it was discovered that Spargo had "booked" a singer to record that song so they didn't really deserve the prize! (thanks to Antonello Saeli)…On the 16th April in Australia on 'NightLife with Tony Delroy 774 Melbourne (AM radio) there was a 10 minute, very complimentary program about Kate. There was discussion between Delroy and an unnamed music critic. They played Wuthering Heights, Babooshka, and chatted about Kate's discovery, 'wealthy' upbringing, and 'strange vocal style' (which they called 'beautiful' and 'distinctive', and radiant in an era when there was a 'flatness about the music scene'). They argued that Kate's popularity in the 70s and 80s was linked to the "England is Beautiful" patriotism that rose with early Thatcherism (here they mentioned Lionheart and her use of Tennyson, and argued that her music appealed to a sense of British pride). (Thanks to Katie in Melbourne)… Kate was featured on BBC1's "Test The Nation" quiz in a section of questions called "guess the year" which comprised of musical and news clips.  A small section of Kate singing "Wuthering Heights" on TOTP in her black dress was shown. Later in the show when all the answers were given, co-presenter Ann Robinson commented favourably on Kate's voice. (thanks to Krystyna)…Finally, bored at work? Here's a Kate Bush jigsaw to master, how long will it take you to do it?