Hi all, finally have broadband installed in my new place, will be doing the newsbits by the weekend but first wanted to keep you up to speed about two events coming up with a Kate Bush interest. As always keep an eye out on the site's forum for all latest news reports from all over the world. Before I get to these two events, an event in itself, HomeGround 75, the Winter 2004 issue is in the works, starting in the next week or so. Anyone who would like to send in letters, poetry, articles for possible use, please could you email Krys with your stuff at the usual HG address before 20th October. Krys says: "I'll need to get as much of HG 75 finished by end of October. Please put "HG 75" in your email header. Hope to hear from you. I am particularly interested in poetry contributions. This should be a nice moody issue for the long winter nights. Emails to me at hgtowers@btinternet.com." More info on Homeground at the Homeground Pages.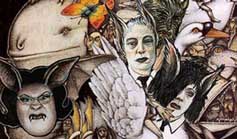 Simon Casson has been in touch. He's the promoter of "Duckie Salutes Kate Bush" at the Institute of Contemporary Arts, on Friday 15th October from 8pm till 1am. Starring Kiki & Herb, Nathan Evans, Marisa Carnesky, Wee Lee and Fake Bush. Hostessed by Amy Lamé with DJ's London Readers Wifes. Duckie, south London's premiere post-gay pop & performance kunst-disco invite you to their Kate Bush fan club convention. She's eccentric, she's elusive and she's very, very English. The event features puppetry, poetry, topiary, karaoke, quizzes, badgemaking, video making, pubic hair shaving, contemporary dance…and some brilliant pop song performances. Punters are encouraged to dress as Kate and don your leotards, legwarmers and lipstick. This is the third in Duckie's series of quirky tributes to English pop cultural figures at the ICA – following on from their previous homage's to Julie Burchill and Morrissey. The ICA is at The Mall in London SW1. Tickets: £10/£9 concs/£8 ICA members. Book in advance on 020 7930 3647 or on the door. Please arrive early. Further info from Duckie on 020 7737 4043 or www.duckie.co.uk WARNING: THIS EVENT CONTAINS MIME. (thanks to Simon, Orla Murphy and Tim Whitehead.) Please note – I am hearing that tickets for this event are selling fast and are unlikely to be available at the door so advance booking is strongly advised!) You can view the full poster – just click the image above!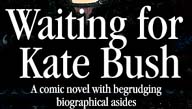 As we've been reporting, the upcoming book by John Mendelssohn, Waiting For Kate Bush, is being published in November. The nice people at Kulture Shock Books run a small book shop and cafe bar in Norwich, and being Kate fans, wrote to the publisher and arranged a reading with the author. The owner is happy to arrange to have books signed for anyone who can't attend and for visitors to this site. They can arrange to have it shipped in the UK P&P FREE if they mail us their order number and mention the KBN&I site. They can also ship world wide but as a small company we cant afford to do that free 🙂 The address is Kulture Shock, 10-12 St Benedicts Street, Norwich. Tel: 01603 625557 Fax 01603 625558 Web site http://www.kultureshock.co.uk. Please read full details on the poster – just click the image to the right. (thanks to Kulture Shock for letting us know).