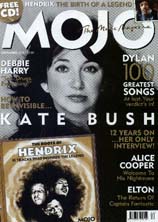 On November 2nd Mojo magazine publish what seems to be one of only two Aerial interviews with Kate (BBC Radio 2 have secured the second). The Guardian have published extracts from this interview with Tom Doyle here. The Mojo article presents Kate as "the antithesis of the mysterious recluse" which the tabloid press is so ridiculously fond of portraying her as. "…here, in Kate Bush's home, there is a 47-year-old mother of one, dressed in a workday uniform of brown shirt, jeans and trainers, hair clipped up in practical busy-busy fashion, all wary smiles and nervous laughter…around us there is evidence of a very regular, family-shaped existence – toys and kiddie books scattered everywhere, a Sony widescreen with a DVD of Shackleton sitting below it.
Atop the fireplace hangs a painting called Fishermen by James Southall, a tableau of weather-beaten seadogs wrestling with a rowing boat; it is soon to be familiar as part of the inner artwork of Aerial. Balanced against a wall in the office next door is a replica of the Rosebud sledge burned at the dramatic conclusion of Citizen Kane, as commissioned for the video of Bush's comeback single, King of the Mountain, and brought home as a gift for her seven-year-old son Bertie. "I go out of my way to be a very normal person and I just find it frustrating that people think that I'm some kind of weirdo reclusive that never comes out into the world." Her voice notches up in volume. "Y'know, I'm a very strong person and I think that's why actually I find it really infuriating when I read, 'She had a nervous breakdown' or 'She's not very mentally stable, just a weak, frail little creature'." If the outside world was wondering whether Kate Bush would ever finish her long-awaited album, then it was a feeling shared by its creator. "Oh yeah," she sighs. "I mean, there were so many times I thought, I'll have the album finished this year, definitely, we'll get it out this year. Then there were a couple of years where I thought, I'm never gonna do this. If I could make albums quicker, I'd be on a roll wouldn't I? Everything just seems to take so much time. I don't know why. Time…evaporates…for the last 12 years, I've felt really privileged to be living such a normal life," she explains. "It's so a part of who I am. It's so important to me to do the washing, do the Hoovering. Friends of mine in the business don't know how dishwashers work. For me, that's frightening. I want to be in a position where I can function as a human being. Even more so now where you've got this sort of truly silly preoccupation with celebrities. Just because somebody's been in an ad on TV, so what? Who gives a toss?"
Kate discusses the track Mrs Bartolozzi: "A couple of people who heard it early on," she says, dipping a spoon into her avocado, "they either really liked it or they found it very uncomfortable. I liked the idea of it being a very small subject. Clothes are such a strong part of who a human being is. Y'know, skin cells, the smell. Somebody thought that maybe there'd been this murder going on, I thought that was great. I love the ambiguity." The shiver-inducing stand-out track on Aerial, however, comes at the end of the first disc. A Coral Room is a piano-and-vocal ballad that Bush admits she first considered to be too personal for release, dealing as it does with the death of her mother, a matter that she didn't address at the time in any of the songs on The Red Shoes. "No, no I didn't," she says. "I mean, how would you address it? I think it's a long time before you can go anywhere near it because it hurts too much. I've read a couple of things that I was sort of close to having a nervous breakdown. But I don't think I was. I was very, very tired. It was a really difficult time." Read the exclusive 16-page interview with Kate in MOJO magazine, on sale on Wednesday November 3rd.