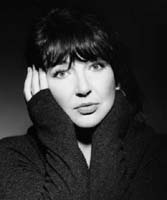 MORE REVIEWS: The terrific reviews for Kate's eighth studio album are stacking up…this album is already an enormous critical success for Kate, each successive review getting us more and more excited for the release day. Here's a brief look at most of them, reminding you that the full text of reviews can be found in this section of the Gaffaweb archive. The upcoming Mojo magazine we are all waiting to get our hands on gives Kate not just a 5 star review but also their "Instant Classic" rating! Jim Irvin writes: "Kate Bush is the greatest living British artist in song and this is her masterpiece." Mark Blake in Q Magazine has given Aerial a 4-star review: "…committed Katewatchers can while away the winter nights joining the dots between Aerial and songs on her previous albums. It's all here (again): cities under water, the harnessing of sexual energy, the elemental power of Mother Nature; lots of watery, windswept shagging, then. King Of The Mountain rallies the troops in a leisurely march heavenwards, name-checking Elvis in a voice less mannered than of old. The song smoulders and the same trick works again on How To Invisible, all bare musical bones rattling behind lyrics touching on some never quite specified fear waiting "at the end of the labyrinth"…when real life creeps back in elsewhere, it gets a welcome twist. Mrs Bartolozzi takes a washing machine and its mundane contents, subverting domestic drudgery into a metaphor for something more exciting. By the song's "swishing, swoshing" spin cycle, Bush has tumbled Allce In Wonderland-style into the Hotpoint and ended up "wading into the surf" where "fish swim between my legs". Earlier, on Pi, she counts down numbers against spidery keyboard fills and an elastic bassline, sounding like a female-fronted Talk Talk or a telephone sex line for kinky mathematicians…on the first disc's closing track, A Coral Room, though, Bush proves she can excel with just her voice and Gary Brooker's piano as tools. Here, she spins a tale of an Atlantis-style sunken city into the memory of, presumably, her late mother. It's a spellbinding performance and the equal of anything on 1985's revered Hounds Of Love…for everything-but-the-kitchen-sink thrills, though, there is still the nine-part A Sky Of Honey. Bush embarks on another quest, pulling the listener under water and up mountains, this time with twittering birdsong, children's voices, maniacal laughter, a jazz rumba and even a spoken-word turn from Rolf Harris, building in the manner of vintage Kate Bush – Cloudbusting, The Big Sky, Breathing – into an overblown spine-tingling denouement; this time with Danny McIntosh playing a guitar solo that will put most in mind of Bush's mentor, Pink Floyd's David Gilmour. "Could be we are here, could be in my dream," she declares as the piece winds to its explosive conclusion. And it's a statement that encapsulates the never-never land invented on Aerial. You could lose yourself for days here. The world is a better place with Kate Bush in it. She really should do this sort of thing more often." The magazine also made King Of The Mountain their video of the week here…
Aerial is Music Week's Album Of The Week: "12 years out of the spotlight has done little to dim either Bush's allure or her musical potency. Indeed, she sounds as vital as ever on this 16-track, two-CD set – a dense, hypnotic album that couldn't have come from anyone else. As interesting musically as it is lyrically, Aerial takes in samba, classical, folk and even a touch of drum & bass, but it is the narrative, arrangements and production that elevate it into something special." The December 2005 issue of Record Collector has Kate on the cover and a 9 page full-colour feature on "Collectable Kate" and a four star review of Aerial: "…choc-a-bloc with familiar motifs and the elaborate, sculpted music that made millions worship her in the first place…what she has delivered is probably her most wholly satisfying work since 1985's Hounds of Love."
The Irish Times has also given Aerial a 4-star rating and made it their CD Of The Week. Tony Clayton-Lea writes: "…this has more sonic smarts and intelligence than most of the sharpest current musical operators you can think of…an album with not a hint of the conventional about it, Aerial is a record made by a person whose values have shifted with age and experience, and which are suitably reflected…it doesn't work all the time, but when it does it's a triumph of warmth, depth and clarity." The Channel 4 site provide a great track by track review of the album here. They describe 'Bertie' as "a beautiful, warm and carefully structured song", and are generally extremely enthusiastic about the album, despite saying a lot of it is "nuts"!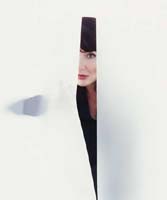 The BBC have reviewed the album on their website: "…her voice escapes, rather than emerges, in that familiar part-piercing, part-haunting tone that uniquely can carry across consonants and vowels with seductive ease…How to be Invisible is side one's stand out track, with a real sense of menace in its driving beat. "I found a book on how to be invisible. On the edge of the labyrinth," she sings…Aerial stands alongside The Hounds of Love and The Kick Inside as her finest work." The Daily Express ran their review under the heading "It's bizarre – but Kate's quirks work". "…this is an album that gradually wins you over…it's hard not to be impressed by its vision and artistic integrity. The second CD is the real treasure, with its extended song cycle about art, love and nature…the lyrics, music, use of sounds and the way Bush manages to bend and shape her voice in this section all add up to create a truly moving piece of work that is relatively free of her usual annoying eccentricities. Who'd have thought it? A Kate Bush album that's actually a pleasure to listen to."
Kitty Empire in The Observer (October 30th) writes: "It is extraordinary – jaw-dropping, no less. It's also tearjerking, laugh-out-loud funny, infuriating, elegiac, baffling, superb and not always all that great. Her beats are dated, for instance; unchanged since the Eighties. For a technological innovator with the freedom of her own studio, Bush's whole soundbed really could do with an airing. And there's a sudden penchant for heady Latin rhythms here that sits a little awkwardly, even for this enthusiastic borrower of world music. More problematically, however, Bush's whimsies have never been quite so amplified. If you thought the young Bush prancing around to Bronte was a little de trop, this album is not for you. There's a song about a little brown jug and one about a washing machine (both, though, are really about other things). There are several passages where Bush sings along to birdsong, and one where she laughs like a lunatic. Rolf Harris – Rolf Harris! – has a big cameo. But Aerial succeeds because it's all there for a reason. And because the good stuff is just so sublime. 'King of the Mountain', Bush's Elvis-inspired single, is both a fine opener and a total red herring. Bush's juices really get going on 'Pi', a sentimental ode to a mathematician, audacious in both subject matter and treatment. The chorus is the number sung to many, many decimal places. It's closely followed by a gushing ode to Bush's son, Bertie, that's stark and medieval-sounding. The rest of disc one (aka A Sea of Honey) sets a very high bar for disc two, with the Joan of Arc-themed 'Joanni' and the downright poppy 'How to Be Invisible' raising the hair on your arms into a Mexican wave. Disc two, subtitled 'A Sky of Honey', is a suite of nine tracks which, among other things, charts the passage of light from afternoon ('Prologue') to evening ('An Architect's Dream', 'The Painter's Link') and through the night until dawn. Things get a little hairier here. The theme of birdsong is soon wearing, and the extended metaphor of painting is laboured. But it's all worth it for the double-whammy to the solar plexus dealt by 'Nocturn' and the final, title track. In 'Nocturn', the air is pushed out of your lungs as you cower helplessly before the crescendo. 'Aerial', meanwhile, is a totally unexpected ecstatic disco meltdown that could teach both Madonna and Alison Goldfrapp lessons in dancefloor abandon. It leaves you elated, if not a little exhausted. After the damp squib that was The Red Shoes, it's clear Bush is still a force to be reckoned with. The problem, though, with female genius – for many men at least – is that very frequently it is not like male genius. And with its songs about children, washing machines going 'slooshy sloshy', Joan of Arc, Bush's mother, not to mention the almost pagan sensuality that runs through here like a pulse, Aerial is, arguably, the most female album in the world, ever. There's an incantation to female self-effacement that rewrites Shakespeare's weird sisters: 'Eye of Braille/ Hem of anorak/ Stem of wallflower/ Hair of doormat'. Even the one about maths is touchy-feely. But the artistry here is so dizzying, the ambition and scope so vast, that even the deafest, most inveterate misogynist could not fail to acknowledge it. Genius. End of."
Will Hermes, writing in The New York Times in their Sunday Oct 30th edition says; "Like 1985's Hounds of Love, perhaps her best record, her latest is split between a group of individual songs and a suite. But where "Hounds" is dense and agitated, busy with sounds created on the Fairlight synthesizer…Aerial is expansive and relatively relaxed. Recorded with longtime associates, including Del Palmer on bass, many of the album's songs are arranged simply for voice and piano, like the exquisite A Coral Room…sometimes Aerial is so relaxed, it drifts into smooth jazz territory. But Bush's voluptuous, slightly alien voice usually corrects by contrast: purring, trilling, cackling, jumping octaves and echoing itself, witchlike, in multitracked choruses." The PLayback programme on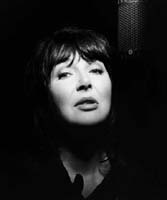 BBC Radio 6 gave an overall positive review, with Aerial being described as an "intense emotional rollercoaster", a "return to form" and "definitely thumbs up". How To Be Invisible was said to be the possible second single (US promo posters for Aerial are also highlighting this track). Rob Chapman in The Times writes: "Aerial is a double album and, like most doubles, it has its ponderous moments. Thankfully, it also contains half-a-dozen tracks that are as good as anything she has done, and its closing triptych, Somewhere In Between, Nocturn and Ariel, represents the most joyous and euphoric finale to an album that you will hear all year. If the recent single and opening track, King of the Mountain, hinted at a newfound maturity in her voice, it also confirmed the increased sophistication of her lyrics. Who else inhabits the kind of skewed terrain where Elvis morphs into Citizen Kane? And who else would have written a homage to pi? "3.1415," she coos over a rich bed of acoustic guitars. "926535," she continues fetchingly…the second half of Aerial abounds with twittering birdscapes, melting suns and artists who morph into their paintings, the whole shebang culminating with that extraordinary trio of songs in which Kate seems to merge with the birdsong. There really is no one quite like her. There are moments on Aerial when you wish she would cut loose with the arrangements — which at times remain far too linear and rooted in a soundscape that she hasn't tampered with significantly since the 1980s — and collaborate with a Massive Attack or a Future Sound of London. But all is forgiven the moment you hear a song such as Mrs Bartolozzi, in which a life of domestic drudgery is suddenly transformed into something magically sensual just by watching a blouse and a pair of trousers intertwining in a washing machine. Shine on you crazy Hotpoint-wielding diamond."
Finally, The Timespublished a piece compiling qutes from many famous fans of Kate's, and commented on Aerial thus: "With the arrival of Bush's new album, Aerial, a sprawling double-CD of pagan poetry, artists from every genre and generation are lining up to pay homage to the faerie queen of British pop. Her perfectionist mastery of arranging and producing, her ability to juggle music with motherhood, her lyrical hinterland of heightened emotion and ripe sensuality — all have been interpreted as defiantly feminine, even feminist statements." And finally BBC 2's Newsnight Review panel were split over the merits of the album. The presenter and one guest felt it was a good album that would grow with every listen while others couldn't get around Kate's lyrics from Mrs Bartolozzi and complained that Kate wasn't being "the right kind of eccentric".
p.s. click on the promo photos for the BIG versions 🙂