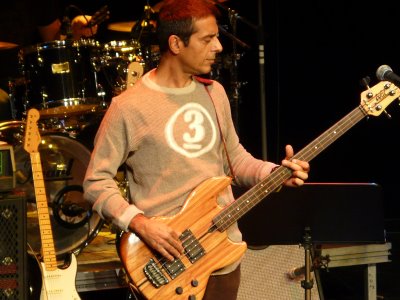 Stephen Humphries writes: Mick Karn, the great bassist for Japan whose fretless instrument graced Kate's The Sensual World (Heads We're Dancing), as well as records by Gary Numan and Joan Armatrading, died today. His website stated: It's with profound sadness that we have to inform you that Mick finally lost his battle with cancer and passed away peacefully at 4.30pm today, 4th January 2011 at home in Chelsea, London. He was surrounded by his family and friends and will be deeply missed by all. http://www.mickkarn.net/
Our sincere condolences to his loved ones.
UPDATE: Del Palmer has left his thoughts in the comment section of this article below.
John Taylor from Duran Duran leaves his tribute here. Mick had worked on recording sessions for Aerial in 2002, and even gave fans the intriguing first new title we learned of, namely "How To Be Invisible", but ultimately his work on the track didn't make it to the final album mix. I think the first time Karn played bass for Kate was at the Prince's Trust performance in 1982 (here's a video, with Karn's distinctive bass sound very prominent in the mix).
[youtube]http://www.youtube.com/watch?v=m8WNeb_Lg9A[/youtube]