Four Kate Bush albums are expected to be re-issued this year after the singer won back control of them from EMI, but there is no confirmation yet about any new material coming from her in 2011.

The Dreaming, Hounds Of Love, The Sensual World and The Red Shoes, which EMI originally released between 1982 and 1993, are all lined up to be re-issued with former EMI and PolyGram executive David Munns now acting as a consultant to her.
The one-time EMI worldwide vice chairman and EMI Recorded Music North America chairman and CEO's association with Bush goes back to when she was first signed to EMI and the release of her first album The Kick Inside in 1978.
"I've been involved for about a year now," said Munns. "People think I'm managing and I'm really consulting. I drift in and out of these projects."
There has been recent speculation of a new studio album from Bush, which would be her first since Aerial in 2005. That itself did not appear until a dozen years after her previous release The Red Shoes.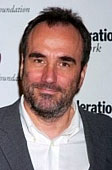 "There are other plans but I'm not able to talk about them right now," is all Munns would say, adding, "There's nothing ready until Kate says it's ready. That's always been the way." Munns was also involved in the campaign for last years Greatest Hits album by Bon Jovi, an act he worked with extensively when he was at PolyGram International in the early Nineties and then worked with them in an independent capacity when he left the major in 1998. "I'm still doing stuff with Bon Jovi," said Munns who took charge of the marketing for the retrospective.
The long-promised reissues are finally happening! Delighted to hear that Kate has not only won control of these albums but now wants to make them available in the very best presentation possible. Nice work Mr Munns! More on these upcoming reissues, and the "other plans" as we get word…