Audio Fidelity, the US company that remastered Kate's Hounds of Love album last year (in a popular gatefold vinyl edition) is releasing a limited edition 4-track 10″ vinyl Hounds of Love EP, with tracks chosen by Kate, on April 16th. Pressed on pink vinyl, Side 1 features The Big Sky and Cloudbusting and Side 2 features Watching You Without Me and Jig of Life. Audio Fidelity tell me that Kate also personally selected the cover art. Click on the image to go to the Audio Fidelity site for more info. This release is to coincide with Record Store Day 2011. Support your local independent record shop!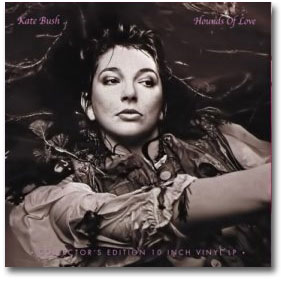 While this release features remastered tracks from both sides of the Hounds of Love album which are previously released, this is nonetheless (I think!) Kate's first 4-track vinyl release since the UK 12″ of Love and Anger in 1990, and possibly her first official release in the 10″ vinyl format. Email me if you know different of course. EP cover photo is by John Carder Bush. EP priced at $14.99, limited run of 1,000 copies. Audio Fidelity will be offering this title only to their subscription club members and through independent retailers. Online retailers, such as Amazon, will not be able to carry this special title.

From the Audio Fidelity subscriber email:
"On Saturday, April 16th, the music community comes together and honors the independent record retailers on RECORD STORE DAY.
This is a one day event and last year 1,400 retail outlets around the world participated in this special day.
Audio Fidelity will be participating this year with a special 10″ colored vinyl Collector's Limited Edition of Kate Bush's "Hounds Of Love".
This 10″ colored vinyl will have 4 tracks and will retail for $14.98. As this is a special collector's limited edition, with Kate's blessing, we will only be manufacturing 1,000 copies. Once those are gone, we will manufacture no more.
You will be able to purchase only one (1) copy per club membership should you choose to purchase this title.
We need to have your order in ASAP to reserve your limited edition collector's copy. As I mentioned, we are only making 1,000 copies and the demand from retail far surpasses that number."
www.audiofidelity.net for more…