KATE BUSH NEWS site exclusive: The Clarendon Fine Art Gallery is offering this oil painting by Rolf Harris. It is based on Rolf's as-yet-unreleased recorded version of 'She Moves Through The Fair' with Kate. The painting depicts a man and a woman – the two main characters in the song.  The gallery is letting Kate Bush fans know about this piece first, due to its uniqueness and connection with Rolf's work with Kate. It is not going to be made available as a print.
Oil on Canvas – 16" x 12"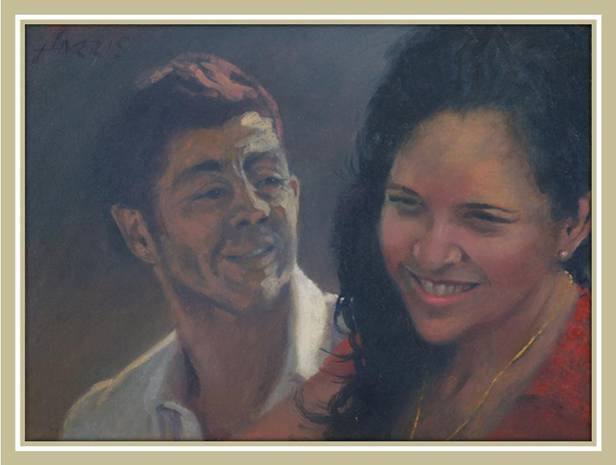 All sales enquiries to Daniel Tills:  danieltills@clarendonfineart.com
Clarendon Fine Art
46 Dover Street
Mayfair
London W1S 4FF
020 7499 0947
www.clarendonfineart.com
ROLF HARRIS CBE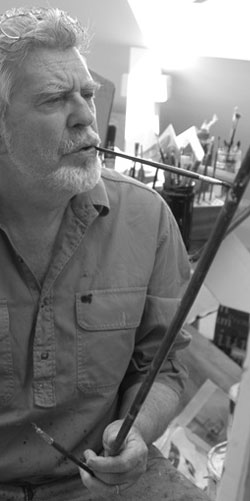 Born in Perth, Western Australia, Rolf moved to London at the age of twenty-two, financing himself through exhibitions of his work held in Australia. He enrolled at the City & Guilds Art School in London intending to follow in his grandfather's footsteps and become a portrait painter. After a chance meeting with the Australian impressionist painter 'Bill' Hayward Veal, however, he began attending an art course run by Veal and soon became his protégé.
In the mid 1950's Rolf's paintings were featured in the Summer Exhibition at the Royal Academy for two years running. While painting continued to be a private passion of his, it was for his television and stage performances that Rolf became a household name. In recent years however he has devoted more time to painting and has had a number of one-man shows, including the 'Rolf on Art' exhibition at the National Gallery.
Rolf's BBC television series 'Rolf on Art' achieved the highest TV ratings ever for a UK arts programme. Rolf hosted television's biggest ever arts event with a live BBC special titled 'Rolf on Art: The Big Event' in which he joined the public in recreating a large-scale version of Constable's 'Haywain' in Trafalgar Square. The massive event was such a huge success that the BBC staged two further 'Rolf on Art: The Big Event' specials in Edinburgh and London.
Rolf has been awarded the CBE, is a member of the Order of Australia and an honorary member of the Royal Society of British Artists, and has won many awards for his work in the entertainment industry. His portrait of Her Majesty The Queen, commissioned by the BBC to celebrate her 80th birthday, was the subject of a BBC1 programme 'The Queen, by Rolf' screened on New Year's Day 2006. Rolf's achievements over 65 years in art were celebrated with a touring exhibition and hardback retrospective book entitled 'A Life in Art' in 2010. His life and work were further celebrated in a major BBC 'Arena' documentary entitled 'Rolf Harris Paints his Dream'.
Rolf was named as the UK's best selling published artist of 2011.