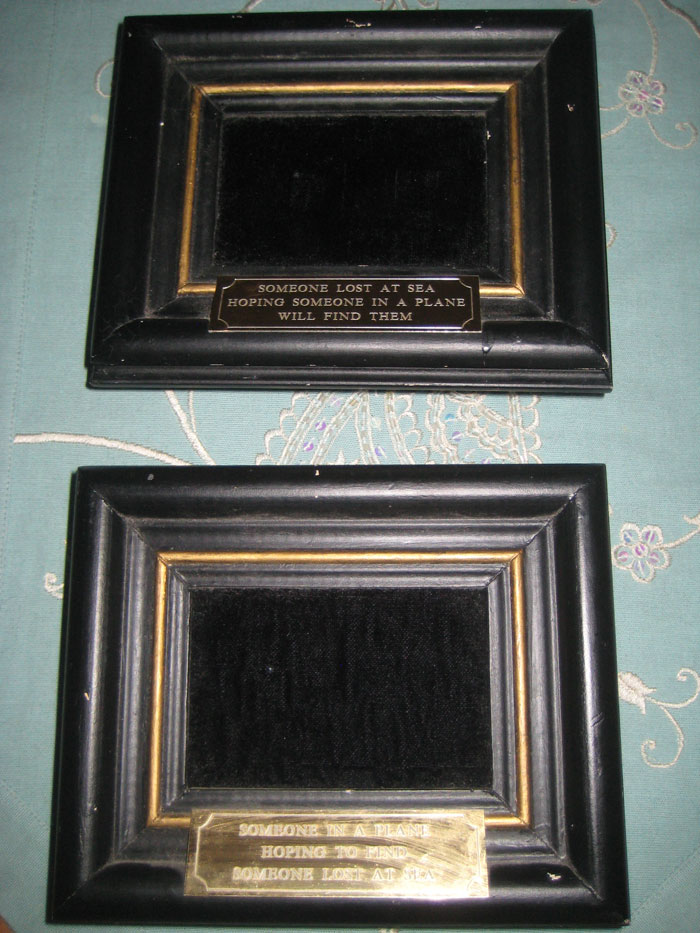 Back in 1994, Kate took part in an exhibition of original artworks by well known people, 'Little Pieces by Big Stars' in aid of the War Child charity. There was quite a bit of publicity around the event, organised by Brian Eno and promoted by David Bowie. (In this Youtube clip you can see Bowie showing off Kate's contribution, and claiming to want them for himself!). The hand made piece consists of two separate frames. Each one is 7 inches X 6 inches X 1.75 inches in size. They are called 'Someone Lost at Sea Hoping Someone In A Plane Will Find Them' and 'Someone In A Plane Hoping To Find Someone Lost At Sea'.
As it turns out, a big fan of Kate's, Neville Judd, secured the winning bid and is now looking to sell them after keeping them privately for almost 20 years!
Neville describes the two companion pieces: "Each frame is made from a polished wood with gold inlay, and a gold title plate on the front featuring the name. Inside each frame is a black background, made of velvet, in the middle of which is a small red light which flashes quietly away. On the back of each frame is Kate's KT copyright sign (hand written) with a '94 beneath, indicating the year she made it. Kate has also signed each frame on the back, in lovely big hand writing, using a gold metallic pen. Each frame has all of this. Inside is a fabulous piece of carpentry and simple electronics."
Anyone interested in contacting the seller, or making an offer on the pieces can email Neville at nevillejudd@gmail.com. (Note that the pieces were bought at auction in 1994 for £1,150, and bids of less than £3,000 won't be considered).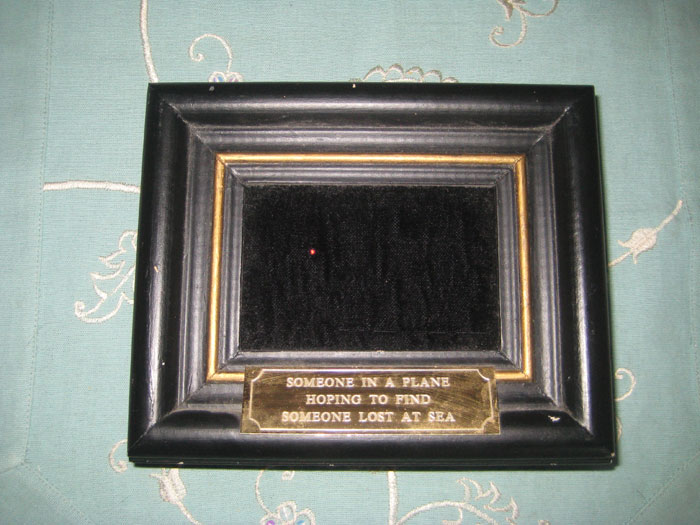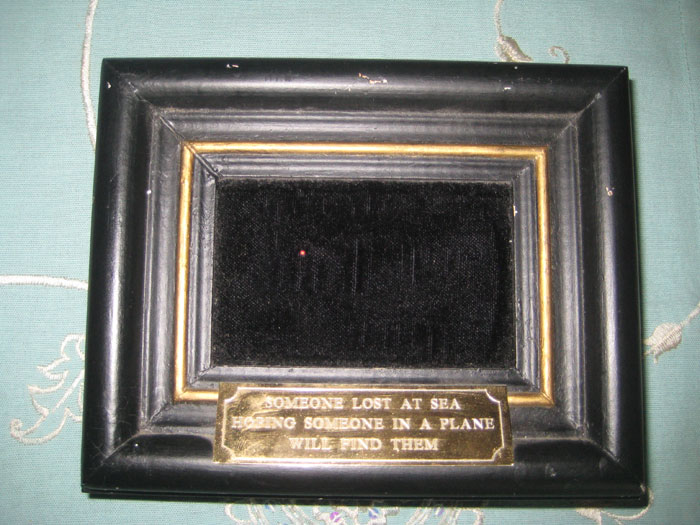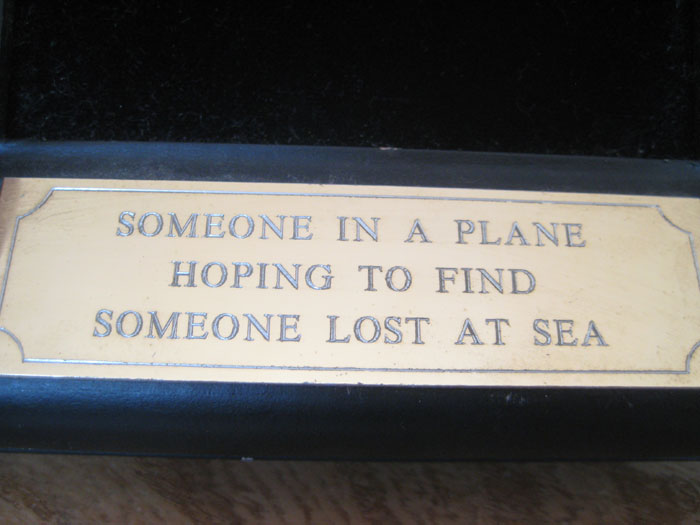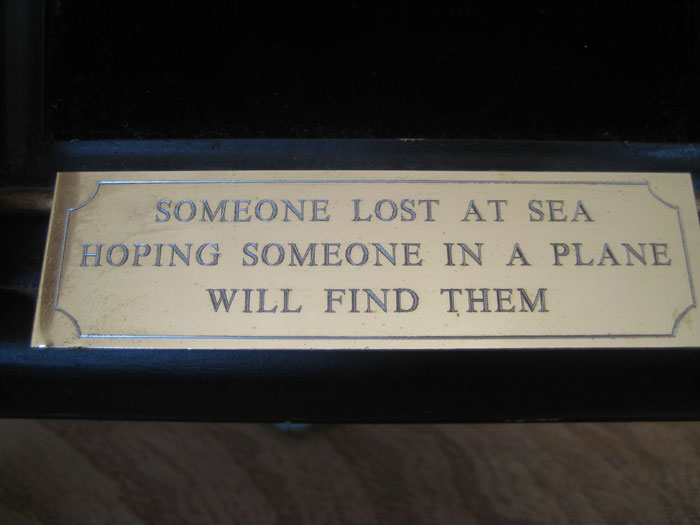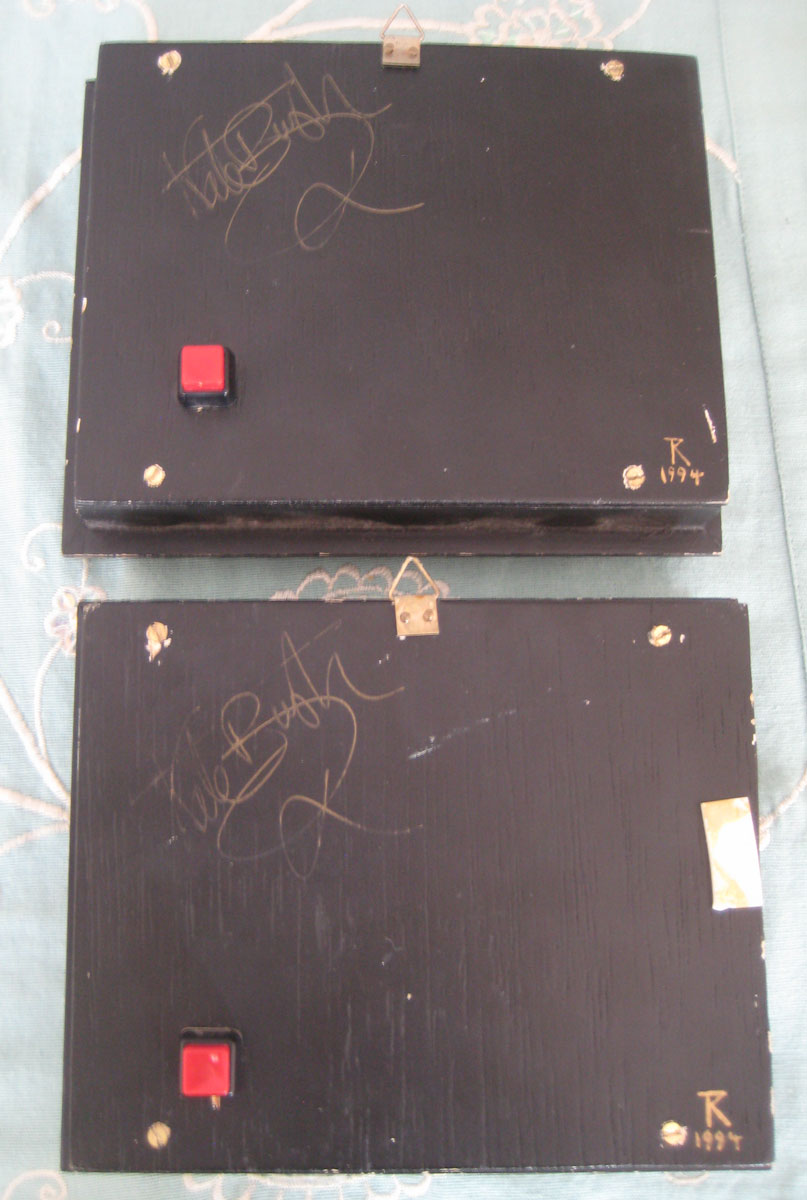 Here's more of Neville's story:
"I have always been a fan, went to seven of the 1979 shows and like most of us, collected (and continue to collect) everything. I have to sell this because I need to help someone pay a bill, it's as simple as that. I never thought I'd need to sell them (duh!) hence me having sat on them for almost twenty years. They have never been exhibited. There are no other photos of them and no one knew where they were, except for Brian Eno and Anthea Norman- Taylor from the Warchild Charity. I am also a David Bowie fan and over the years have been involved in many Bowie related projects, including the official Bowie biography ' Strange Fascination ' which I helped with and also have my name in the Index in a tale that David related back in 1993, the year before I went to the Private View for 'Little Pieces by Big Stars' at the Flowers East Gallery in Hackney, in the East End. I didn't have an invite to it but spoke to Kate on her way in and asked her about her contribution. "It is about the Sea and about me too, I guess" was all she would say and I decided there and then to try to buy it."

"My friends left when Bowie came out but I hung around and eventually David's Art dealer, Kate Chertavian, let me in. The film director Nick Roeg was looking at ' Someone Lost at Sea Hoping Someone In A Plane Will Find Them ' when I walked in to the small room. I told him what Kate had said to me earlier in the evening. "In that case one of us needs to buy them", he said and tapped me on the shoulder. I looked at the blinking red light in each picture. I thought about what Kate had said, and I made up my mind to bid for them at The Royal College of Art the following week. And I got them. A few days later, I went around to collect them from the home office of Opal, Brian and Anthea's office. I later discovered that David Bowie had spoken at the time in both the press and on television about Kate's two pieces and had suggested that he was going to bid on them himself, and I later asked him about this. He said "I thought they were the most fabulous things and I intended to send in bid but something happened and I never did. Anyway, they should hang in a fans home I reckon." And that is exactly where they have hung, in secret, for eighteen years. It was my intention to offer them at Christies or possibly on EBAY but if anyone would like to make me a realistic offer then we could absolutely do it that way."