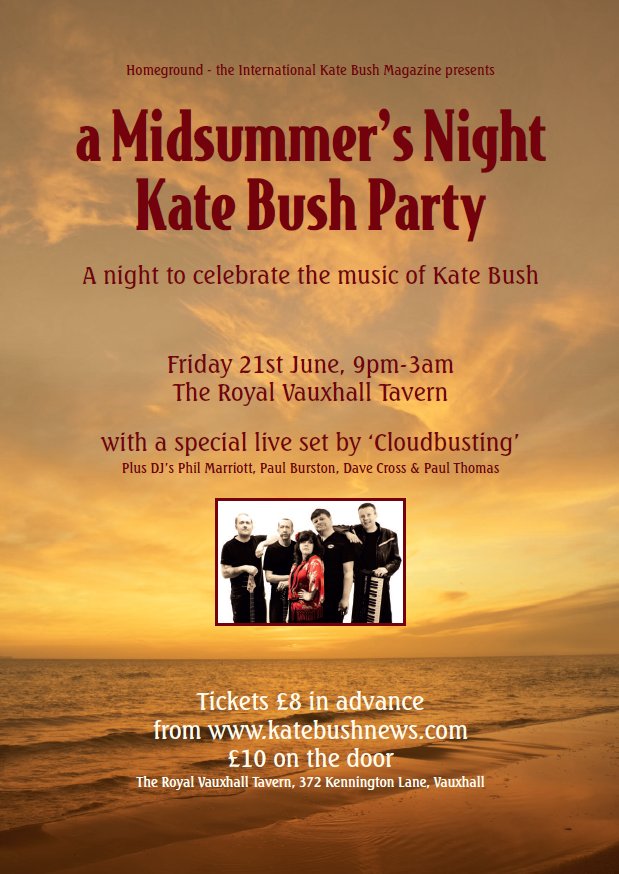 [youtube width="640″ height="360″]http://www.youtube.com/watch?v=sXT9cx9Vb10[/youtube]
This year's HomeGround and katebushnews.com party takes place on Midsummer's Night 21st June at the Royal Vauxhall Tavern in Vauxhall, on the south bank Of The Thames in central London, just 10 minutes from Victoria.
We start at 9pm and go through to 3 am. The party will feature  Kate themed DJ sets from Paul Burston, Phil Marriott, Dave Cross and Paul Thomas.
The night will also feature an exclusive live performance from Kate Bush tribute band Cloudbusting fronted by long time Kate fan and HomeGround reader, Lisa Oliver. The band will be performing a special set and are asking fans to make suggestions for Kate songs they would like to hear on the night, making this a unique event mixing some of Kate's most well-known songs with fan favourites.
This will be a great fun night, a chance to hear Kate's amazing music played loud in a club and meet loads of fellow KB fans.
Advance tickets have now closed.
There will be a limited number of tickets available on the door on the night for £10.