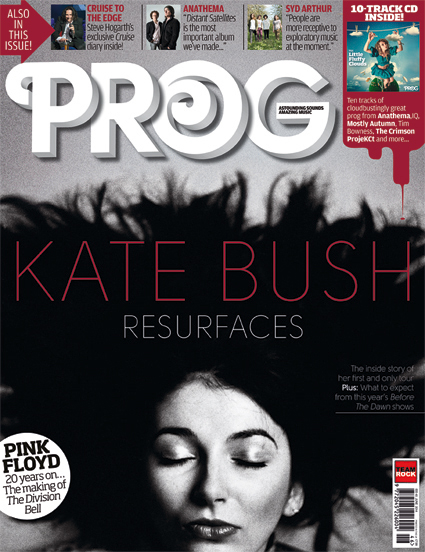 The latest edition of Prog Magazine features Kate on the cover of it's wrap around cardboard wallet – with the tagline "Kate Bush Resurfaces". The issue explores "the inside story of her first and only tour" plus "what to expect from this year's Before the Dawn shows". More speculation, possibly, but another handsome addition to the widespread media coverage Kate is receiving since she announced her live shows. (keen-eyed fans will also spot site-favourites Syd Arthur mentioned on the cover too!)
Elsewhere in this issue, we're delighted to report that Volume 1 of the HomeGround Anthology receives a fantastic review – they really seem to get what the editors of the magazine aimed to achieve with this massive project!

Order Prog Rock Magazine at their website here, iPad edition is available at the Apple store here.