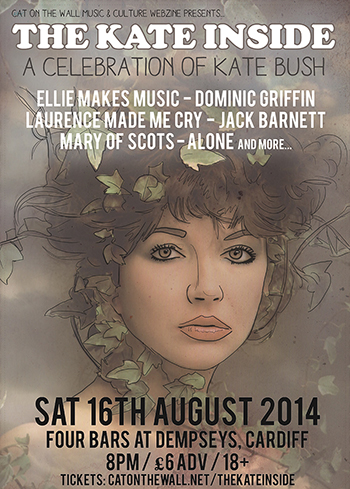 Thanks to Jo Whitby for letting us know about what sounds like a fun live event in Cardiff, Wales celebrating the work of Kate Bush on the 16th August.
"After a 35 year absence Kate Bush returns to the stage for a series of live shows in London. Why should London get all the fun? Join Ellie Makes Music, Dominic Griffin, Laurence Made Me Cry, Jack Barnett, Mary Of Scots and more for an evening of live Kate Bush covers, dancing, visuals and leotards. Rather than having a support act/main act – this event will be presented like a theatrical performance so make sure you get there on time! Kate Bush fancy dress encouraged!!"
Cat On The Wall Music & Culture Webzine Proudly Presents…
THE KATE INSIDE: A CELEBRATION OF KATE BUSH.
16th August 2014
Four Bars @ Dempseys, Cardiff
15 Castle St, CF10 1BS Cardiff
Performances by Ellie Makes Music, Dominic Griffin, Laurence Made Me Cry, Jack Barnett, Mary Of Scots, Alone and more. Doors: 8pm
Tickets: £6 ADV BUY HERE