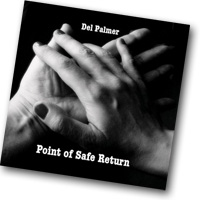 We're delighted to let you know that Del Palmer has today released his new album, Point of Safe Return (Credible Records). This is Del's third album following Leap of Faith (2007) and GIFT (2010).
Written, performed and produced by Del, it also features contributions from vocalists who Del describes as "three distinctly different female voices"; I.V. Webb, Sarah Daly (Metaphorest) and Odette Beris, as well as fellow Kate Bush veteran Kevin McAlea on saxophone and narration from poet/writer (and great friend of katebushnews.com!) Antonello Saeli. Wilton Beckford is featured on drums.
The track 'Nota Ghra' has Del singing in the Irish language. As Del says in his sleevenote: "This album is best enjoyed within the intimacy of headphones" The CD is available for sale at Del's site here. It is also available on iTunes.
You can listen to the album tracks here. Watch a video for the track 'Future' below.
[youtube width="640″ height="360″]https://www.youtube.com/watch?v=QgXkNvhfrhA[/youtube]