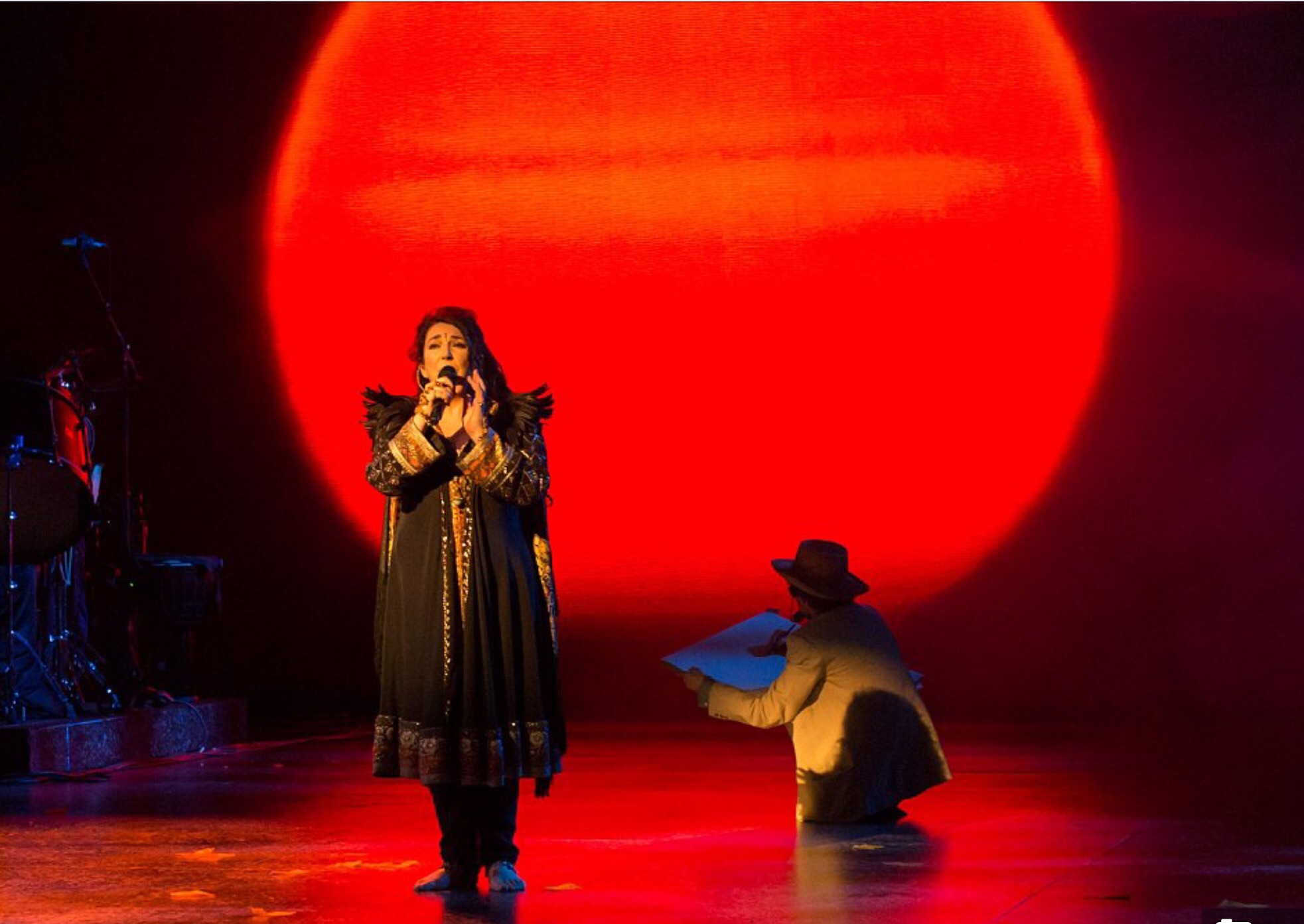 Seán Twomey writes:
In the end it came down to a single smile.
After over sixteen years running the news website there was still no guarantee back in March 2014 that I'd score a ticket. Over those years I would occasionally revisit my site's dusty FAQ page, maybe sometimes slightly rewording the question and answer section about whether Kate would ever tour again. I'll admit it: I had more or less decided that she wouldn't. Fast forward to August 26th 2014 and I had turned down several radio and TV interviews wanting to get my immediate post-show reaction to Kate's first concert since 1979. Surreal.
Opening night was all so overwhelming to me that I needed to shut all that stuff out. Excited, busy journeys from Dublin brought myself and five friends together, sitting in an impressively tiled Wagamama restaurant on the Shepherds Bush Road. It was 5.30pm when my day-long, breezy euphoria at what was unfolding came to an abrupt halt. As my friends animatedly poured over the menu, something sank in my stomach. I felt weak. Actual cold sweat. I started searching my mind for the root cause of this sudden unexpected change of mood. The weight of all the hype I'd poured on this occasion for myself condensed down into a single thought; "How is SHE feeling right now, just how is SHE doing?"
As we headed out into Hammersmith and approached that now iconic 'Before the Dawn' marquee sign, my thoughts were mostly focused on Kate herself. The person. The private human being. She had somehow agreed to this enormous responsibility after years of avoiding such exposure. I had fleetingly and politely met her in the kitchen of East Wickham Farm many years earlier in 2002. She was a friendly, busy mother that evening, and afterwards I "left the room, caught my breath outside the door and didn't dare to go back in again" – to borrow Kate's description of her own first meeting with Bowie. For the briefest moment I had at least once encountered the person behind the famous name, and as I approached the queue at the Apollo, it was hard to imagine that the same unassuming, low-key woman was responsible for all of THIS.
Now the experience is flash-bulb quick. Barricades are set up to guide ticket-holders in. We stroll past the television crews, the blissfully willing interviewees, the mouthy ticket touts and cagey security guards and into the slow moving throng of fans, proudly/shyly wearing their t-shirts and badges as we got closer to the doors. Fan tickets are scanned: no, they don't tear them, your seaweed and anemones are safe. The merchandise stall: is that really an inflatable life preserver ring? The venue: very Art Deco, Eberhard Weber music floats out hypnotically from the stage speakers. The stage: we can see the instruments. All of them. Did someone accidentally raise a curtain? Are these the actual instruments that will produce ACTUAL Kate Bush songs? Did she really mean to show that? The programme: I rapidly flick through it in my seat. Spoilers. Glimpses of….elaborate, theatrical stuff and pages of notes carefully written by Kate. Our seats: three rows from the front. Dead centre.
My excitement was back. Full force. As the venue filled, as the voice-over announcement came welcoming us to the show, as Lily Cornford's voice bathed us all in a spell of protection – it felt like a deep inhale before the explosion of sound and lights. And there she was. Dance-marching out into the stage, out into that cacophonous outpouring of love from three thousand people. And there it was, Kate's reassuring smile.
Nodding and studying the audience, she smiled as the chorus took their place stage right and she presented herself with open arms to the roars of the crowd. It was a relieved, mischievous smile, tinged with only a little nervousness. Bertie was right there with her. Her family and friends were there. She was about to unleash something truly extraordinary, and she knew it. This was going to be an unforgettable night. And oh, how it was.