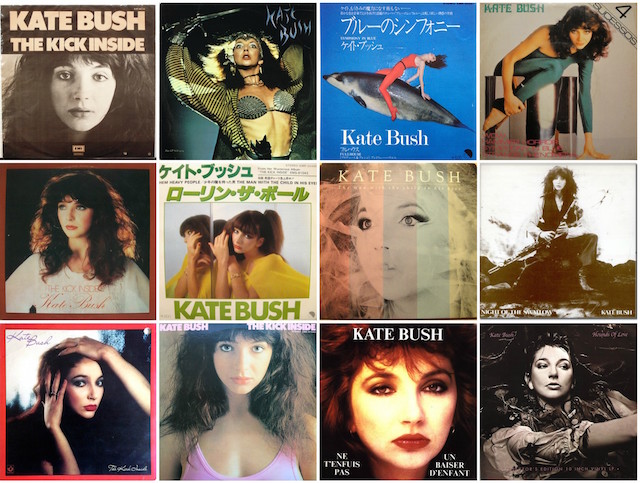 NOTE: This Christmas I have decided to donate proceeds from the sale of a copy of Lake Tahoe on vinyl and a few other KB items to Oxfam, and I intend to do the same in the new year with other "swaps" that I have. This is one of the reasons I find it worth keeping up with the value of bits and bobs I've collected over the years; I get to enjoy them and look after them and then, ultimately, put them to some good use – Seán
I have to admit I've never been a must-have-everything collector of Kate's stuff but recently I have been filling out some of the gaps in my Kate Bush vinyl collection. There's something about owning those original artefacts from a particular time in Kate's career that can be very satisfying. I had decided to limit my current renewed passion for collectible records to UK releases, but when you inevitably start to dig further…there's a LOT of interesting stuff out there and it can get overwhelming. Luckily we have some great Kate Bush collector sites to help us out, even if we know that realistically we'll never get our mitts on many of these treasures. Here are three sites, all from genuine fans, that come recommended…
Firstly, for years I've relied on an excellent site called "The Single File" by John Heislman which he has maintained since the 1990s. It focuses on Kate's career as a singles artist and is bang up-to-date with the re-recorded Running Up That Hill from 2012. With neat navigation, effective use of national flag symbols and pictorial chronologies for all formats he takes the guess work out of what was released when and where. A brilliant site.
Next up, if you're looking for a site that also takes in albums, books and all manner of memorabilia you simply have to take a look at the "World of Kate Bush" blog site. The site owner has been tireless in photographing and describing their impressive collection. This is collecting at its most serious, and a revealing pleasure to browse through for even a casual fan.
Since 1978, thanks to robust work by EMI Japan, Kate has been a noticeable presence in that territory. Some of the most expensive collectible Kate Bush items on the market today emanate from Japan and there is a LOT to discover. Luckily longtime fan Bart Lienard has put together "All We Ever Look For", an exhaustive labour of love which lists just about every Japanese Kate Bush album, single, box set, video and book as well as a large array of magazine articles. Fascinating.
Update: An honourable mention also to "This Woman's World", a German-language site that has a nicely illustrated discography.
Apart from the above sites, there is of course a wealth of information to be found on Gaffaweb, on the constantly expanding Discogs Kate listing, in the pages of those incredible HomeGround anthology books, and in the now out-of-print Illustrated Collector's Guide to Kate Bush (now, curiously, an expensive collectors item itself!). The Kate Bush Clippings site is now enormous, and also be sure to check out the Kate Bush Encyclopedia site which has been coming along very nicely!