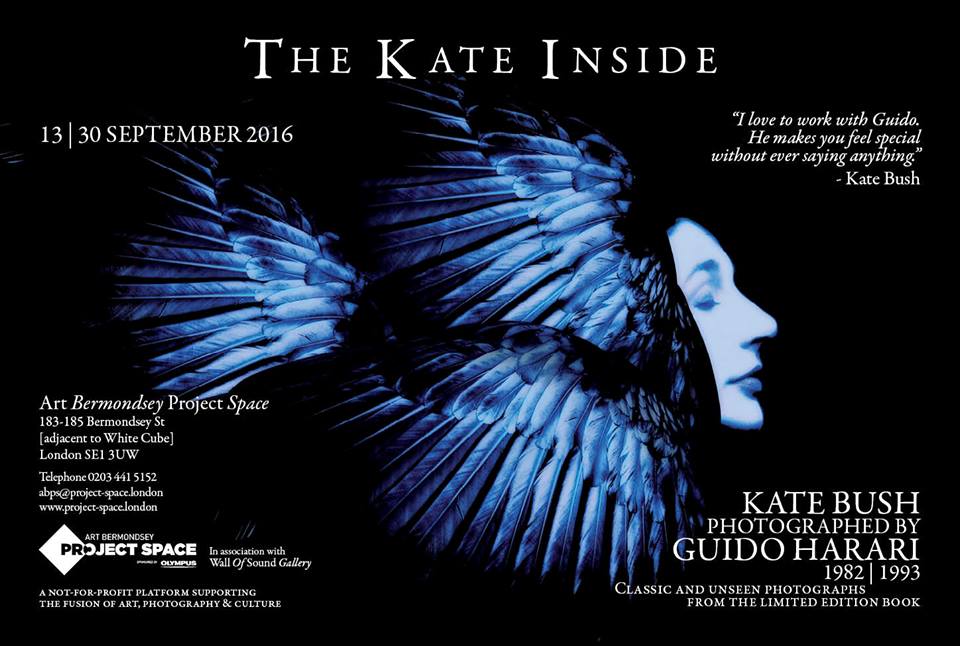 LAUNCH EVENT & MUSIC PERFORMANCE: If you've been following our Facebook page you will know that Guido Harari is launching the publication of his lavish book of photographs of Kate (1982-1993), The Kate Inside this month with a (fully booked out) Q&A event with LINDSAY KEMP and GUIDO HARARI plus special guests on Friday Sept 16th, 7:30pm, at the Underdog Gallery, London. Mandy, Michael and Dave from Cloudbusting will be performing Kate's songs after the Q&A at the Underdog!
UPDATE: We now have the full video from the live stream of the event that we organised on our Facebook page here.
EXHIBITION DETAILS: The exhibition itself is at the nearby Art Bermondsey Project Space – here is a link to the gallery with details of opening hours and how to get there. The exhibition runs till September 30th. [all details on ordering the book are at the Wall of Sound Gallery site here]
Update: Guido will be appearing on the ITV 6pm News in the UK On Thursday 15th Sept. 
MEDIA: Media coverage of The Kate Inside has been extensive, including prominent news pieces in Mojo and Uncut magazines in the UK and the following media : Another Magazine | The Guardian (gallery) | The Guardian (interview) | Internazionale | NME | Dazed | SuperDeluxeEdition (great interview!) | Rolling Stone | Art Info | BBC Arts | Electronic Beats | The Resident | Panorama (Italy) | Amateur Photographer |